New Zealand is the adventure capital of the world. Hiking, surfing, skydiving, bungy jumping, mountainbiking, skiing — everything is geared towards getting you outside and doing something incredible. For Ben it was clear since a long time that he had, at some point, to visit this country for at least a couple of months. He even told me that on the day we met..
When I started watching bike movies and Ben pointed out which parts where from New Zealand I did have to agree that it looked amazing – and so I was hooked as well with the prospect of visiting New Zealand in the near future. We are no strangers to van life so it was no discussion from the beginning as to how we would travel through New Zealand.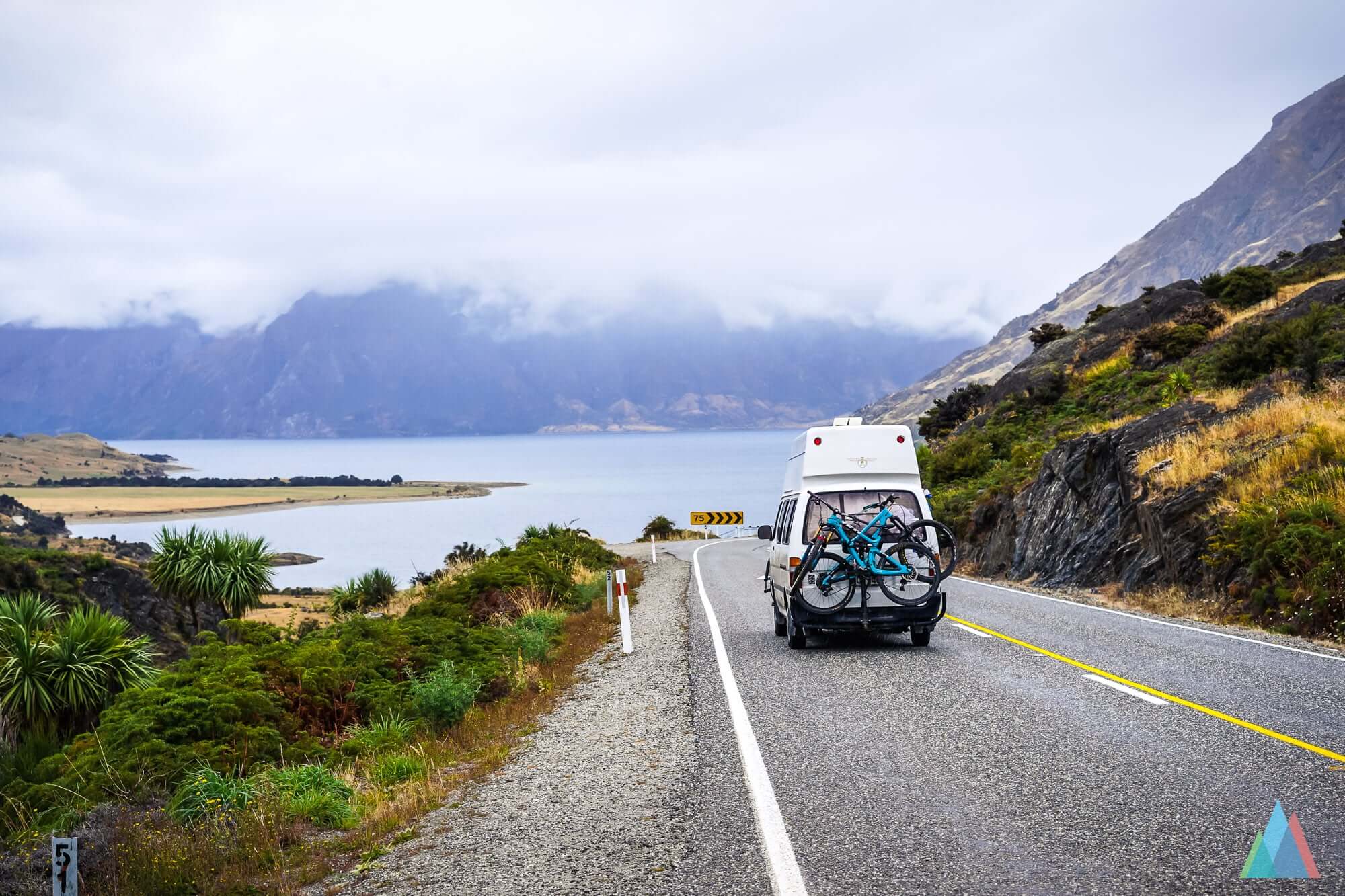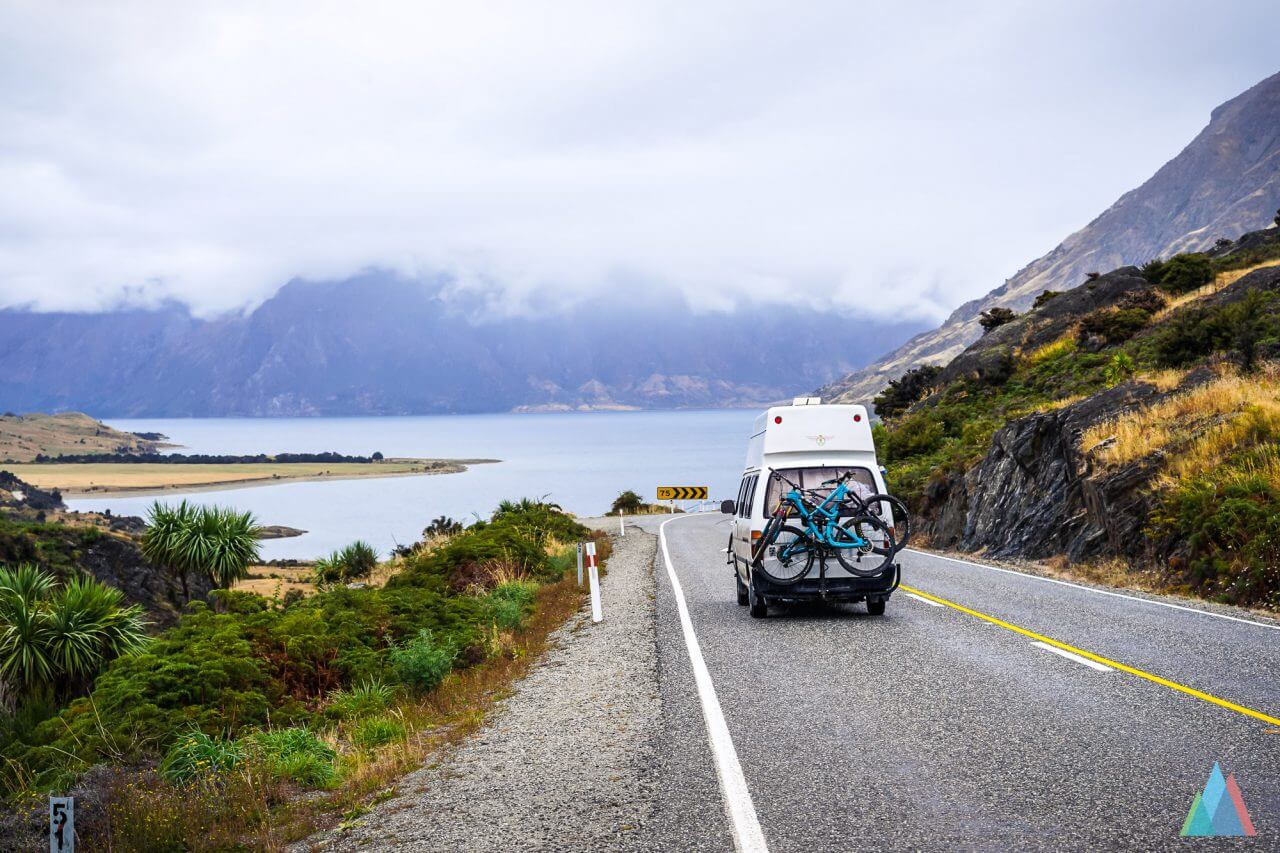 In January 2016, we first talked about going on a trip for a longer period of time. New Zealand by bike will be part of a six-month trip along with Japan and Indonesia. To be able to travel for 6 months we both quit our jobs, rented out our flat and tried to save some money on the time being. On 1st of January 2017 (great day to find cheap flights..) we finally started our trip. After 3 weeks skiing in Japan we moved on towards late summer in New Zealand.
But wait, how did you manage to get all your equipment with you?
From a logistical point of view our trip was challenging, to say the least. We brought our skis with us to Japan, but no chance to include the bikes in the luggage. Bringing the bikes along would mean using a big chunk of our travel budget to pay for the baggage excess charges. After some research we found out, that it was way cheaper to ship the bikes with postal service from Switzerland to New Zealand. To have an address to ship it to, we convinced our airbnb hosts in Auckland to accept two big parcels from us. We not only loaded it with the bikes but pretty much all our biking gear. It took the bikes 14 days to arrive and it cost us 250CHF each.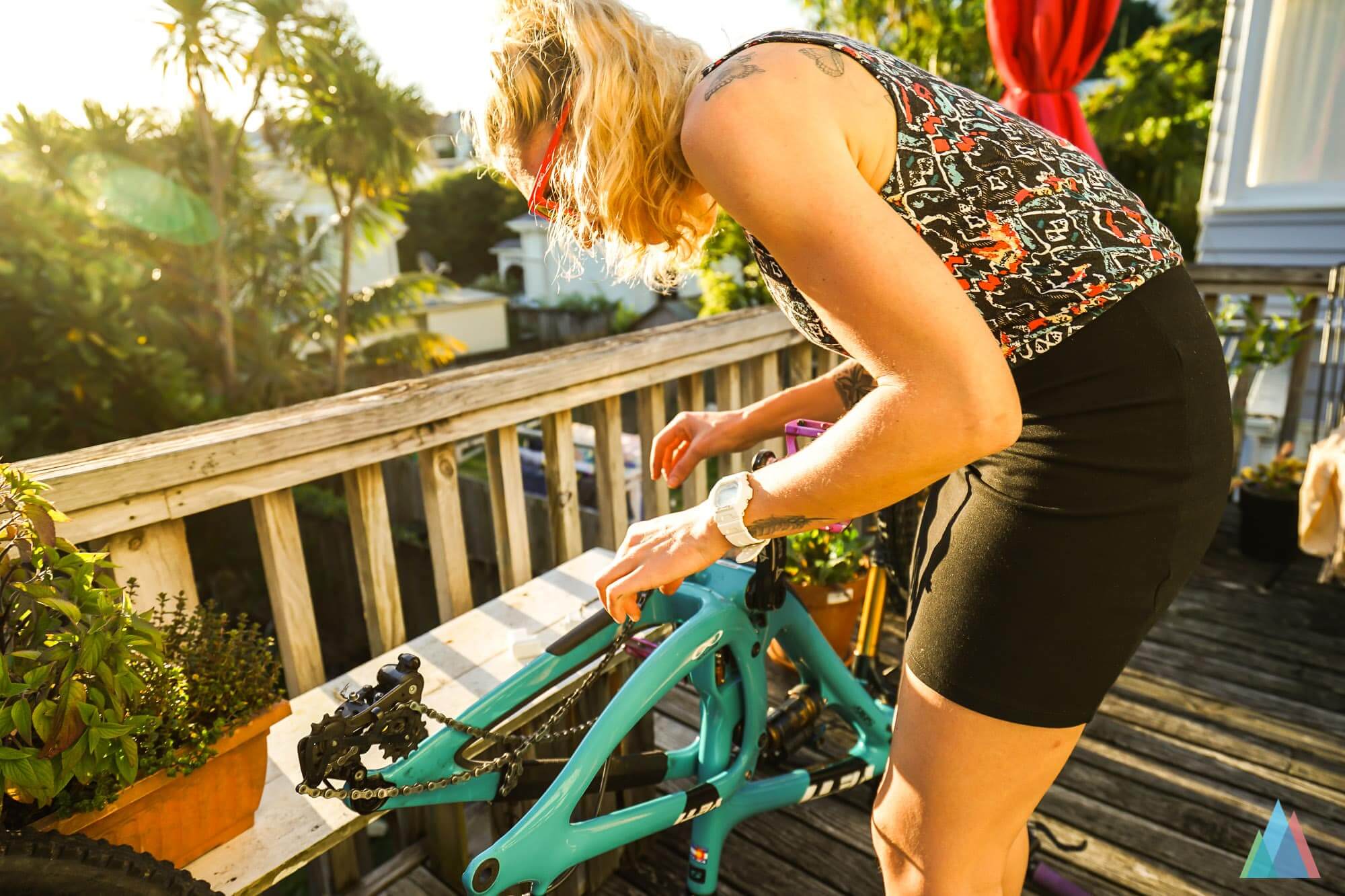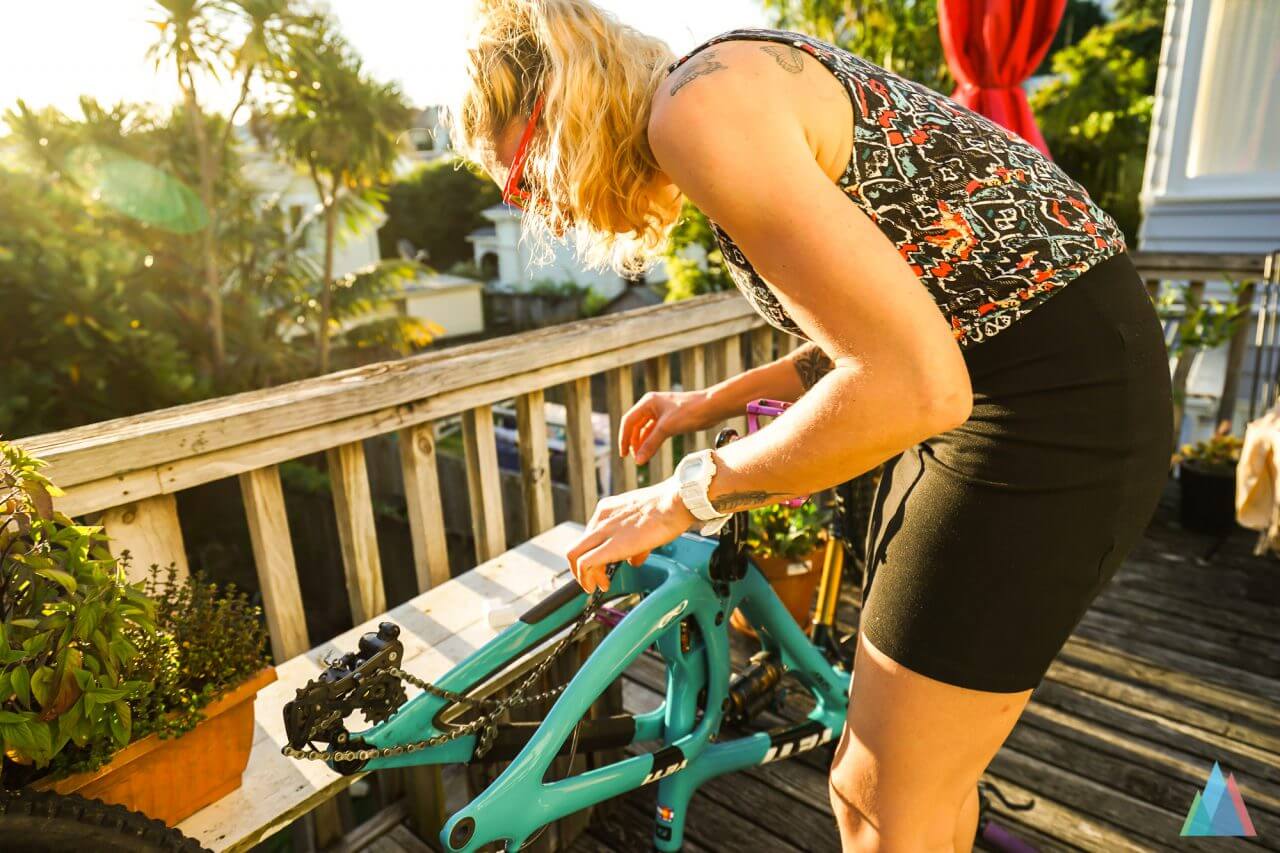 After having a look at renting a hightop campervan it became obvious that with a bit of luck we would make a way better deal buying a van in Auckland and selling it at the end of the trip again. Renting a hightop van for 4 months is ridiculous expensive. Rental fees start at around 12'000 NZD, a lot – we ended up buying one for 8'600 NZD, so even if we wouldn't be able to sell it, we made a better deal out of it – as long as it survived the trip.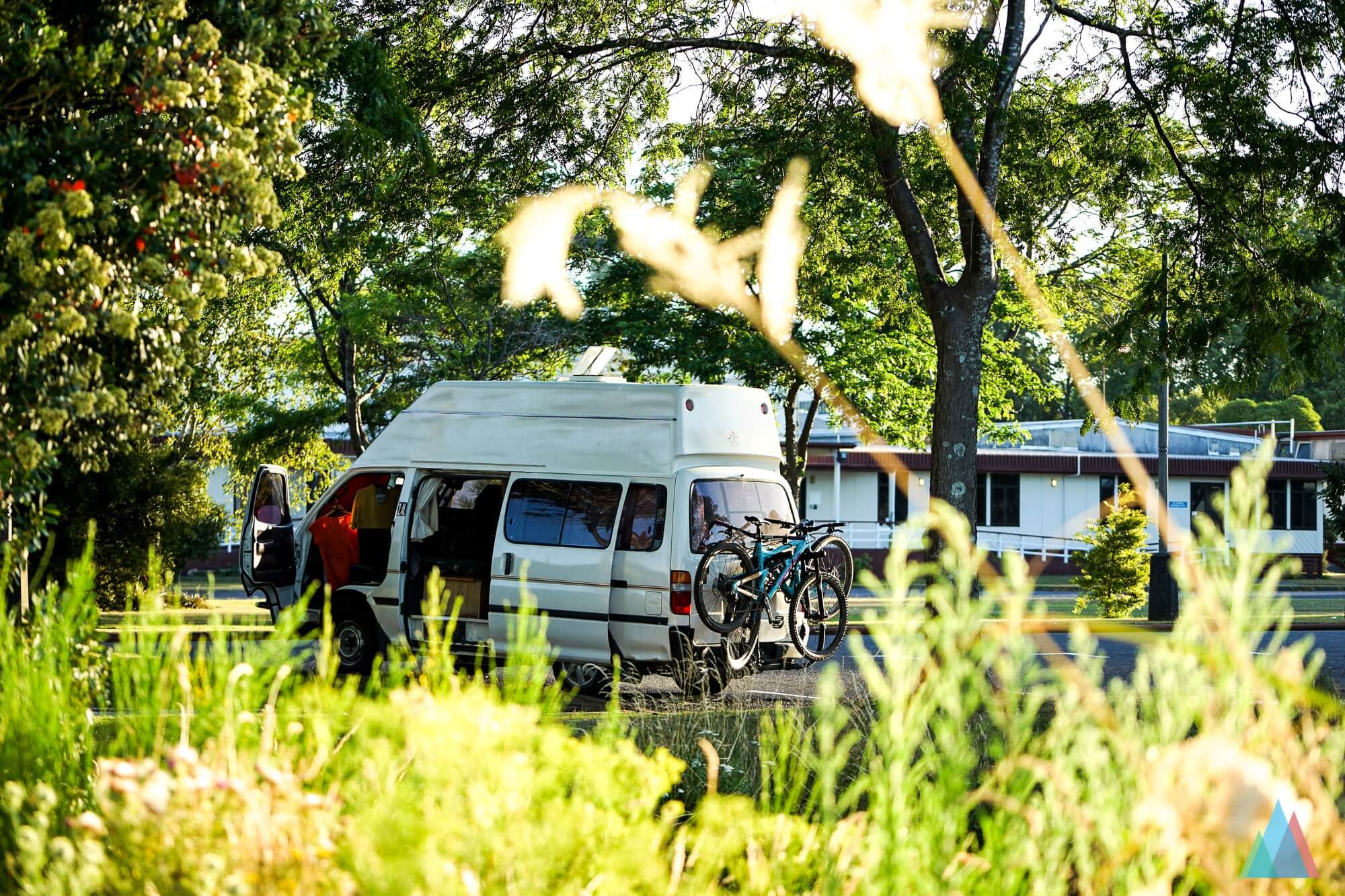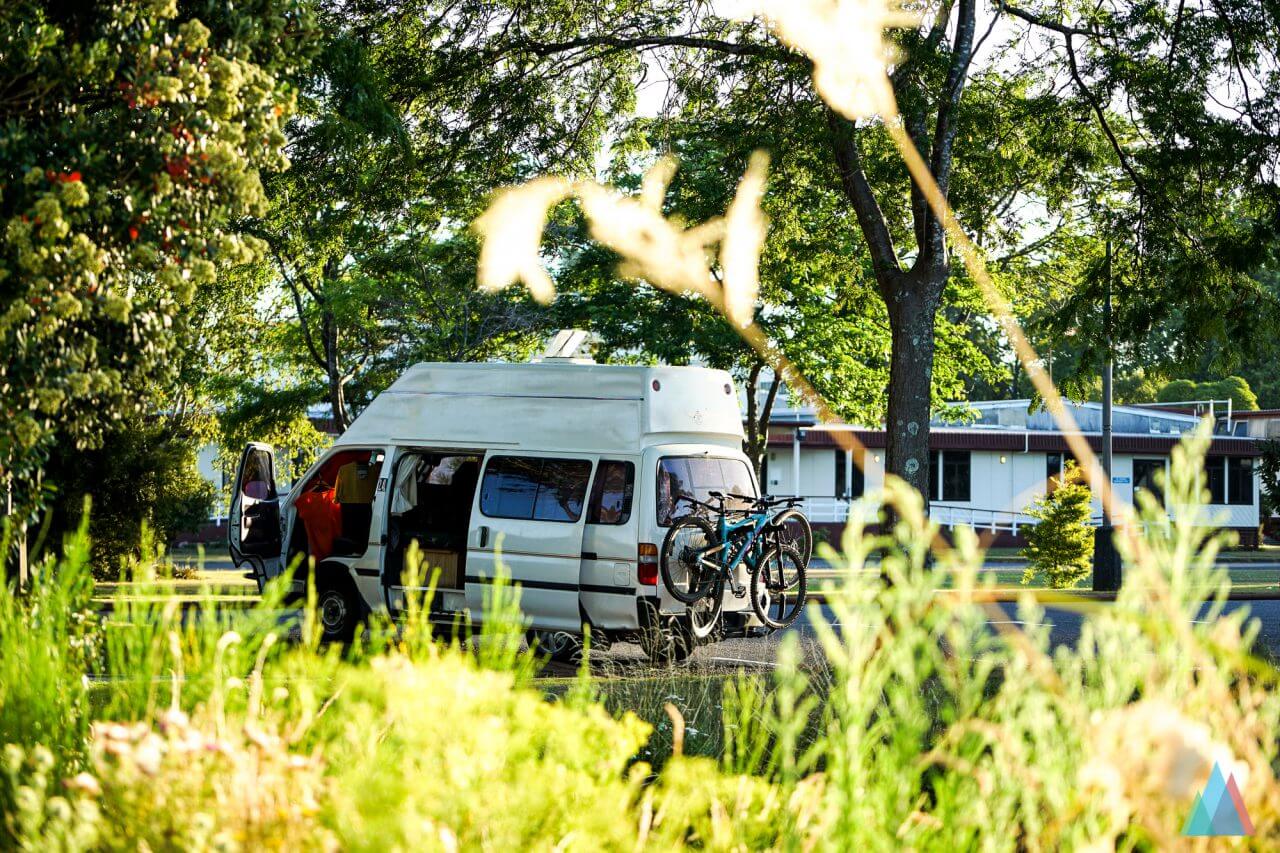 How do I buy a camper van in New Zealand?
We decided to fly to Auckland because it has the biggest market of used campervans, additionally Rotorua is conveniently located not too far away from Auckland. A good way to buy a van in Auckland is at the weekly car fair where besides locals a lot of backpackers show up and try to sell their vans. You get the chance to look at many different campervans and test drive them. There is even a mechanic on site if you get serious about buying one. Another great source of campervans are countless backpacker Facebook groups / markets.
We were lucky that a few days prior to our arrival there was a hightop campervan posted in Facebook group that matched exactly our expectations, besides the mileage which was with over 400k km a bit on the high side. It seemed to be in mint condition and we decided after a testdrive to go for it. After a few days to transfer the money we became the new owner of a Toyota Hiace Hightop campervan – we named him "Chröser" which translates to sleeper. Not because we can sleep inside but because of his very tranquil acceleration.
Small remark here: If you plan on buying a van, flying into Christchurch might be a great option, too. For one thing you have great riding just at the city borders and a lot of people we met started their journey in Auckland and flew out of Christchurch. Meaning they bought the van in Auckland and sold it then in Christchurch – often for a lot less than what they could have asked for in Auckland.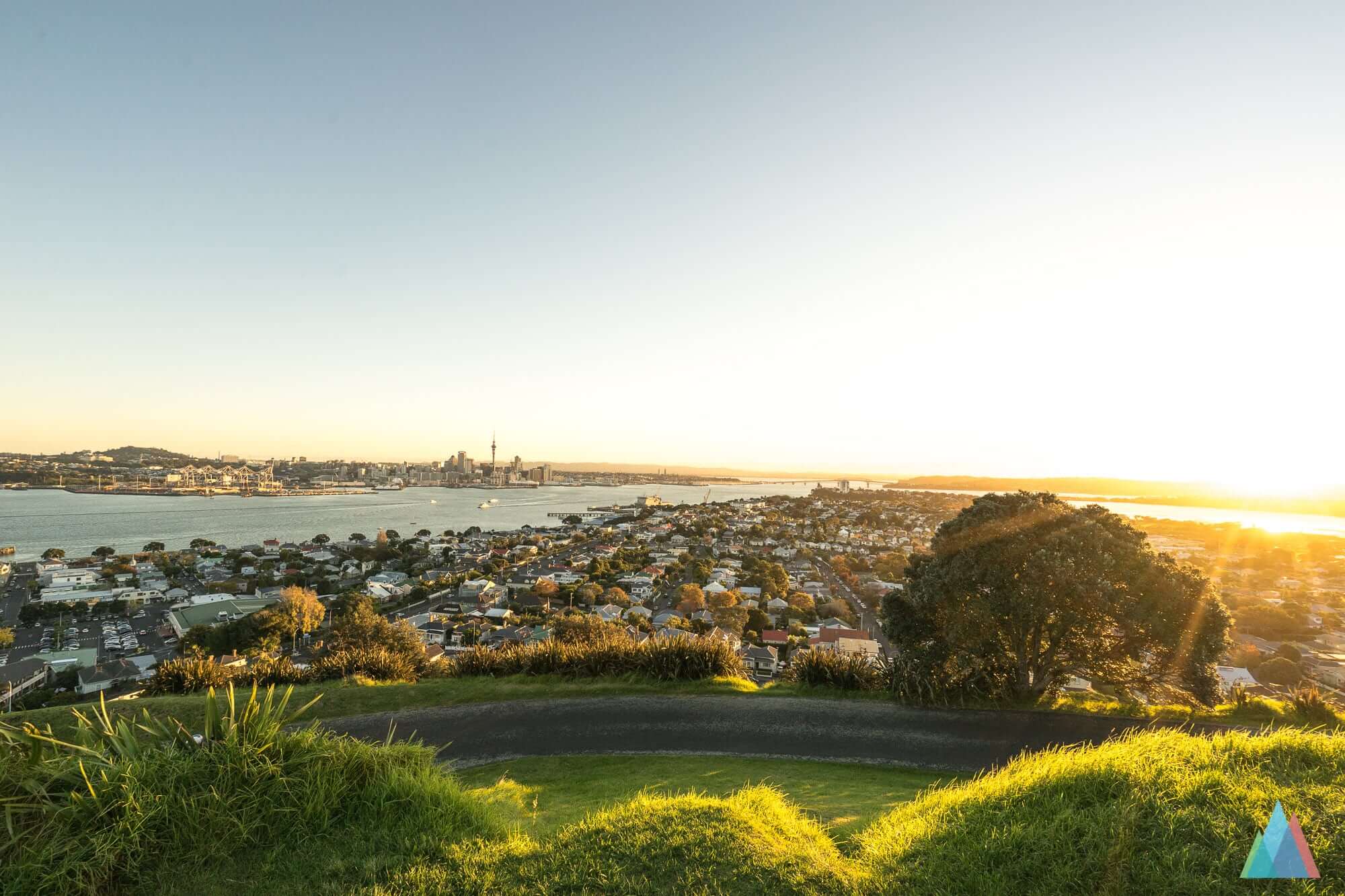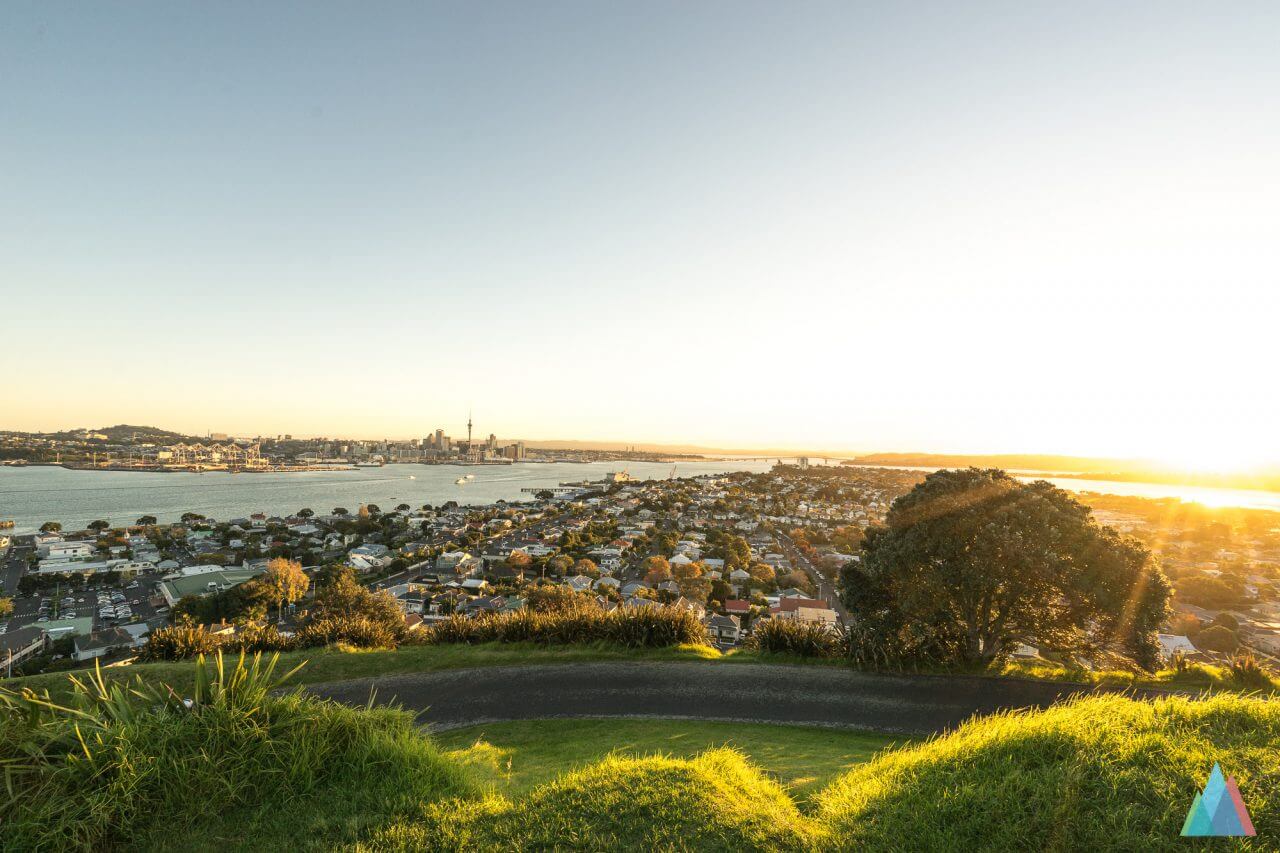 Rotorua – Smelly but superb trailcenter in the Whakawarena forest
We were itching to ride our bikes, so after buying our van we set out directly to Rotorua. We didn't know much about Rotorua except that it was famous for its geothermal activity – and the smell that came with it. And that the Whakawarena Forest Trailcenter is supposed to be amazing. And well, it was!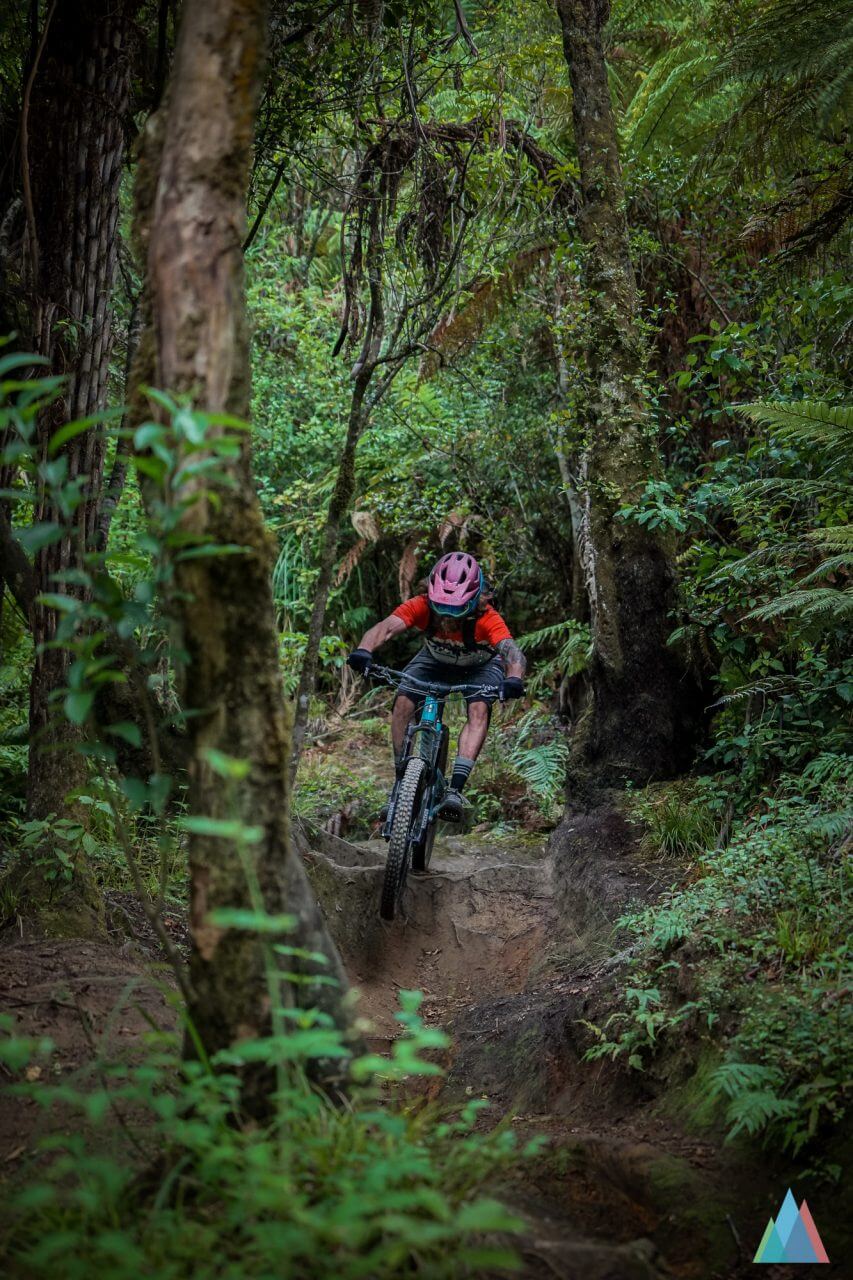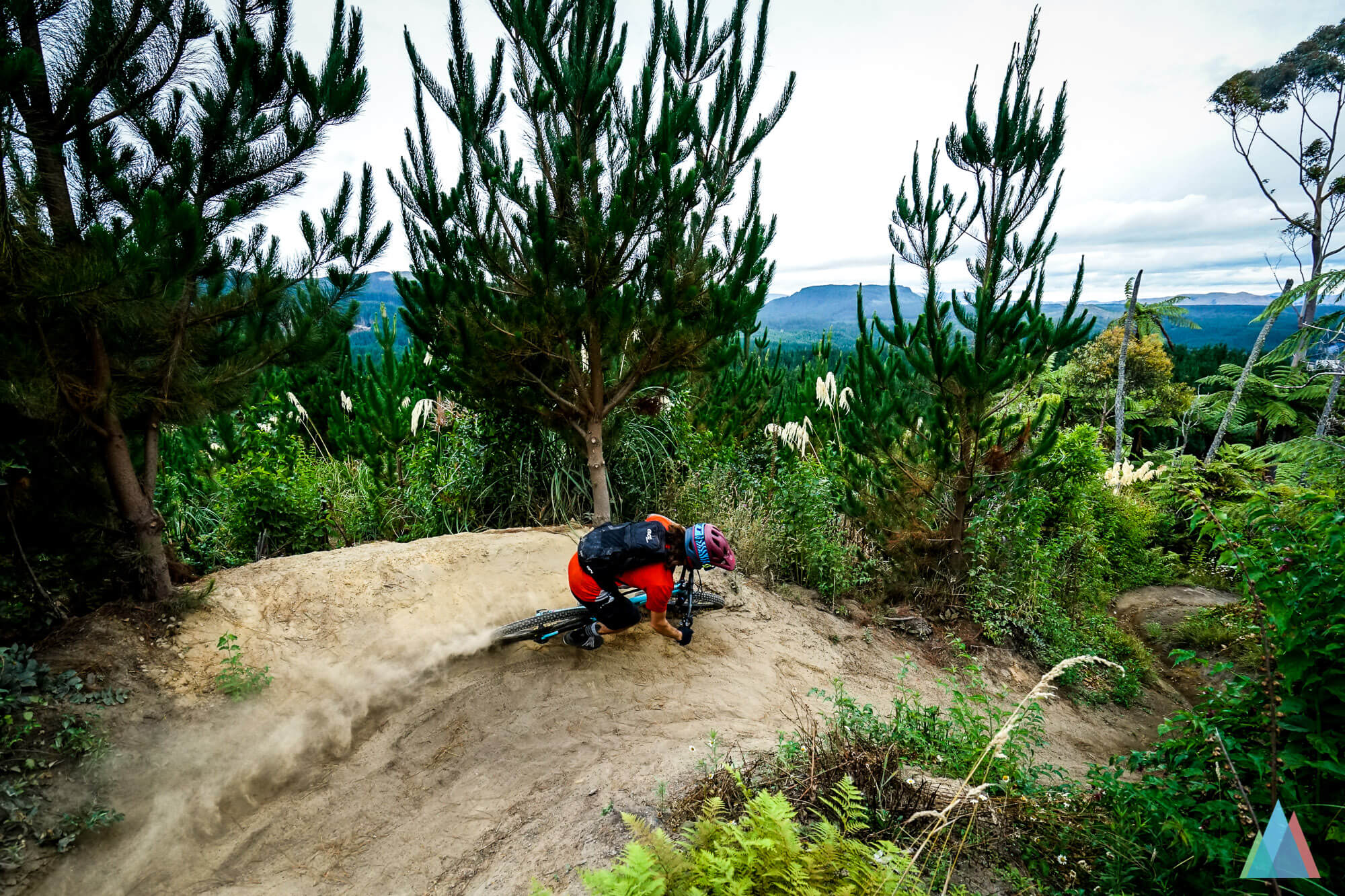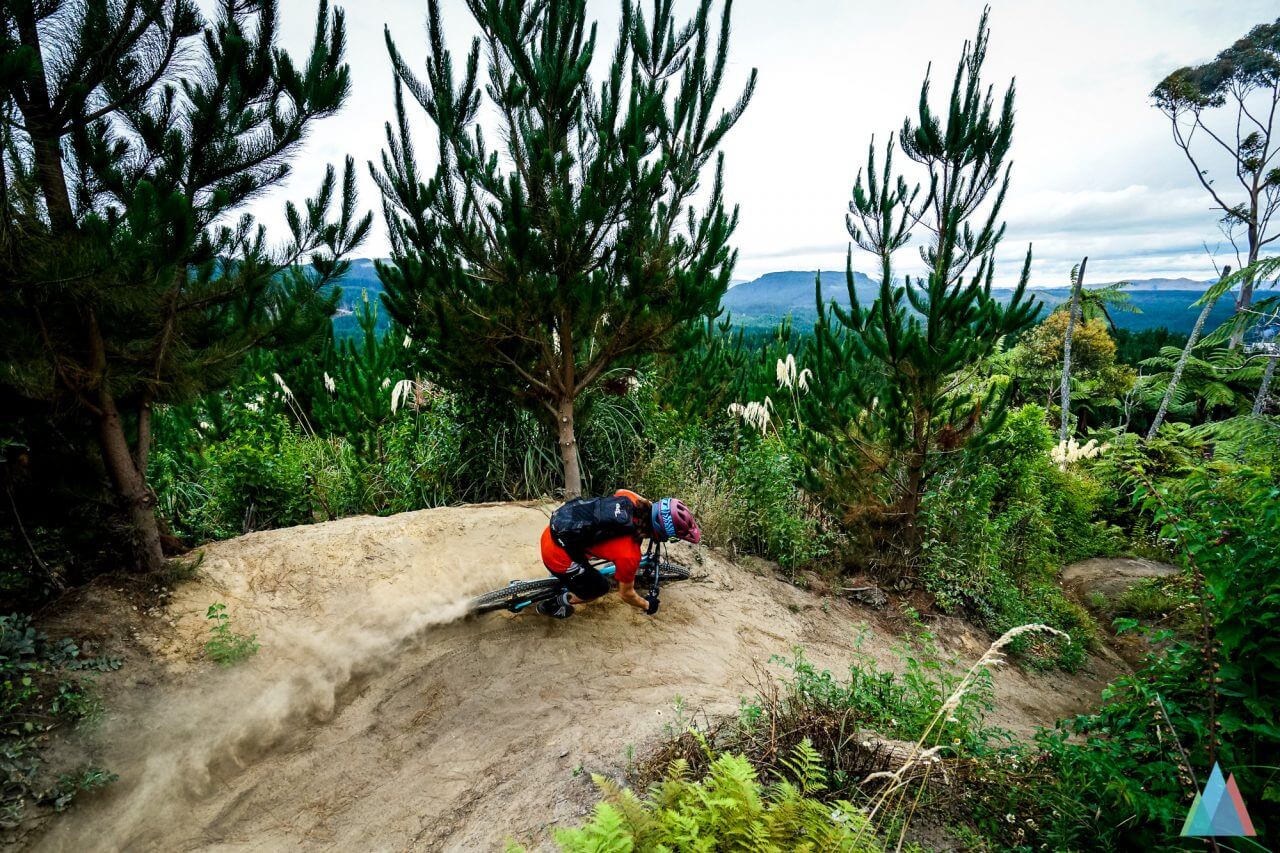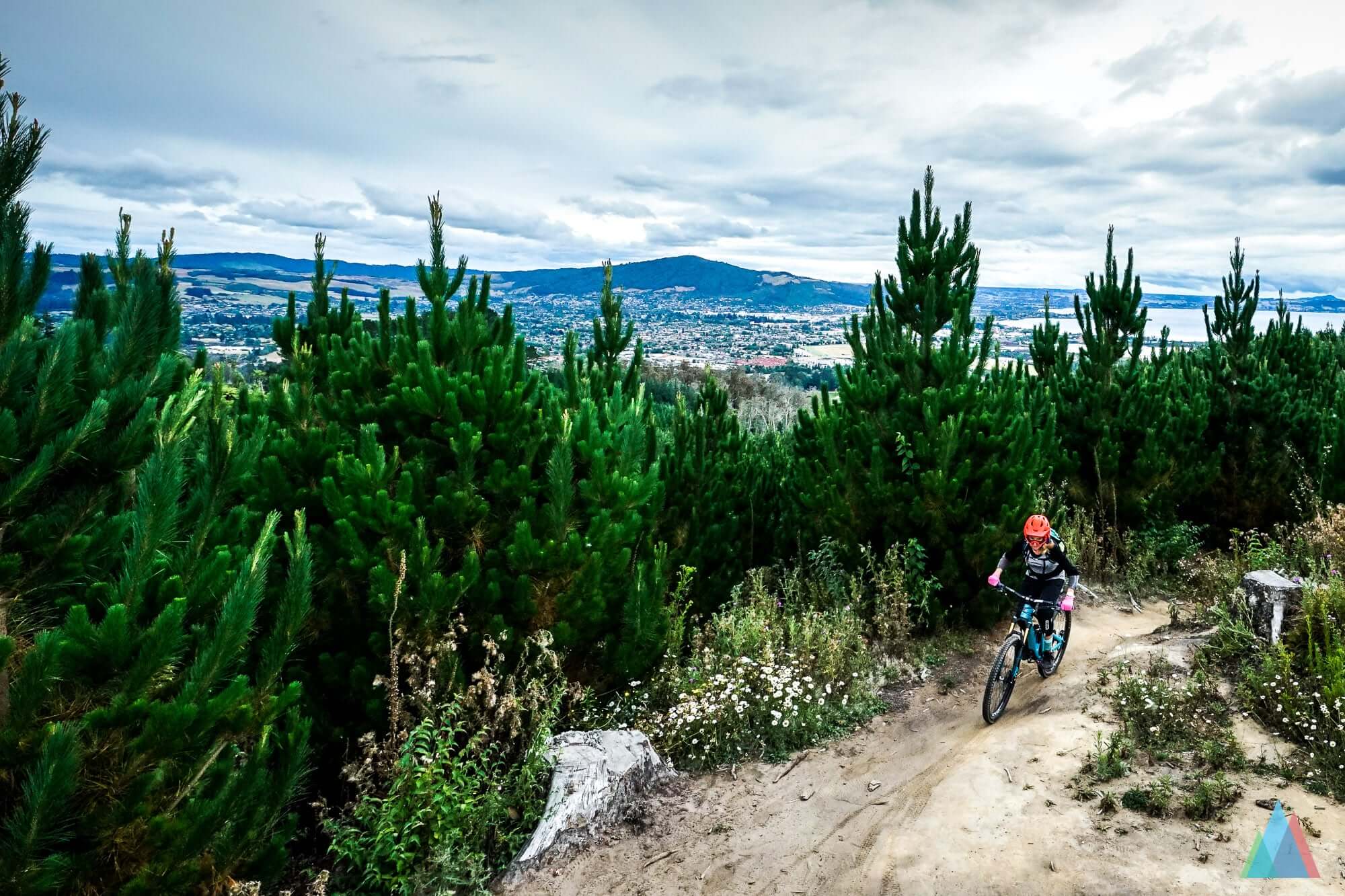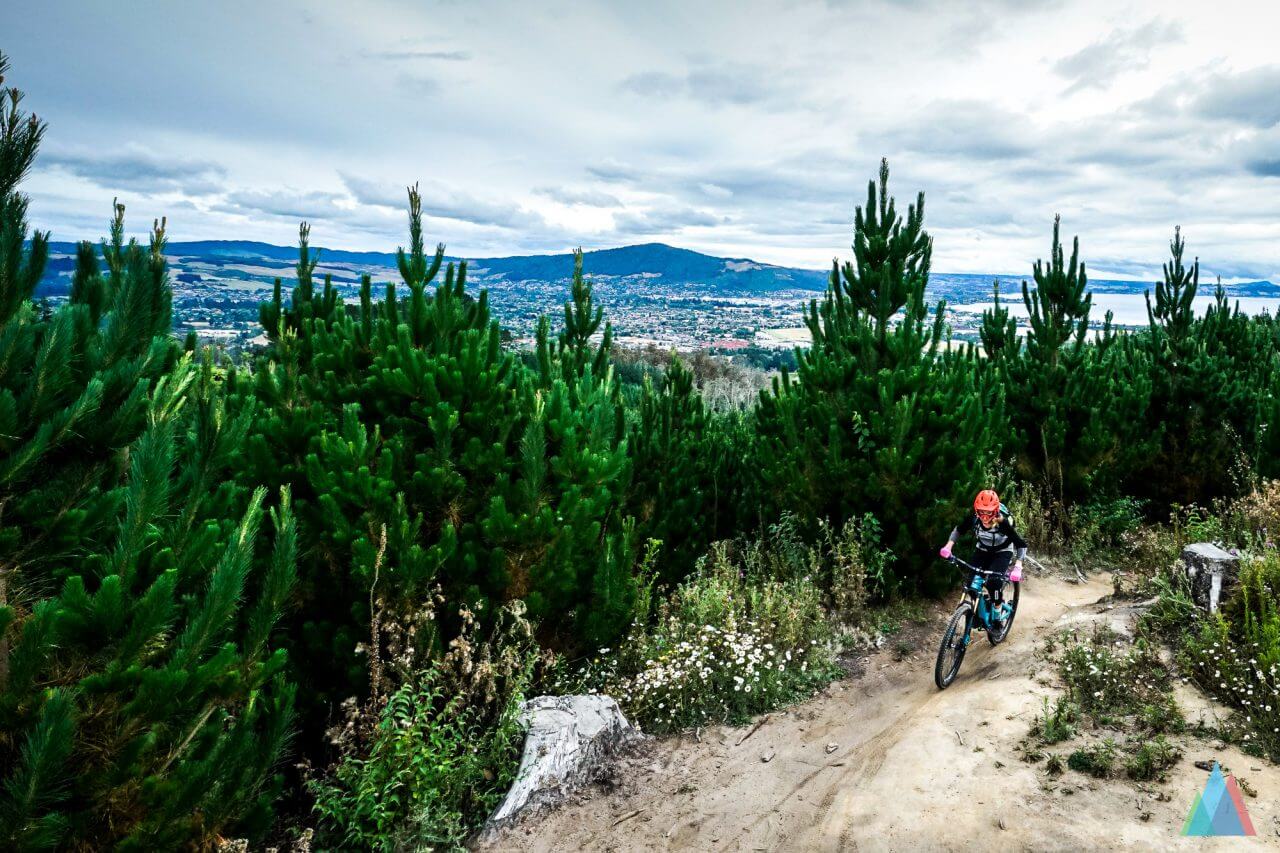 We rode in Rotorua for 10 days and could have stayed much longer, there really are amazing trails to be found. Not only the unmarked trails were pure gold but also many of the official trails were so good you just had to ride them for at least a few times. The trails varied from knee deep dust, chutes, perfect groomed trails as well as trails with top to bottom off camber roots. Rotorua, with its amount of amazing trails in such a great variation has won our hearts from the beginning. And that is even though the freecamp options weren't perfect and the smell did need some getting used to.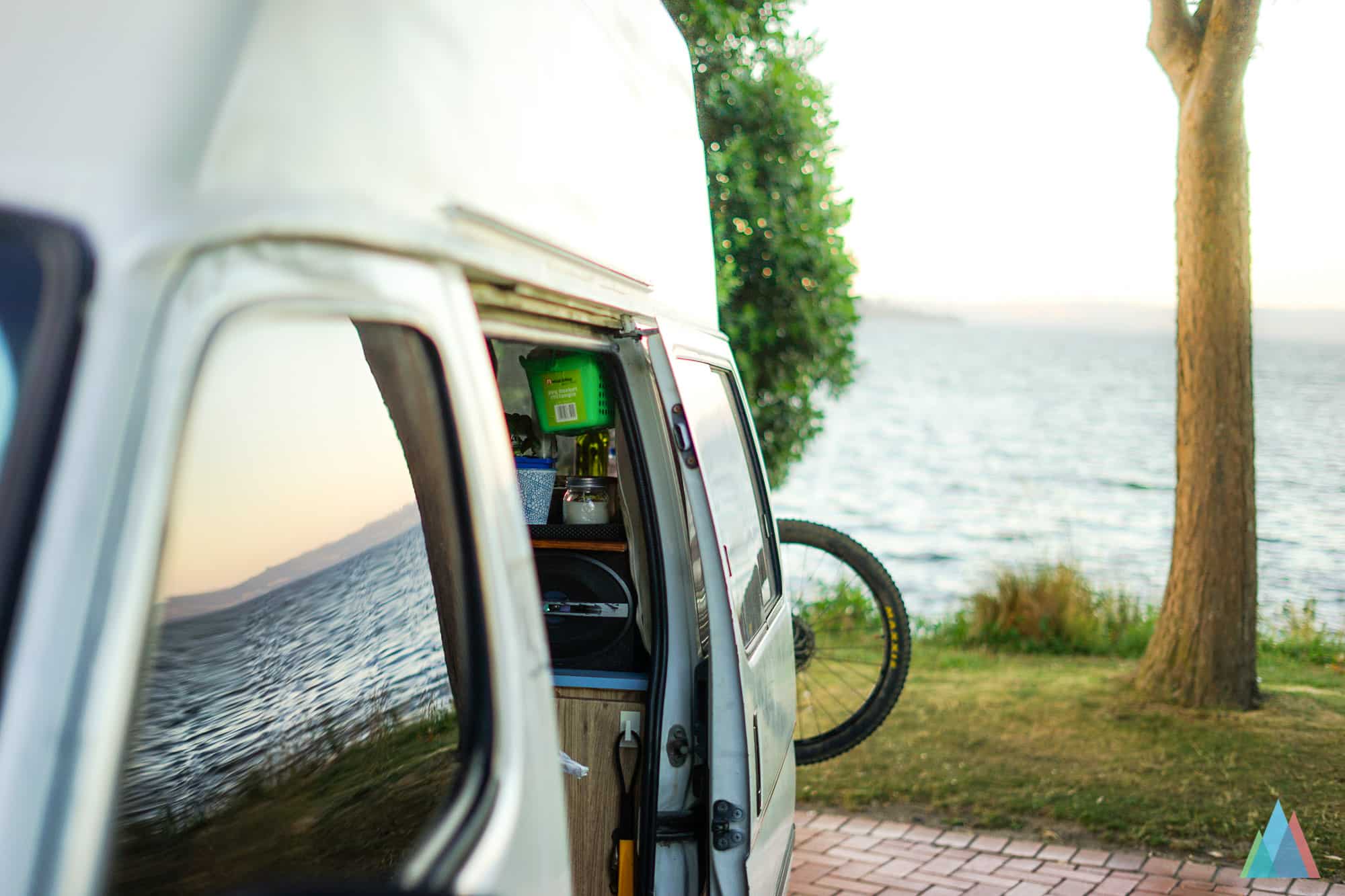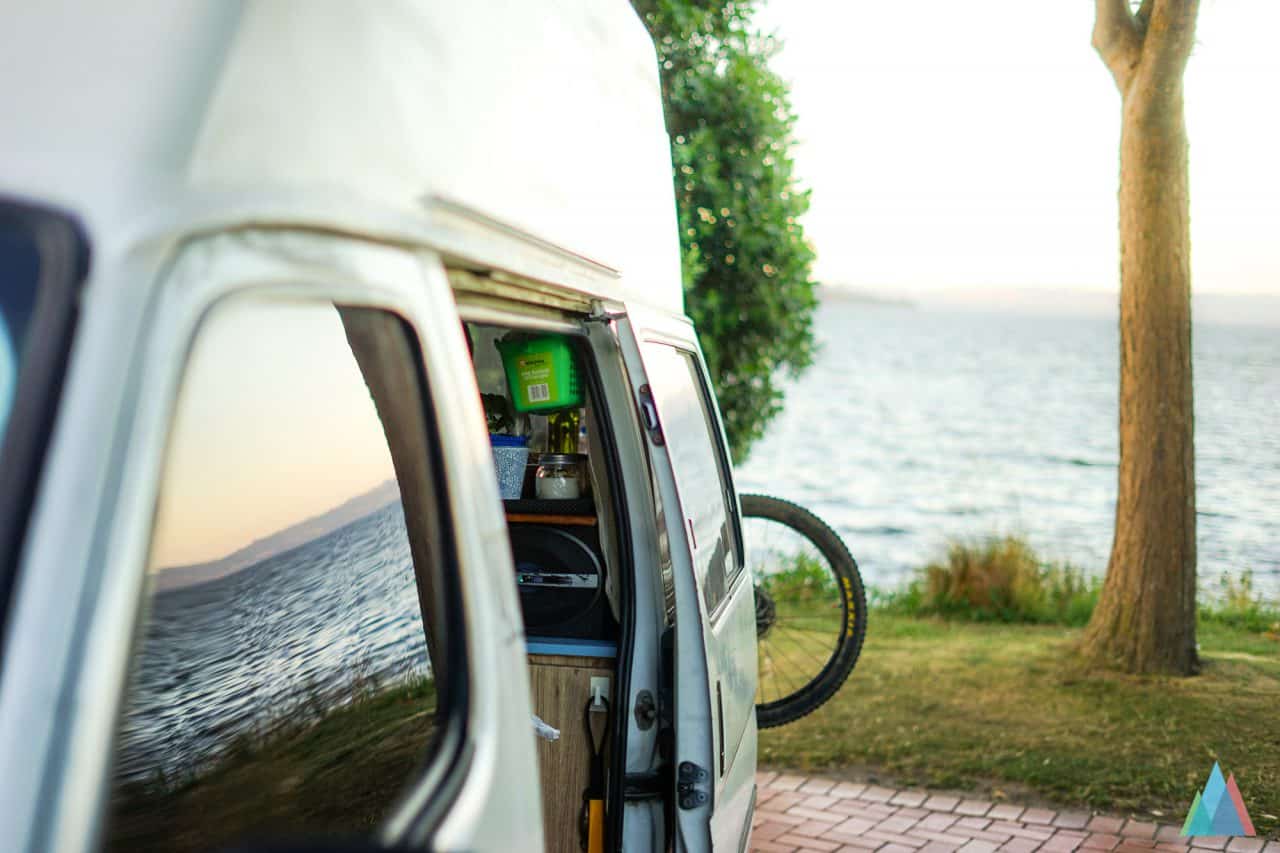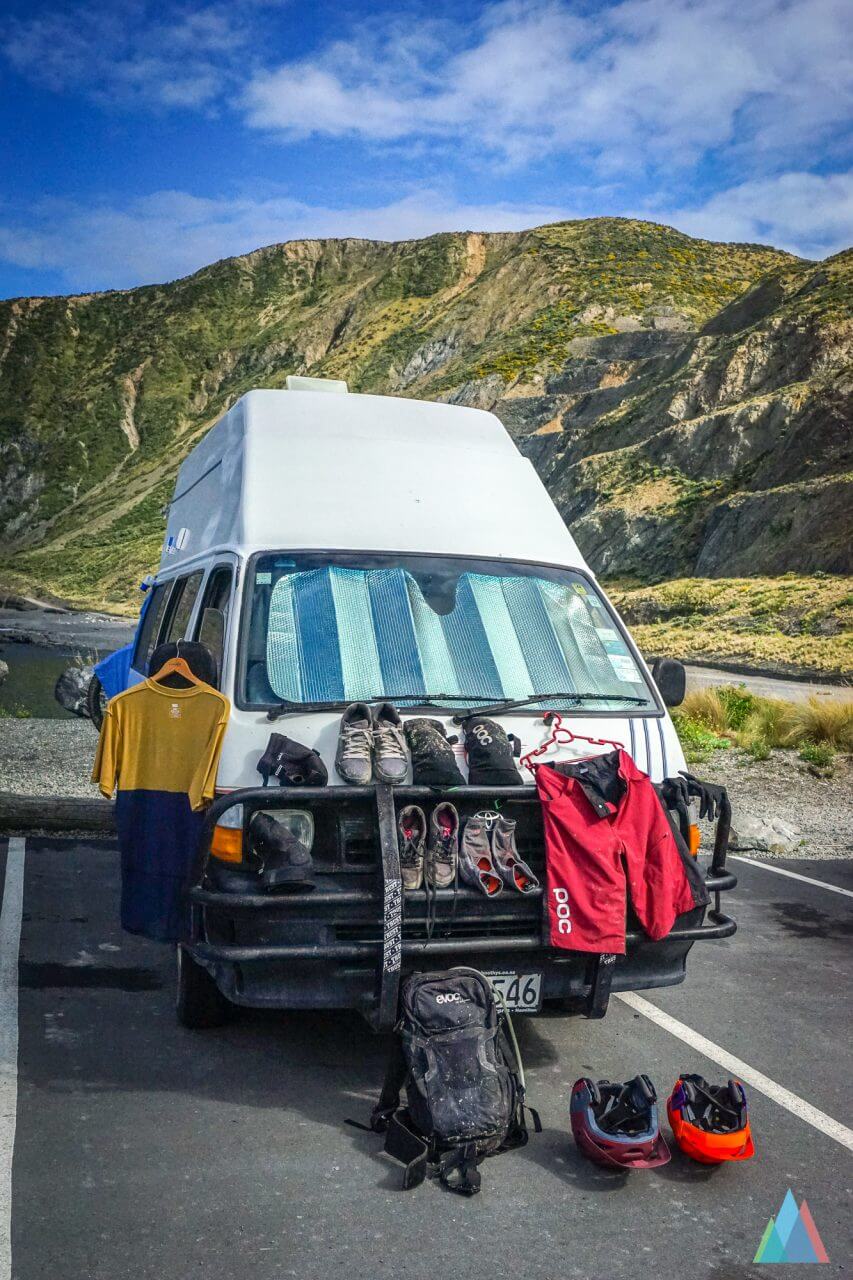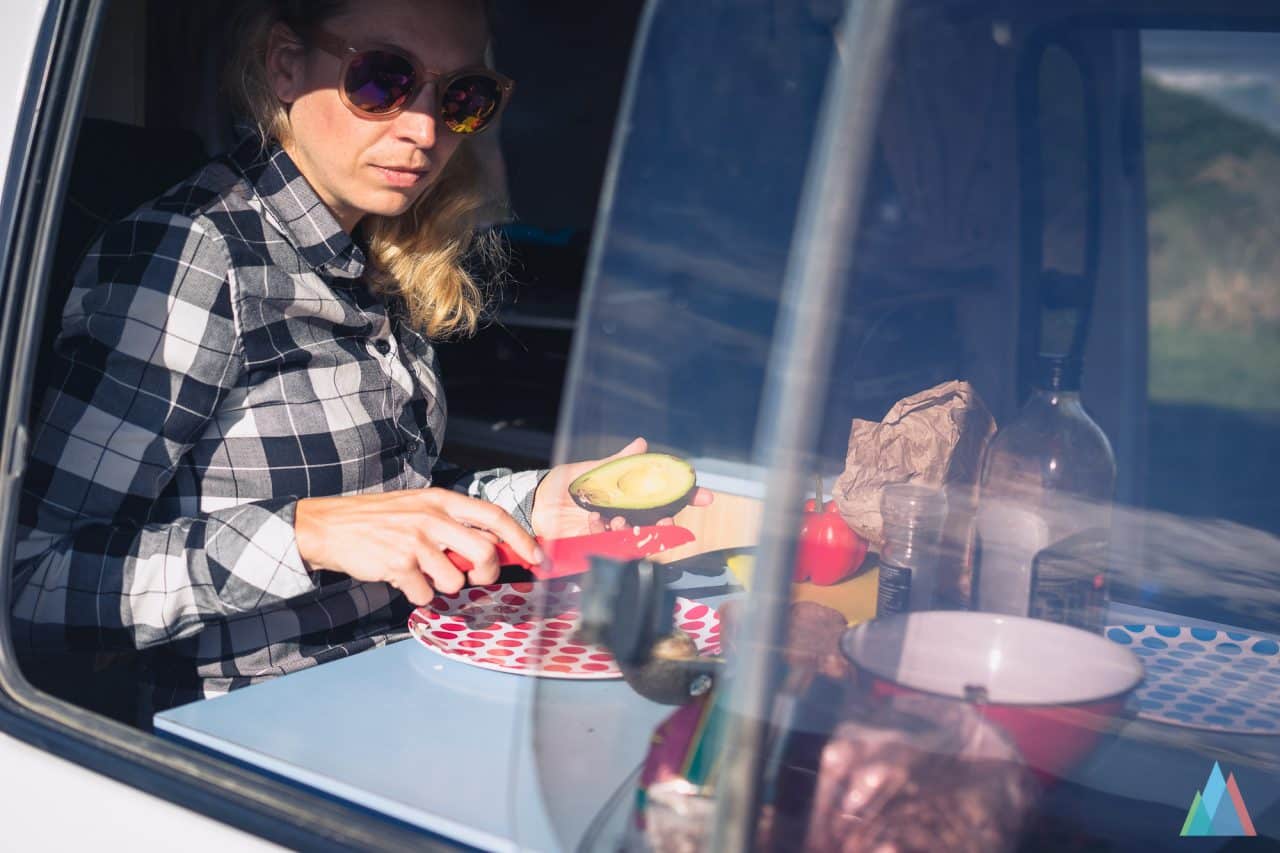 The decision to move on came not easy. But we arrived already late in New Zealand's summer and were a bit afraid that winter could catch up with us on the south island. Therefore we packed our things and drove towards Wellington were we did manage to get in a few days of riding. Incredibly lucky with the weather, we discovered Wellington without a single bit of wind. We rode on Makara Peak, Mount Vic and Redrocks before we boarded the ferry to Picton on the south island.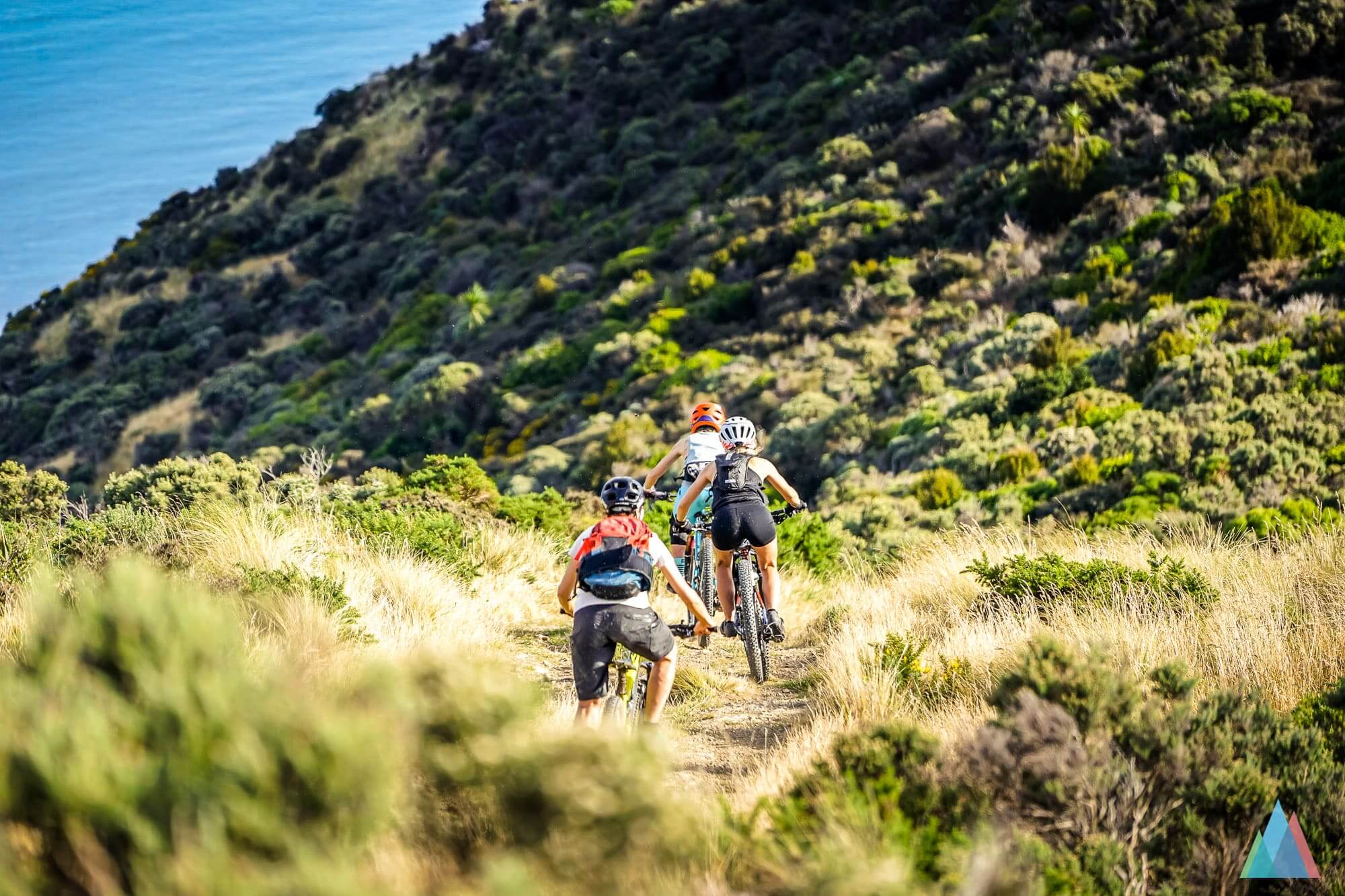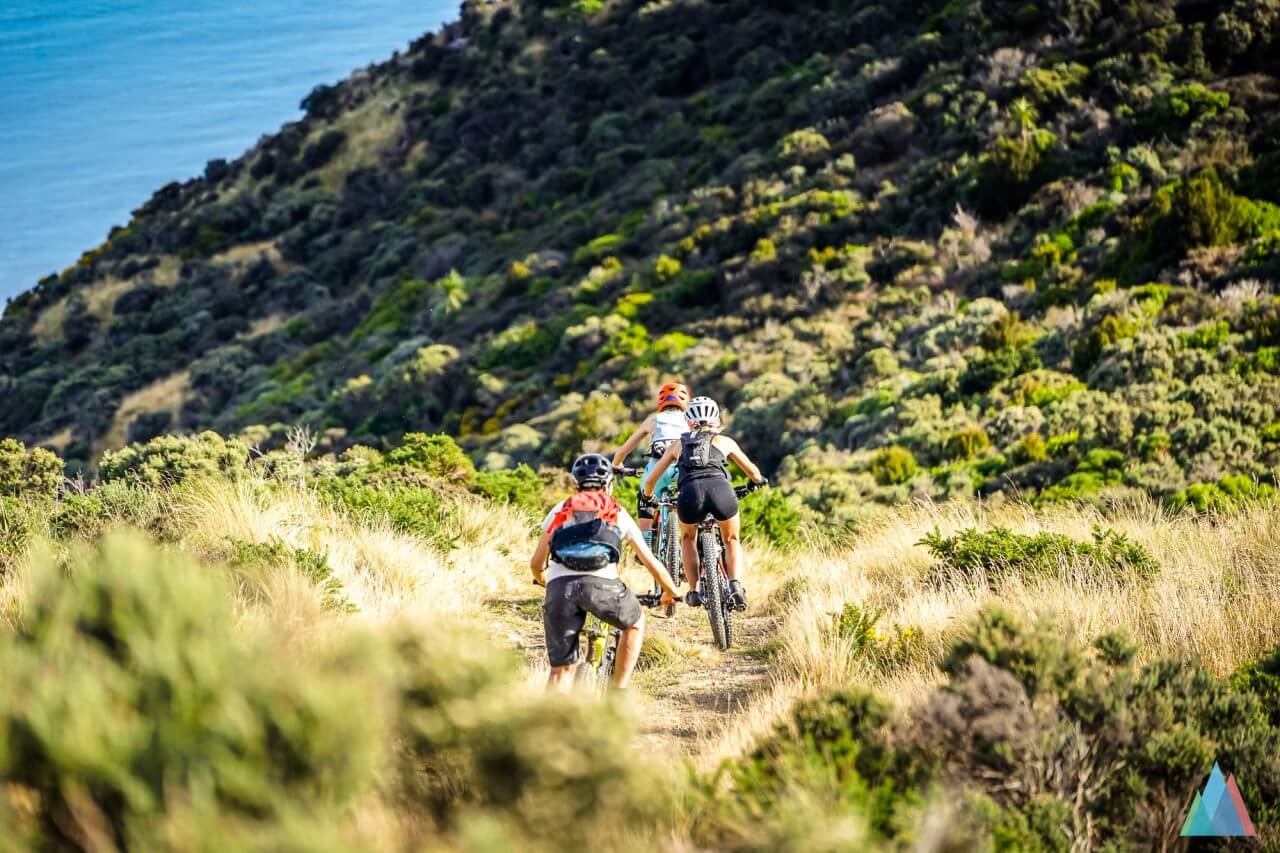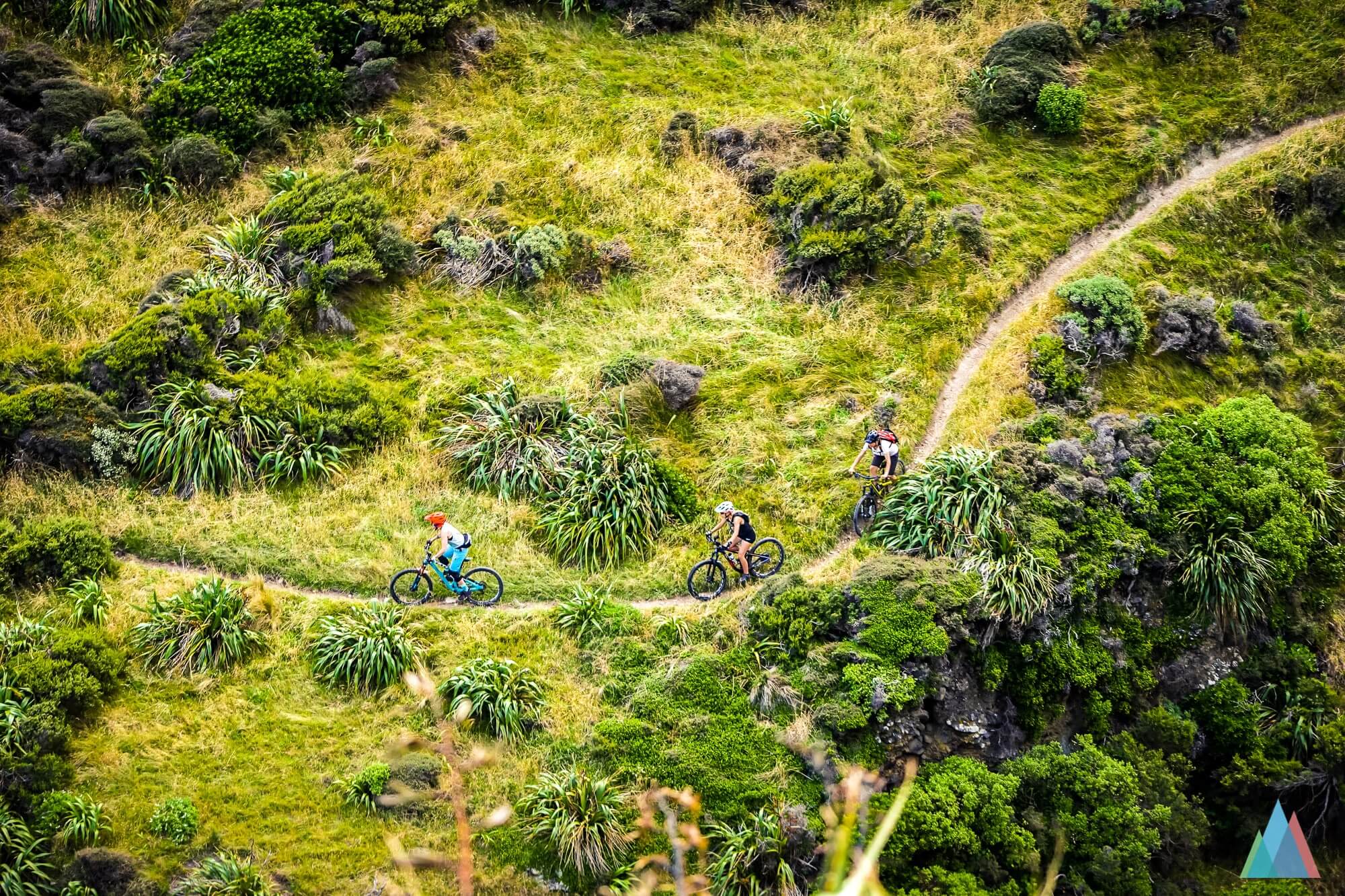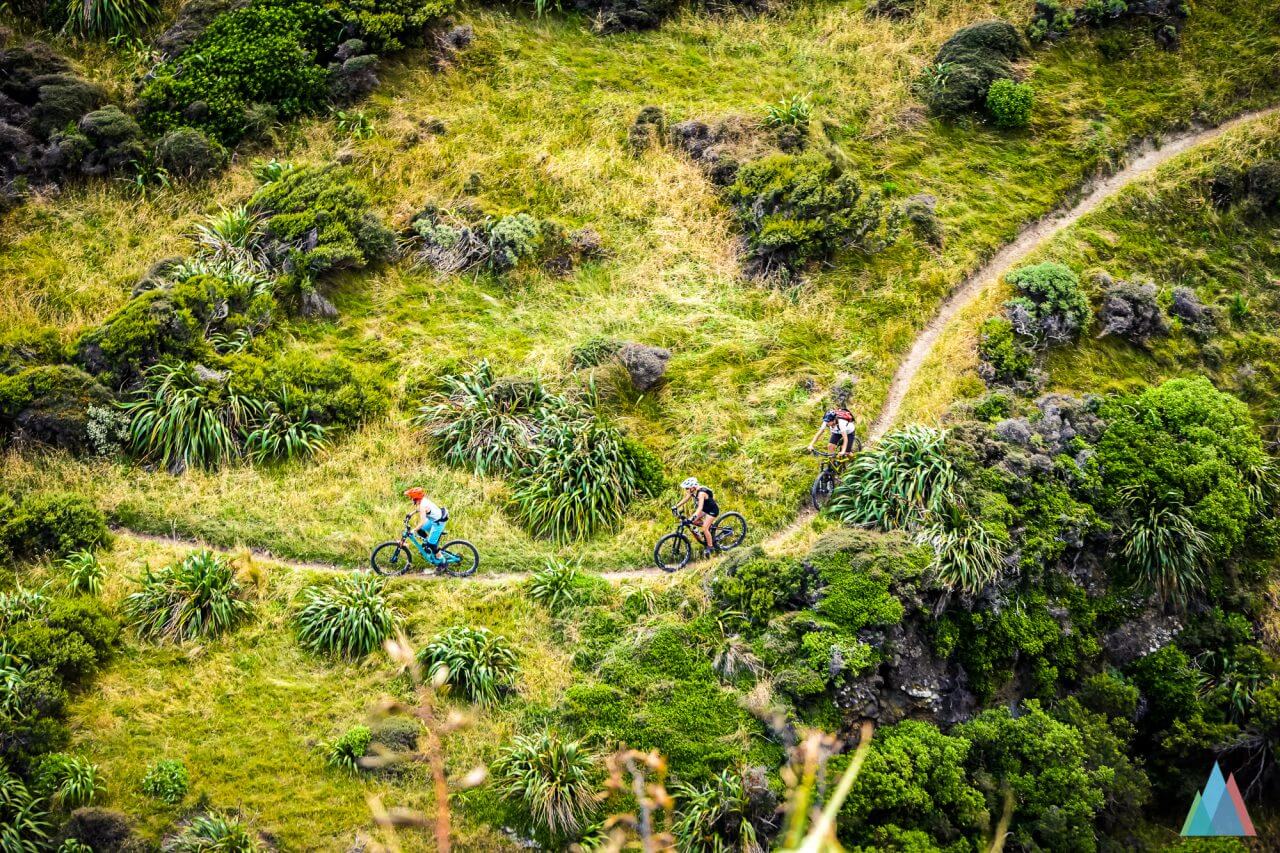 Marlborough county and Nelson, steepness awaits!!
Marlborough is famous for its wine and every time we tried a bottle of this region we had delicious proof why. There is a lot more to this region than just wine, though. It is also home to some great mountainbike riding as well.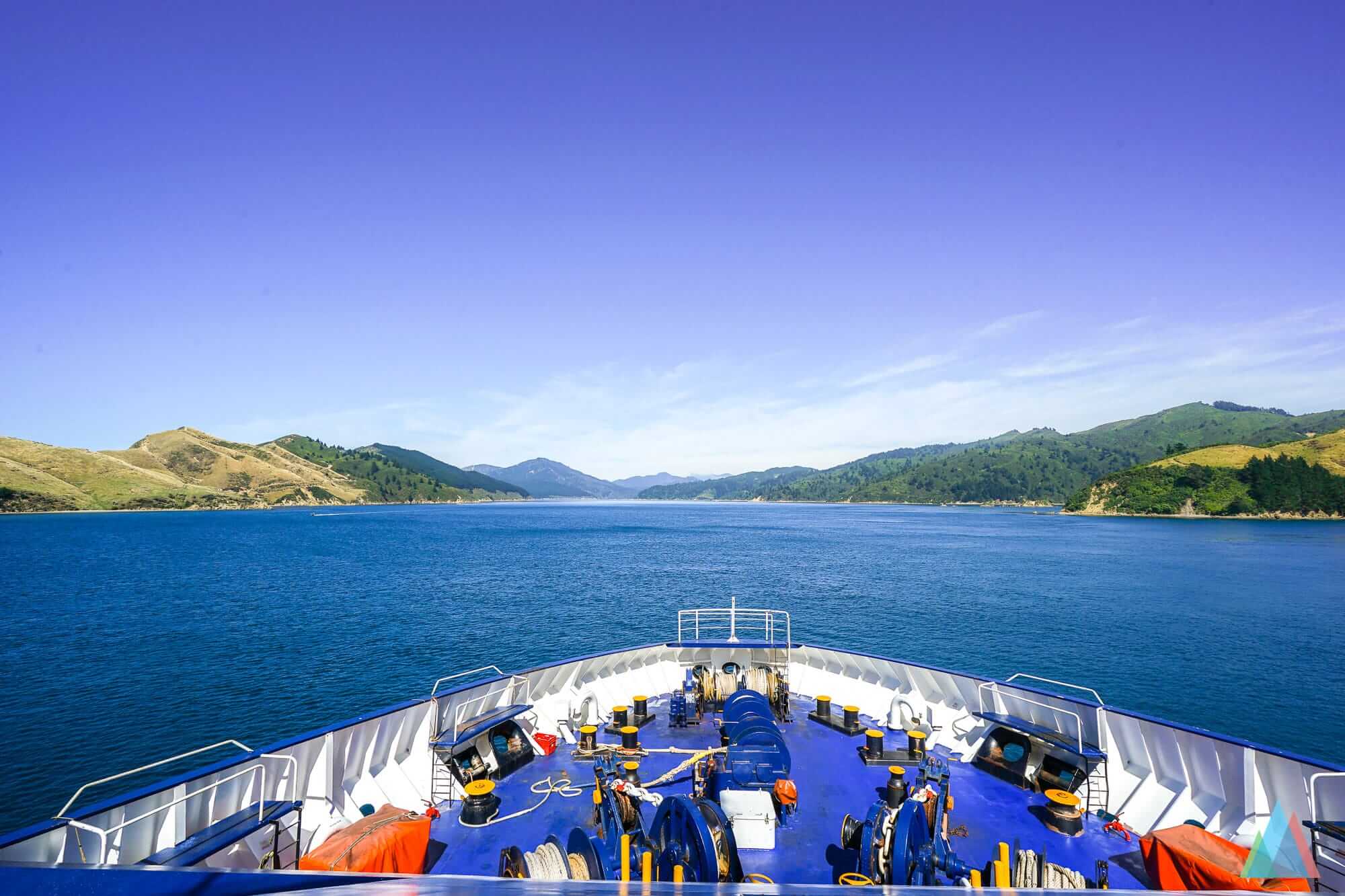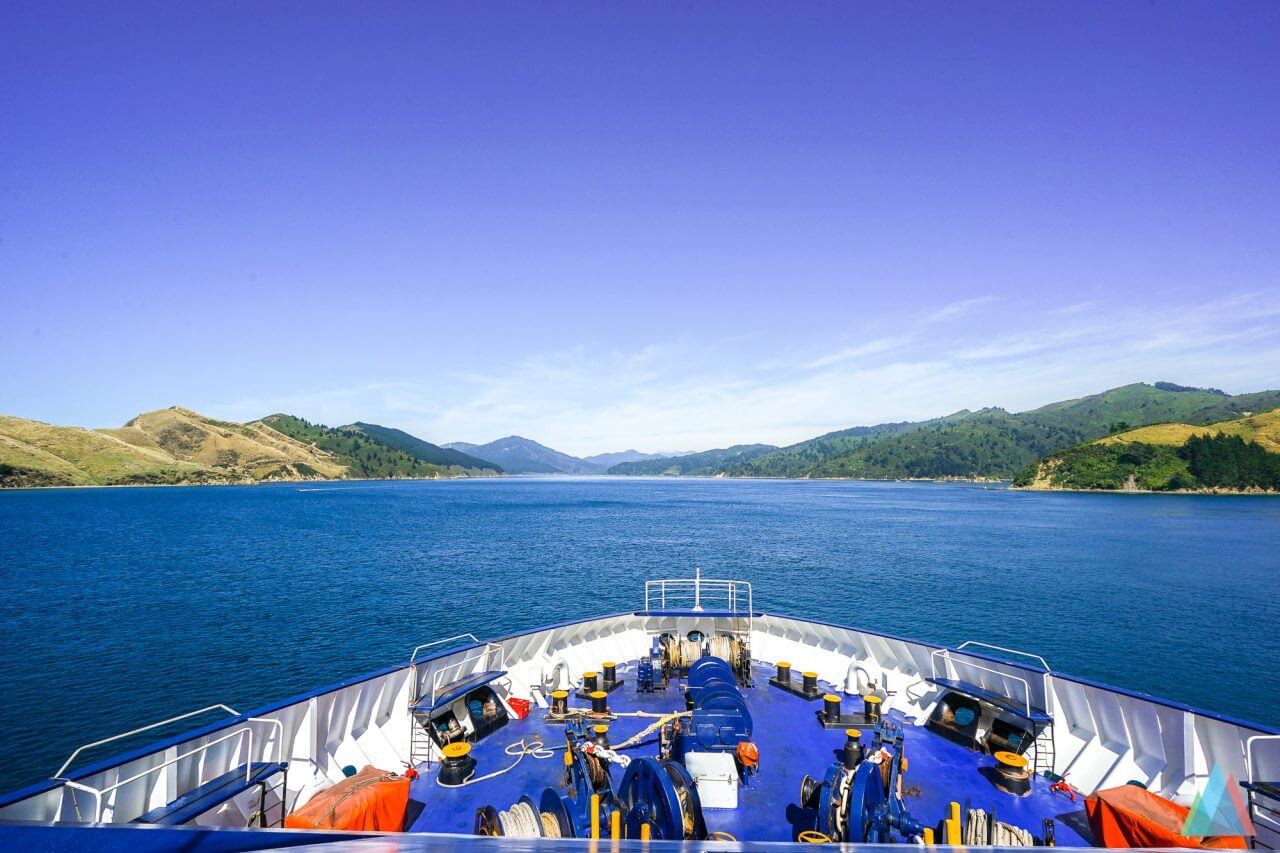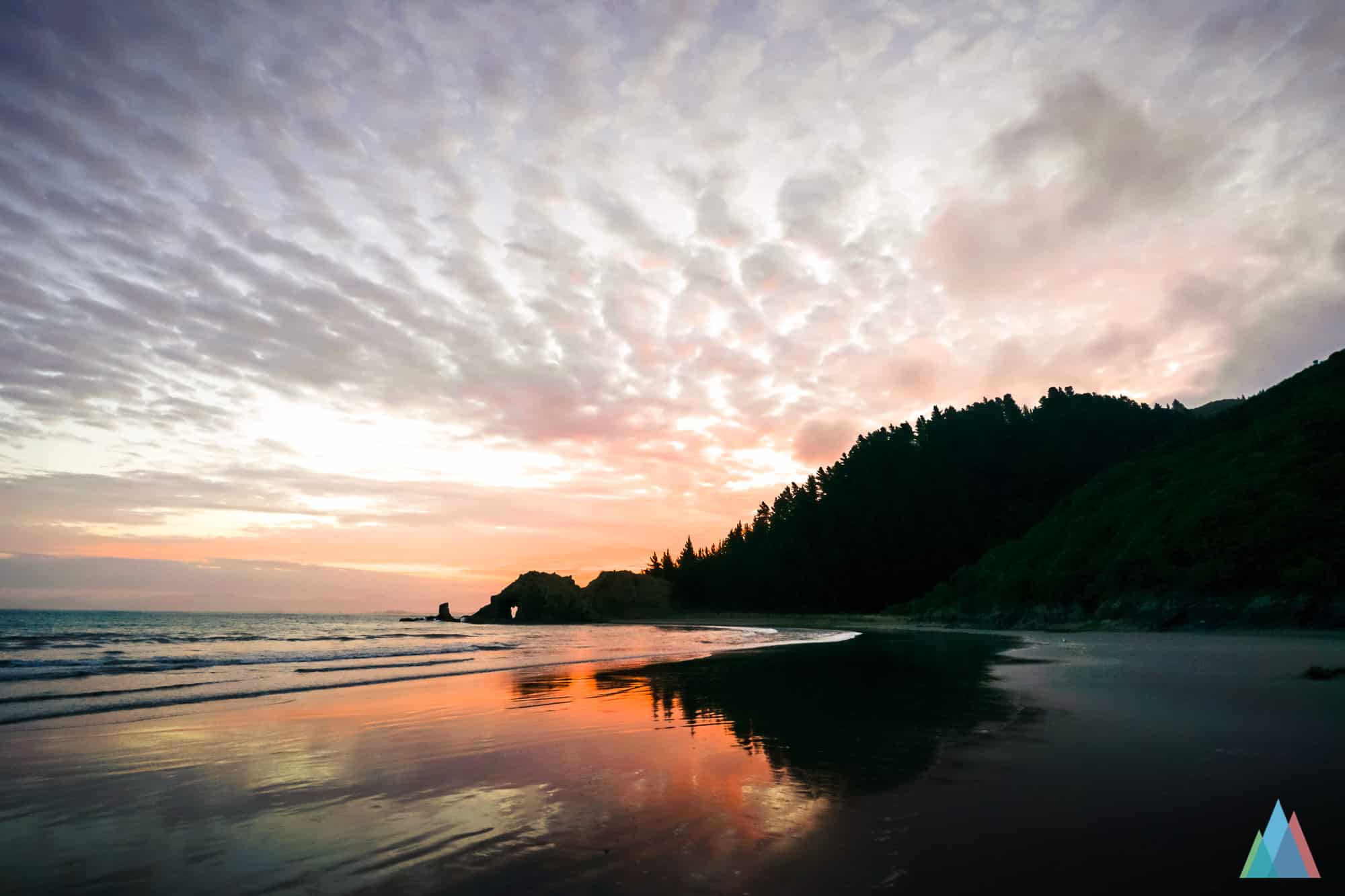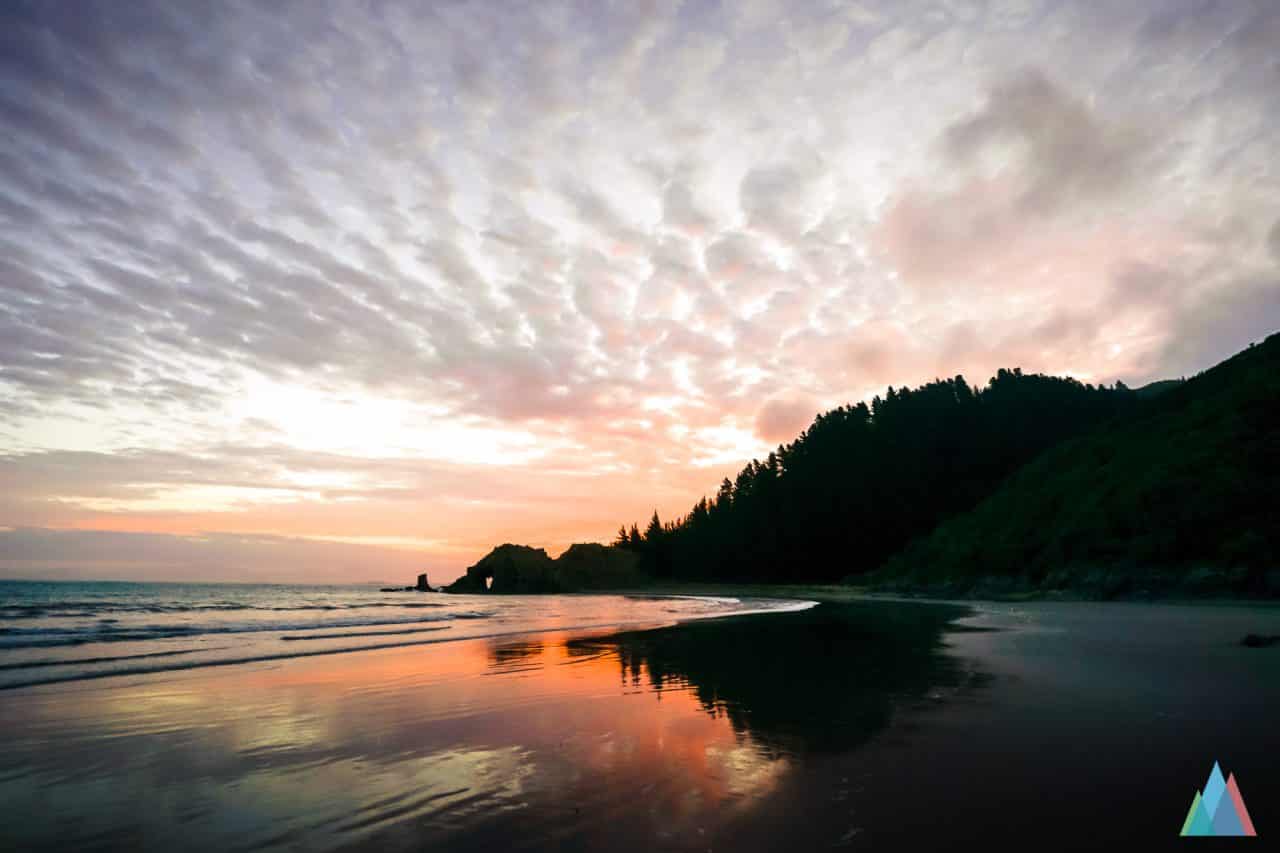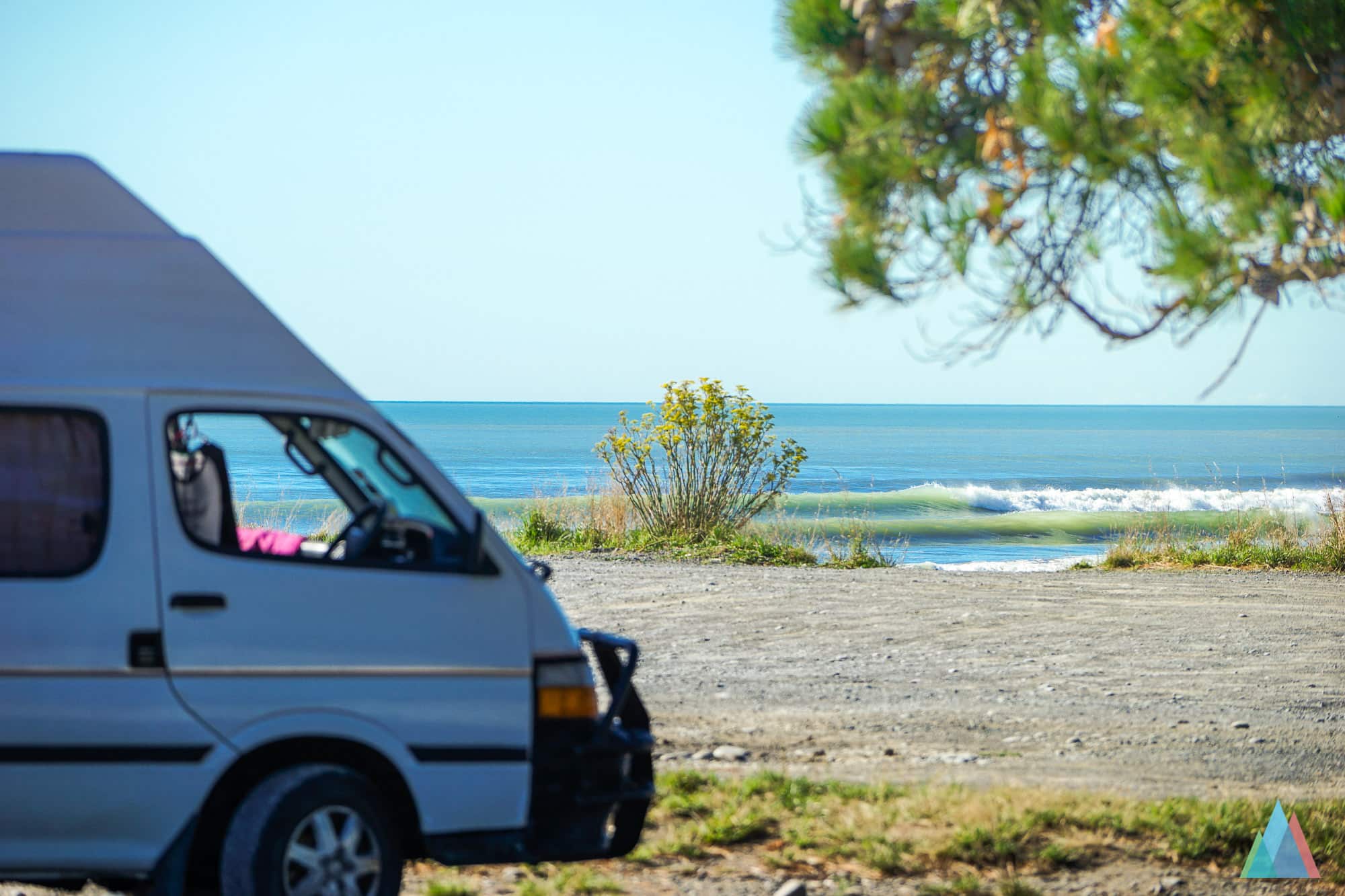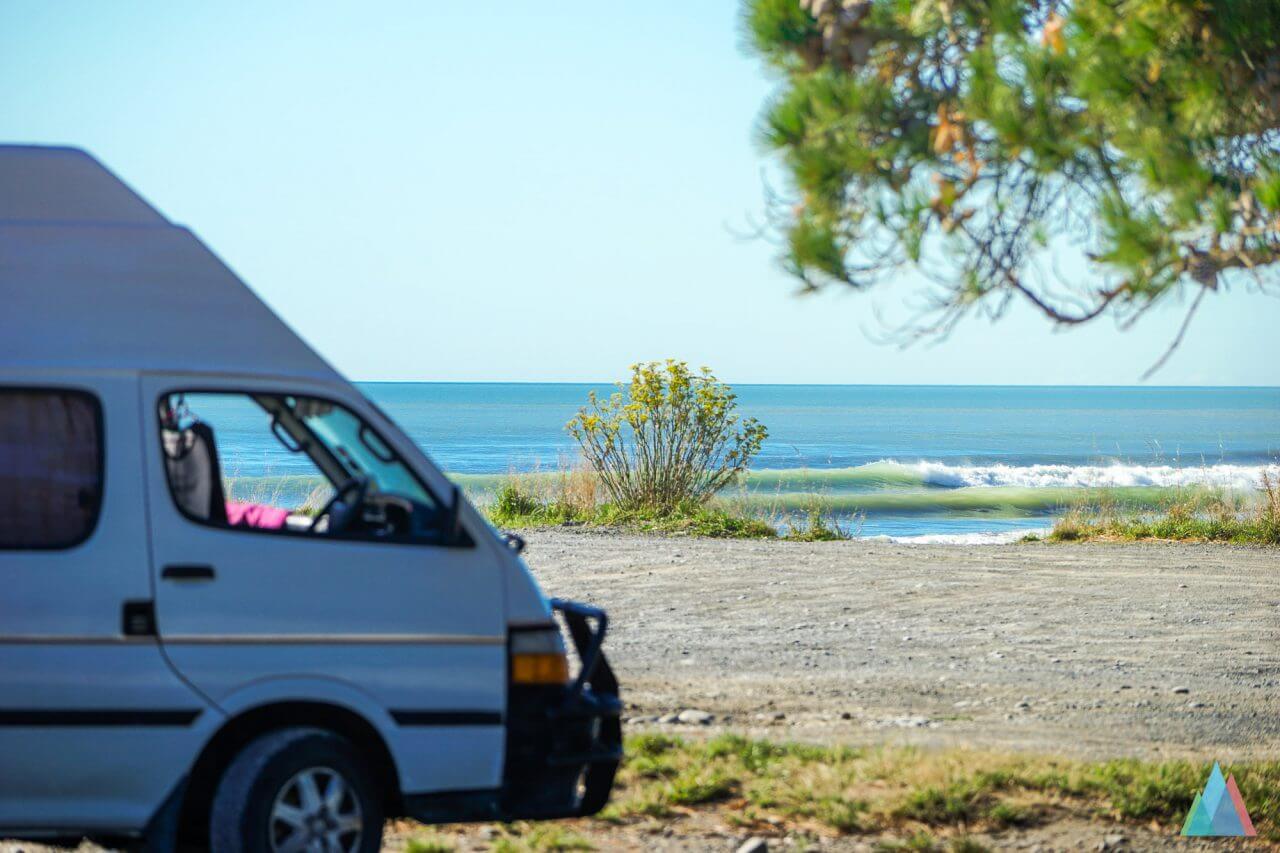 One region we were particular fond of is based around the DOC campsite in Whites Bay. The campsite and trails are part of the first day of the NZ enduro. The trails offered a first taste of what we were going to experience in Nelson. Steep uphills, lots of roots, some steep downhills but heaps of fun. The whites bay DOC campsite itself is great, too. It is located at a beautiful beach were you can surf with a bit of luck. So really a great place to spend a few days and switch between riding your bike and surfing an uncrowded beach break.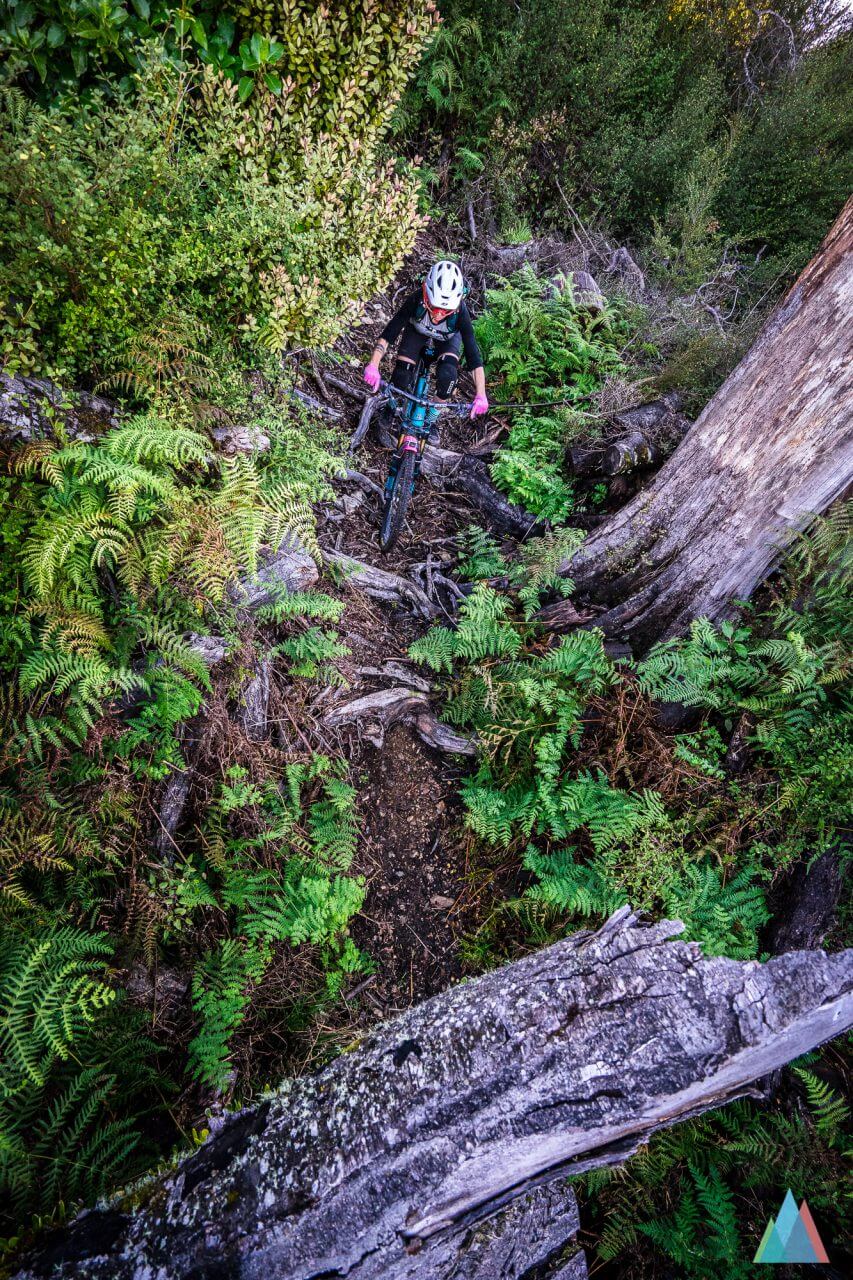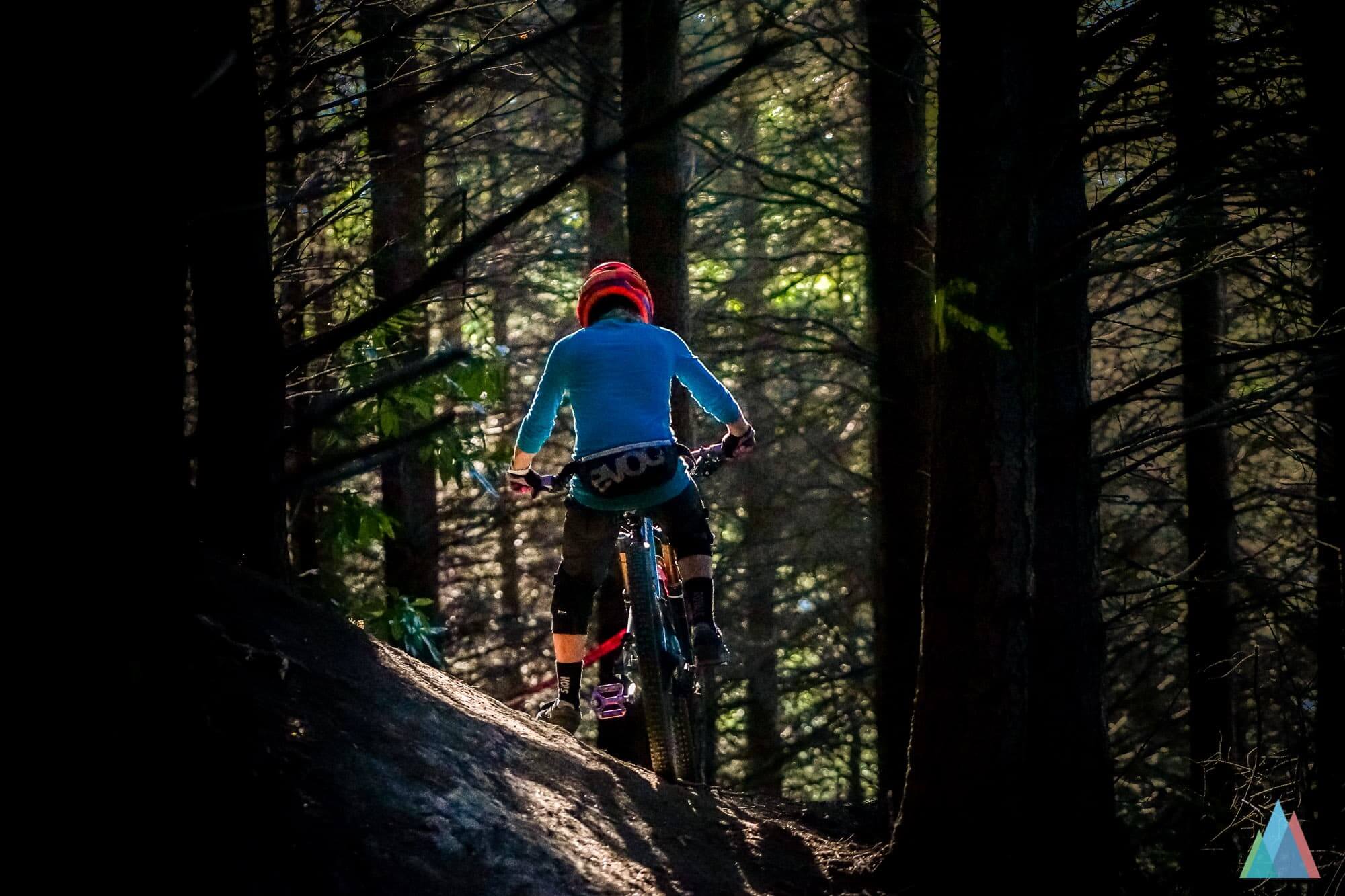 The few bikers we met in Whites Bay did tell us the same we heard already on the north island: Go to Nelson!
We have to agree with the folks that told us that the trail grading in this region is a bit on the difficult side. A trail rated black in Nelson would likely be rated double black diamond in another region. A bit scared by that outlook, essentially because most of the trails we were told to ride were graded black diamond, we made our way to Nelson.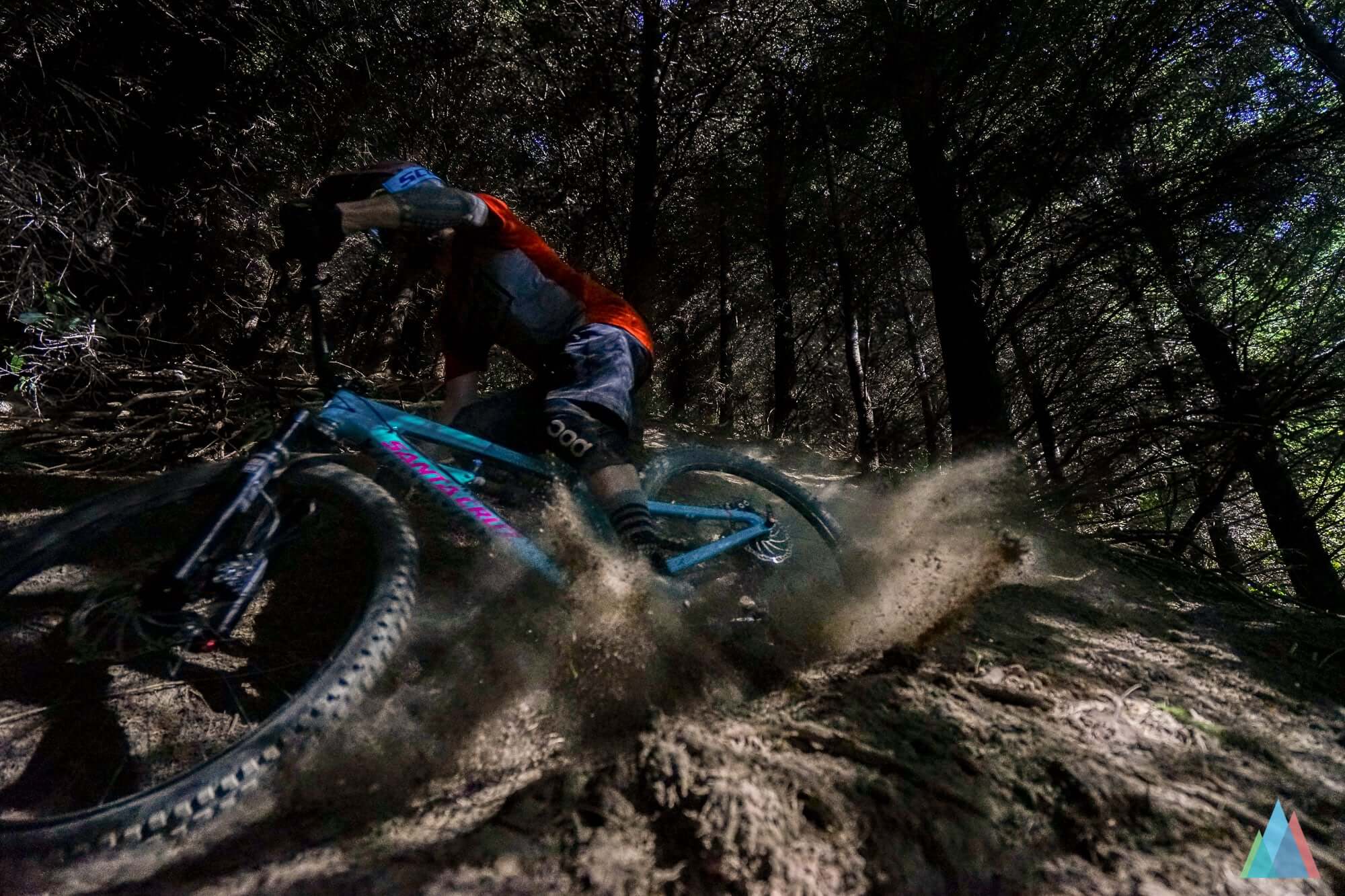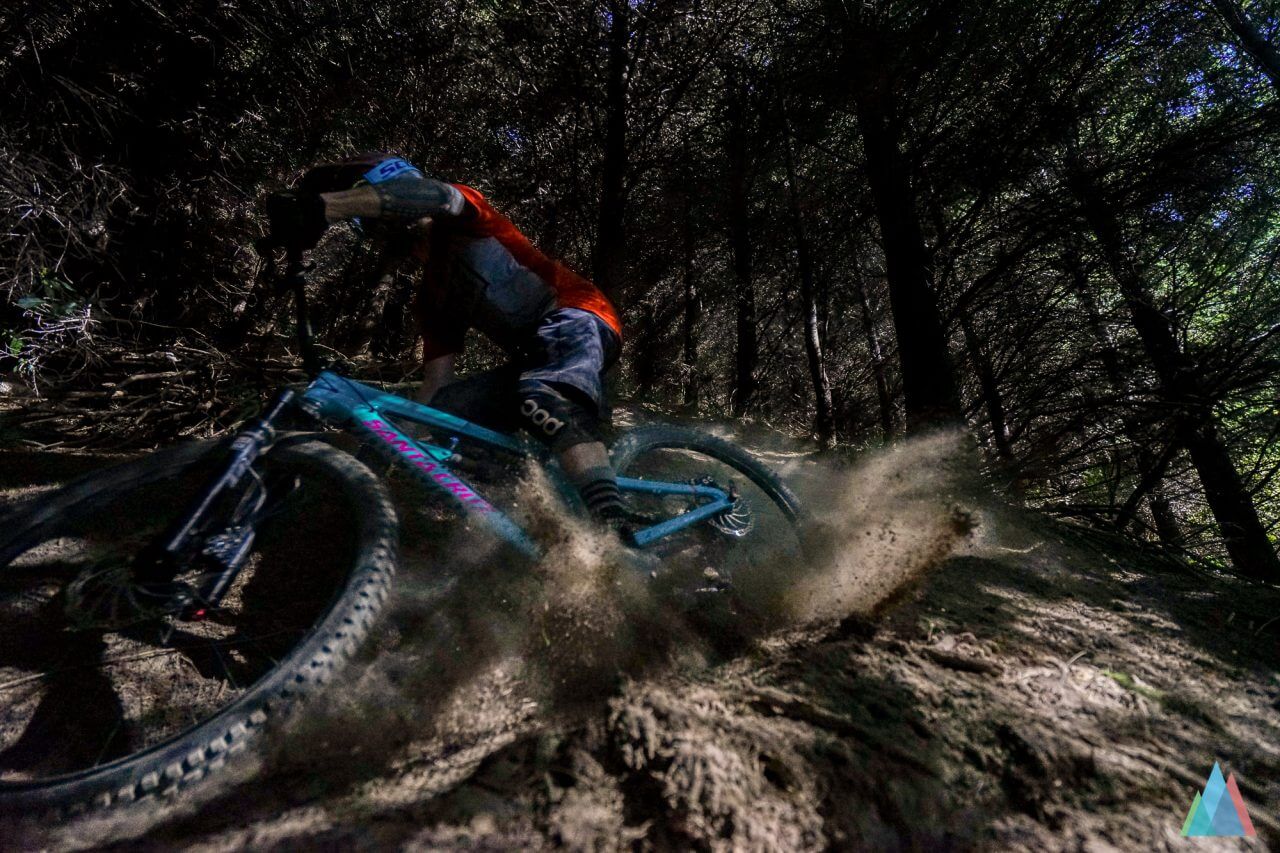 Straight away after arriving we did a short afternoon ride to get a feeling for the trails in Nelson and dropped into Top Dog and Smasher. Both trails were amazing, but we had to agree, they did seem to be challenging for their assigned grades. After Rotorua Nelson was yet another spot we spent more time at and were sad to leave. But be warned, to really enjoy Nelson you must like challenging trails, don't mind chutes and steep terrain (up and down).
Most trails are purpose built bike trails somewhere on the many hills in the backyard of Nelson. Besides chutes with mini berms to break into, you will find roots in every kind of variation. Must rides in Nelson are Smasher, 629 and Peaking Ridge. Keyboard Warrior followed by Mr. Chomper is a not miss as well. I stop here, but I could basically name almost every trail I rode in Nelson – too many great trails to choose from. Only downside of Nelson might be that most of the times you will have to earn your turns by yourself and pedal up. From another point of view thats a good thing as it keeps the trails in good condition. They are for sure not as often ridden as if there were uplift options available.
There is an option available if you prefer to shuttle and have enough cash to spare. The shuttle accessed trails from Wairoa Gorge are supposed to be as good as it gets and they are located just around the corner from Nelson!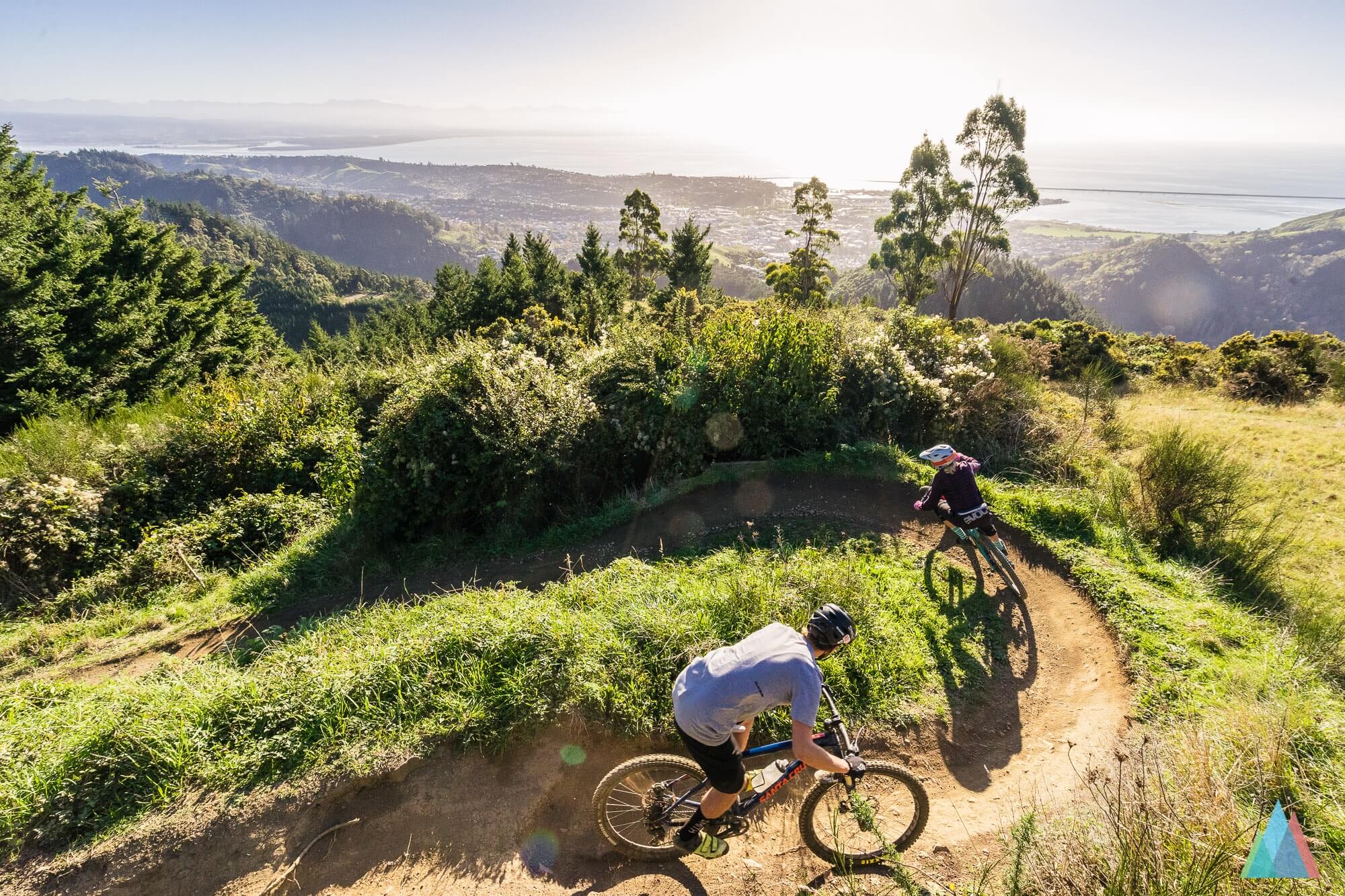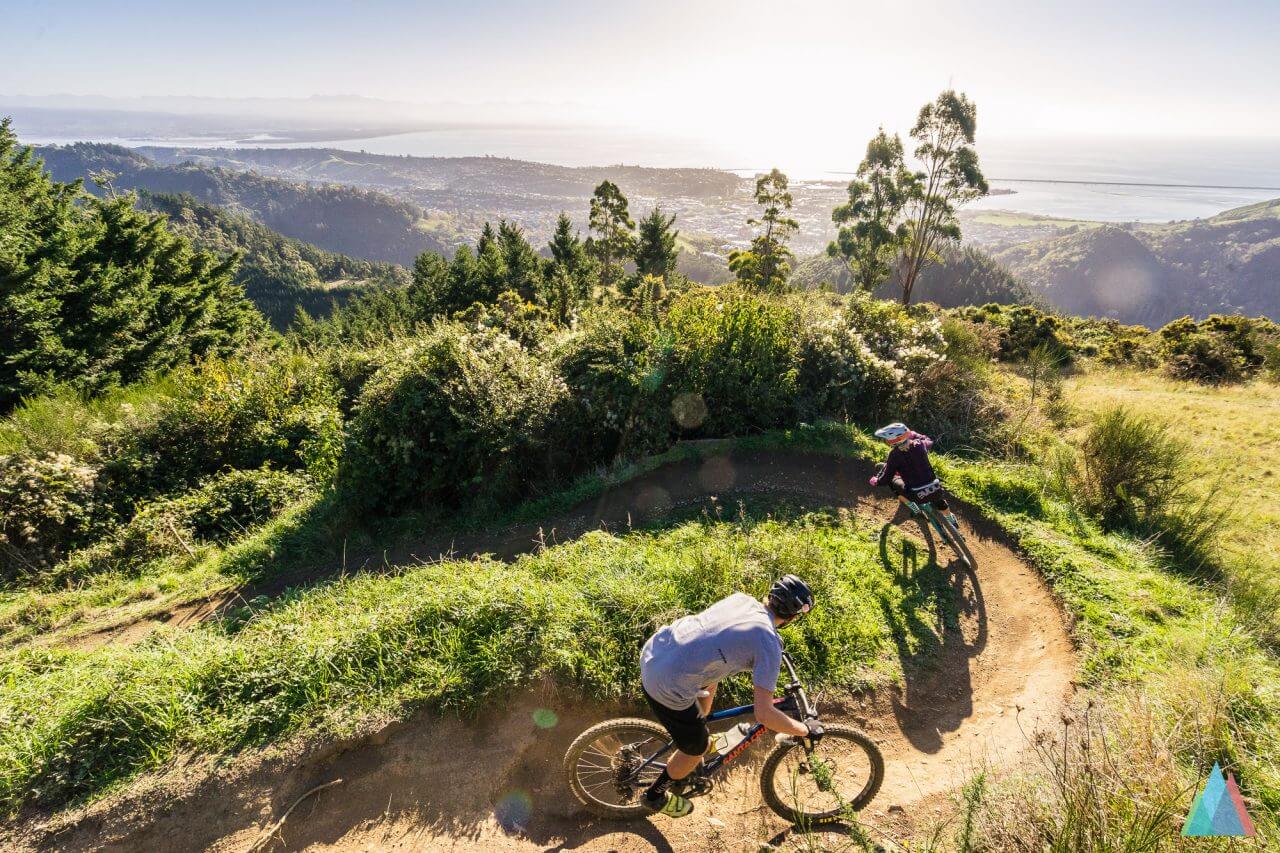 Found some berms in Nelson
After our roadtrip through the South Island and on our way back north towards Auckland we did manage to do a pit stop in Nelson to get some more trail time on some of our favourite trails from New Zealand. Besides riding some of our favourites we did discover some berms too. We didn't just ride on Sharlands, in the Maitai Valley or Dun Mountain but visited this time a zone called Codgers as well. This hill offers some less challenging trails and to our great surprise some machine built trails with berms as well. The view you get over Nelson from the top of Codgers justifies the climb easily – but the trails down from there are not too bad either.
Nelson does not only offer picture perfect views, difficult but perfect trails, but also amazing local beers, burger stops and cafes. The vivid and for the size of Nelson huge mountain biking scene full of people who fell in love with this village and never left is alone the best proof that this village is special. After spending roughly 3 weeks in and around Nelson we can completely understand why and we are tempted to stay longer ourselves… Nelson is a MUST visit for everyone, but especially for mountain bikers!
Nydia Track – our mini adventure in the beautiful Nydia Bay
Before we continued towards Wanaka we booked a shuttle to Opouri Saddle where a long day on the bike would start. We were after the Nydia Track. The Nydia Track is another stop of the NZ enduro race and is famous for it's techy up and downhills. Difficult in the dry, crazy in the wet.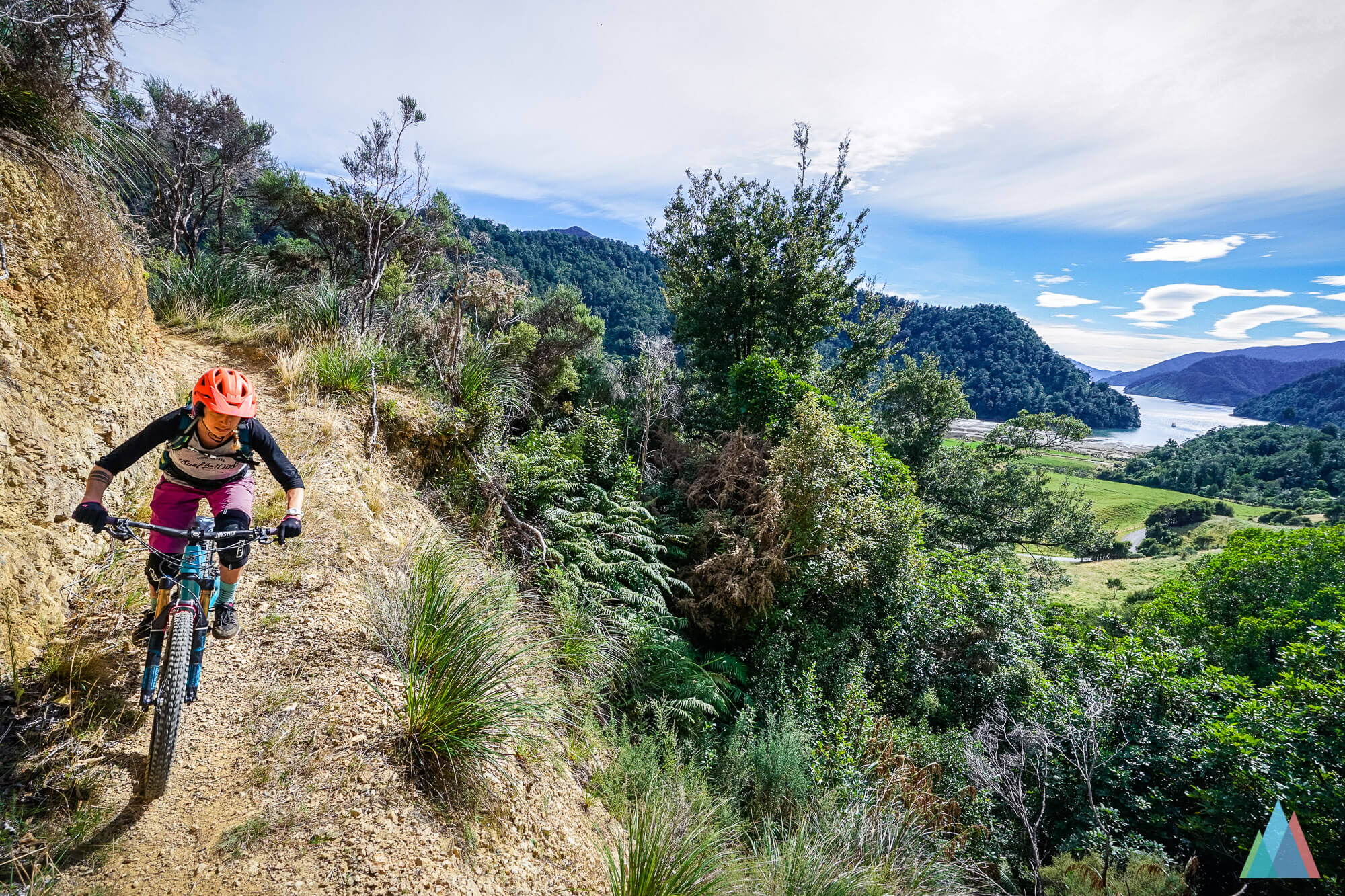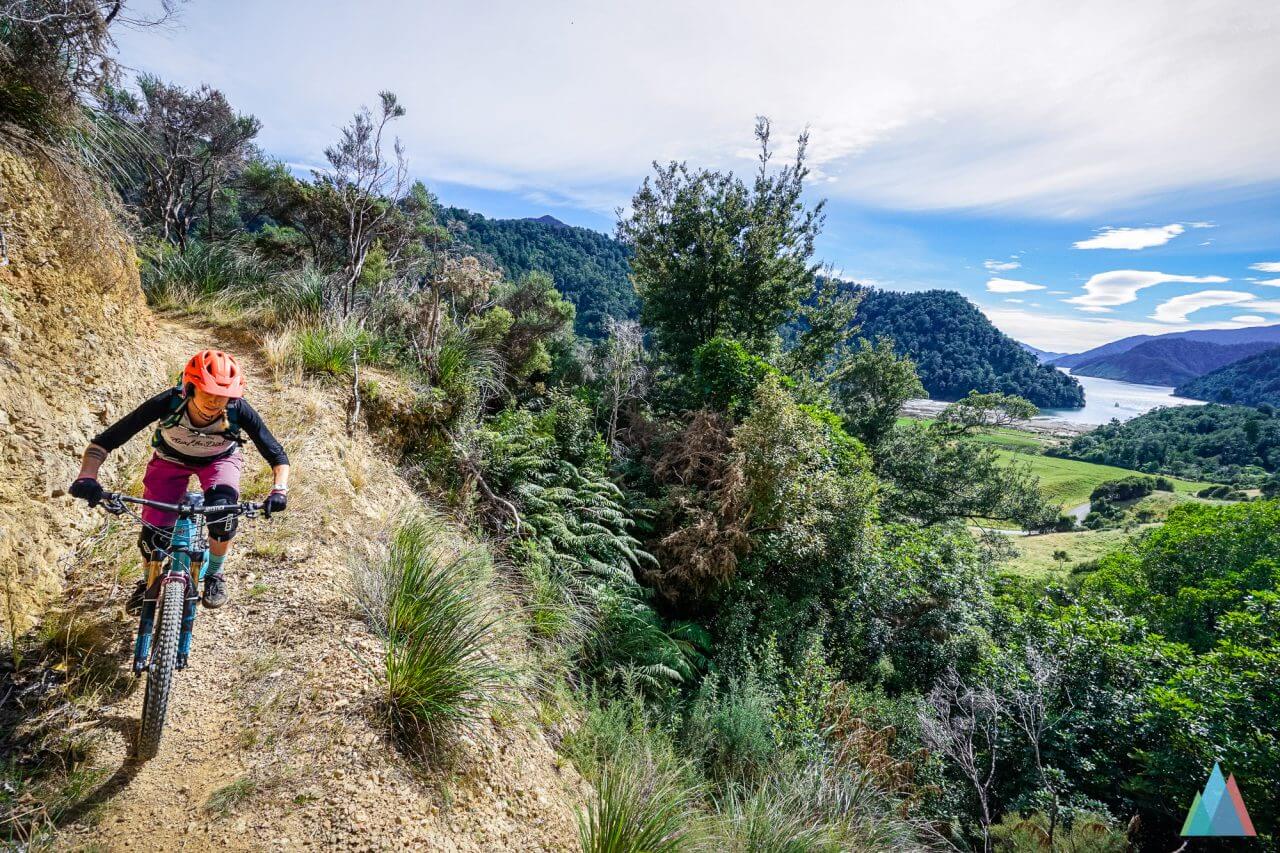 Nydia Track consists of three up- and downhills – most of them rather challenging. Some bikers in New Zealand count the first uphill to one of the best uphills in the world. It is literally just roots and you have to pick your line very carefully to manage to ride it. The downhill that follows is not less difficult and will punish you for poor line choice or not enough commitment, but it is also a very long and good descent into the Nydia Bay.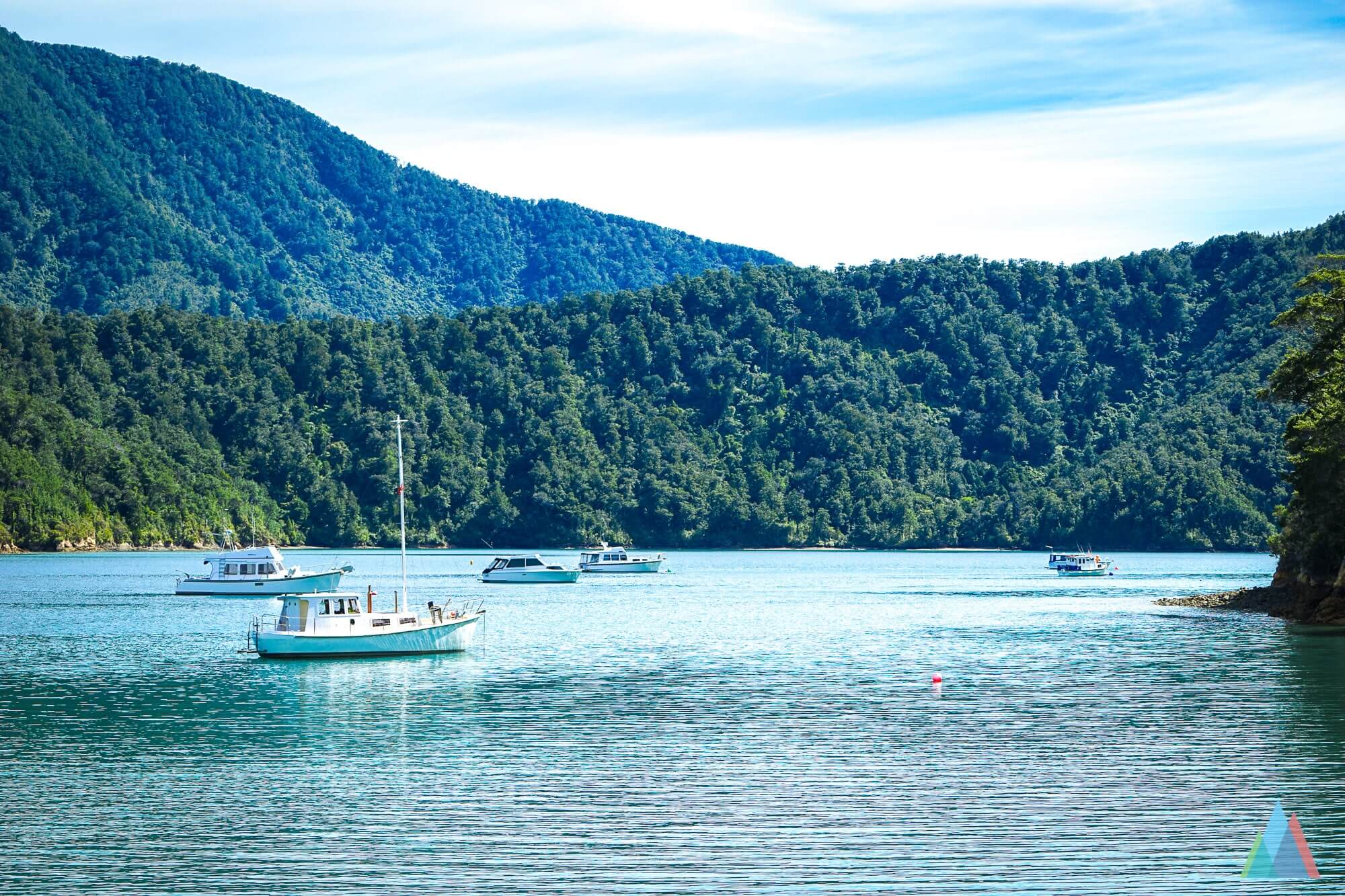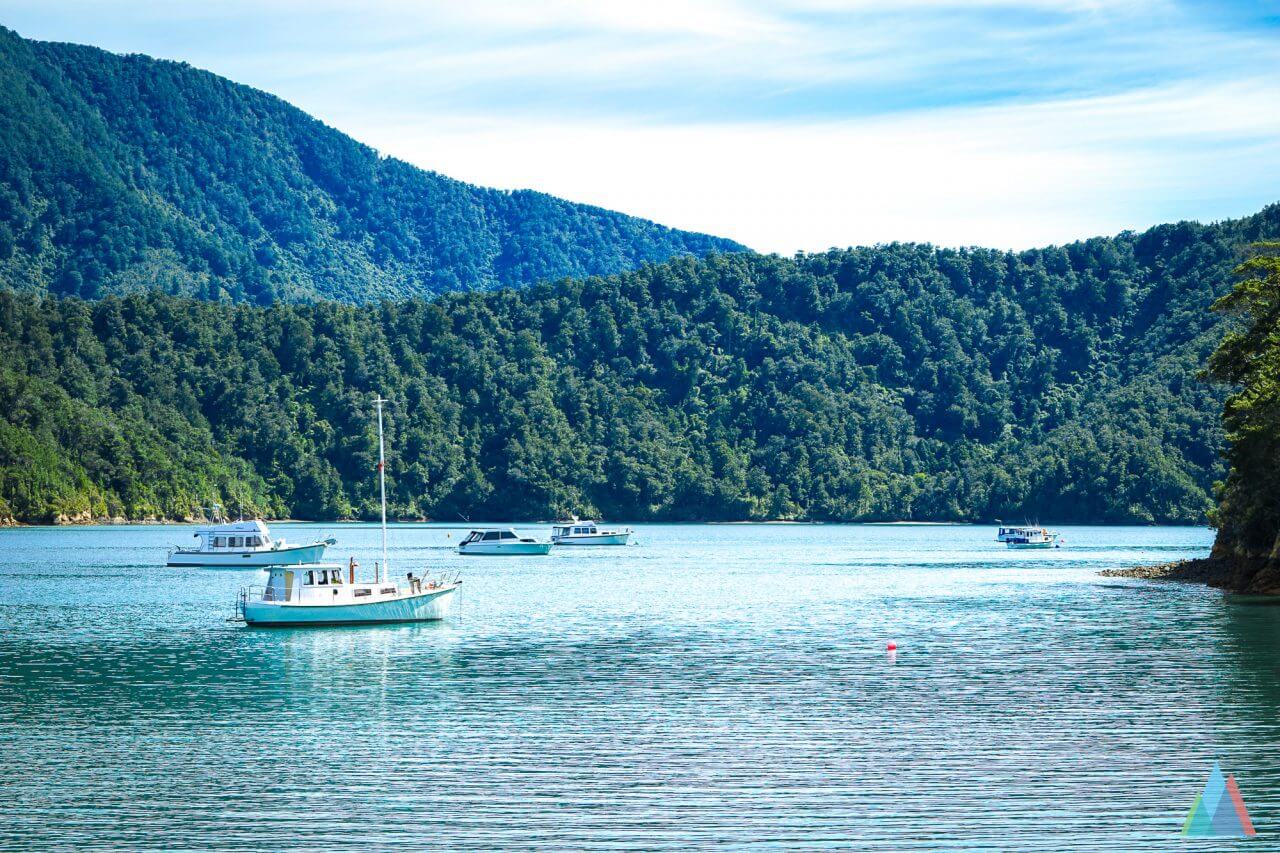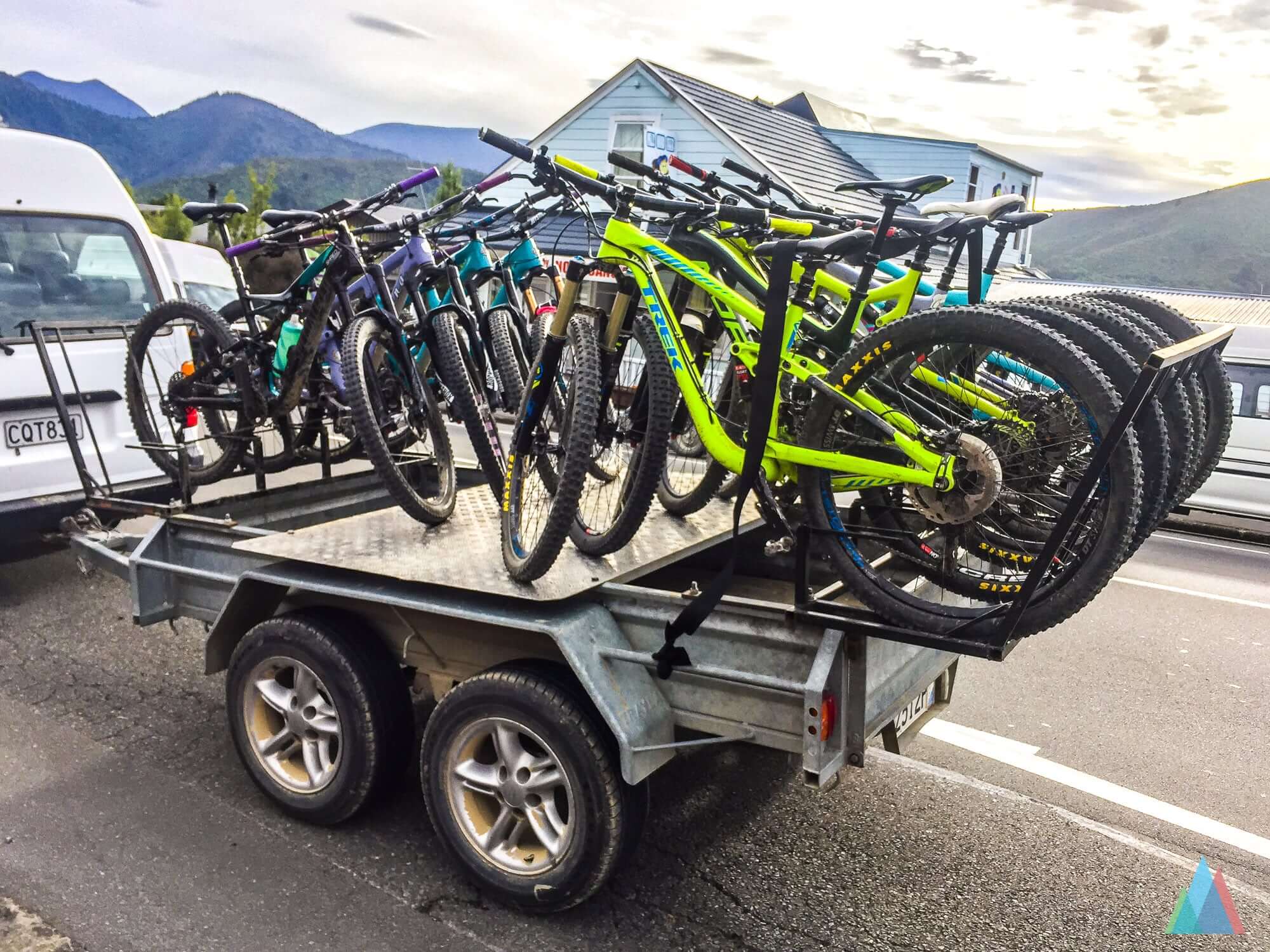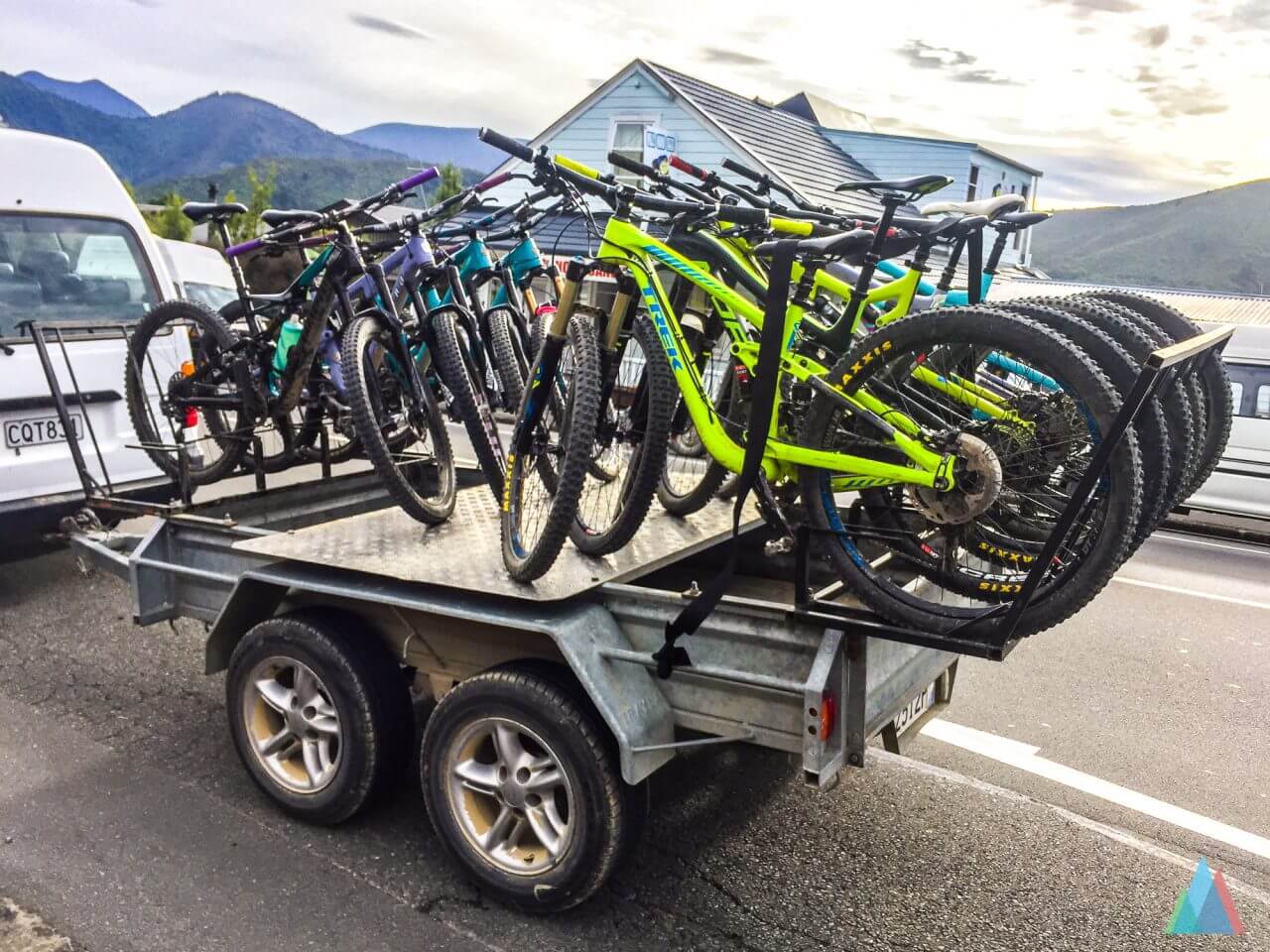 Crossing the Nydia bay consists of easy trails and there is the "On the track lodge" to refuel before the next climb. From there the trails get easier and the Nydia Track ends with a super fast flow trail at another bay where ideally a boat or a shuttle car will pick you up and bring you back to Havelock. The Nydia Track is a proper adventure a bit off the beaten track. Difficult but worth it, as long as you don't go there when it is wet.
Vanlife on the westcoast
After the Nydia Track it was time to move on towards the south. We spent the last weeks mostly with riding our bikes and were therefore exhausted. We decided to do a bit of hiking and sightseeing on the westcoast of the south island to get our strength back for more bike riding further south.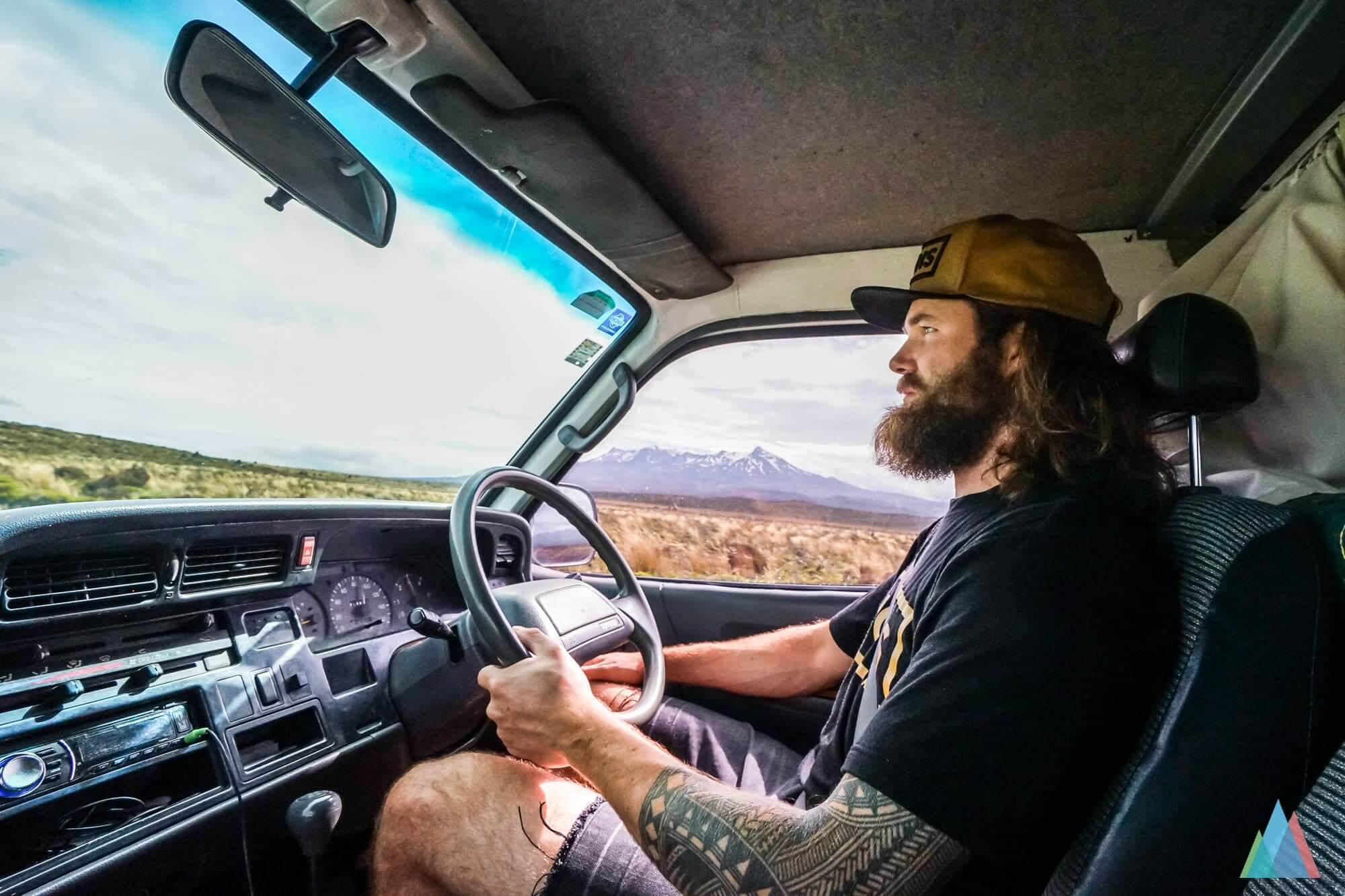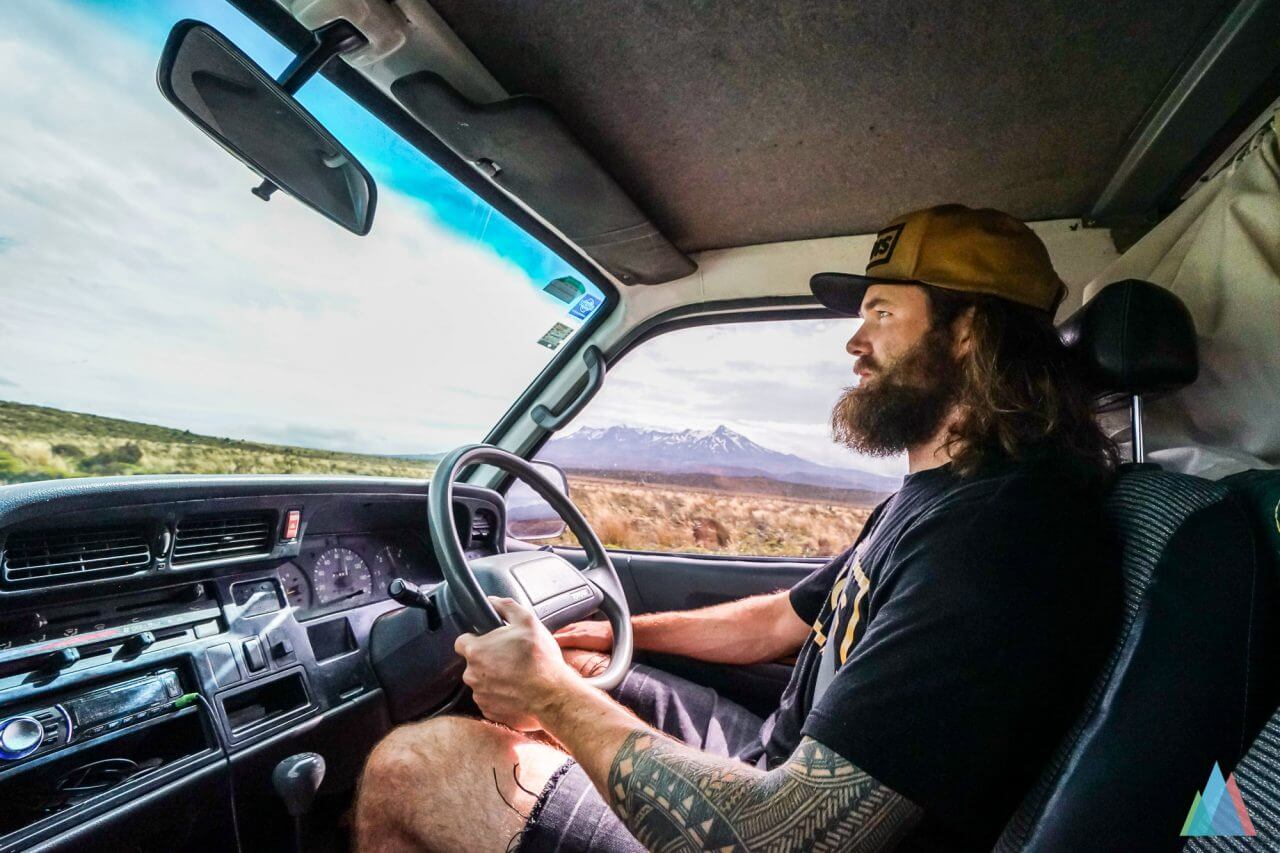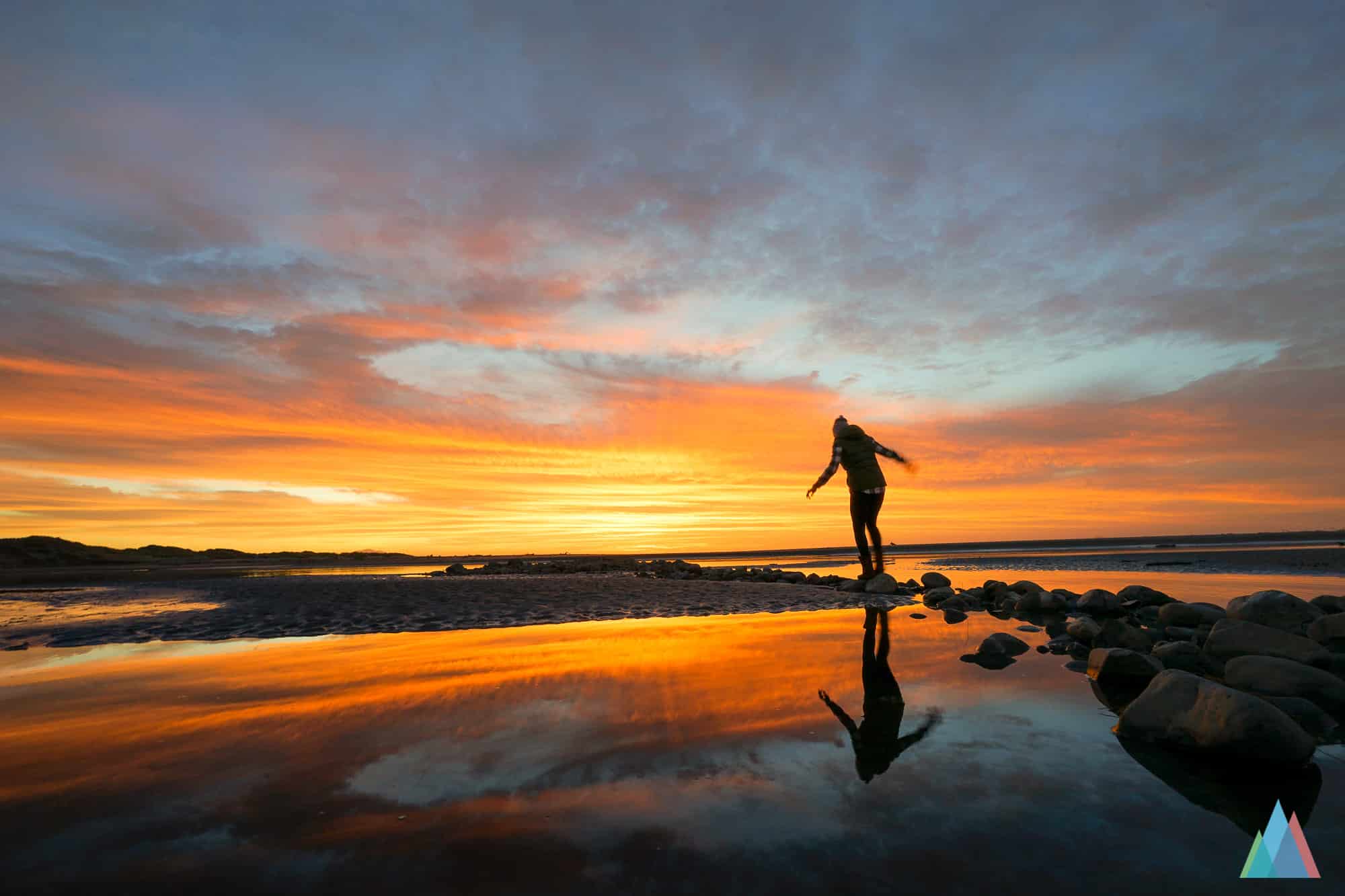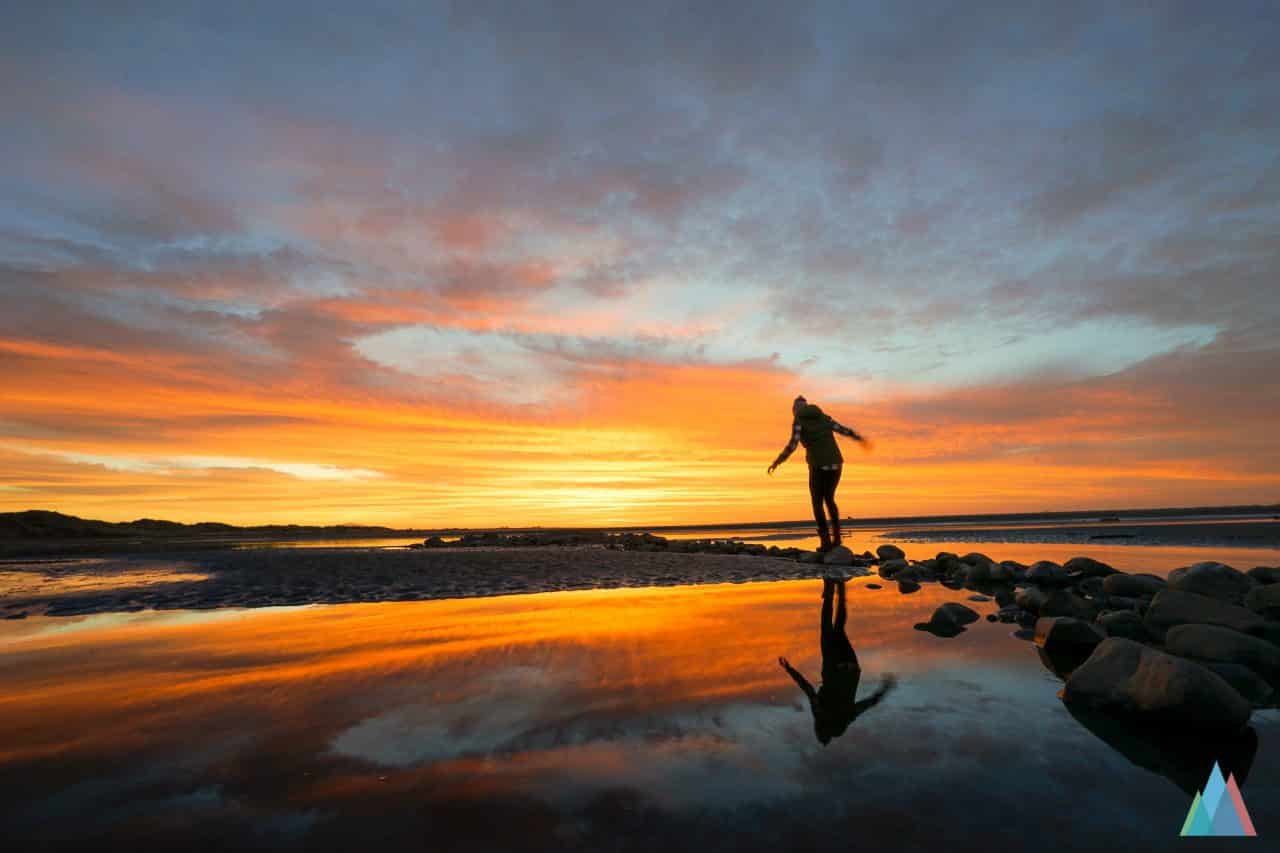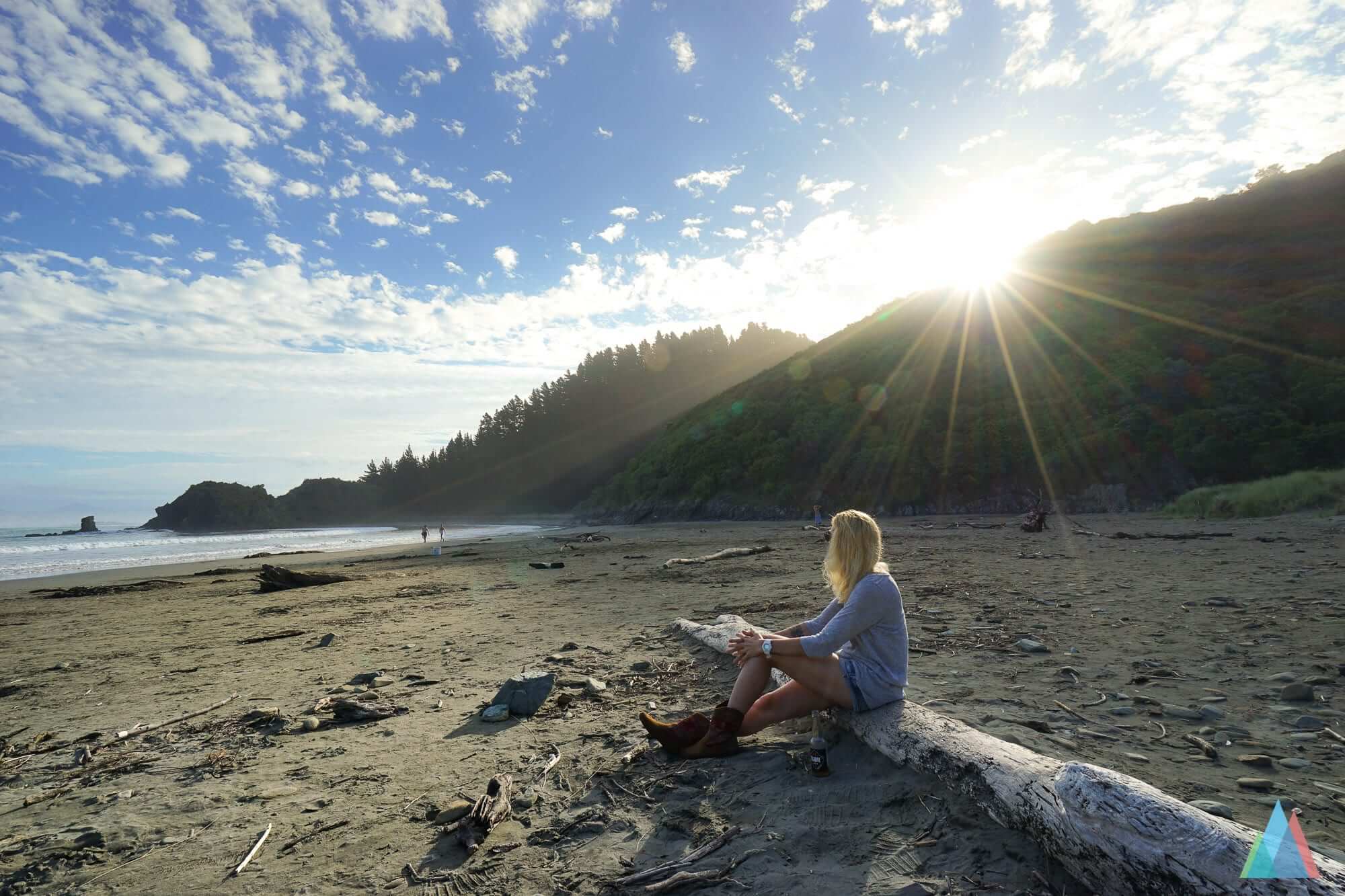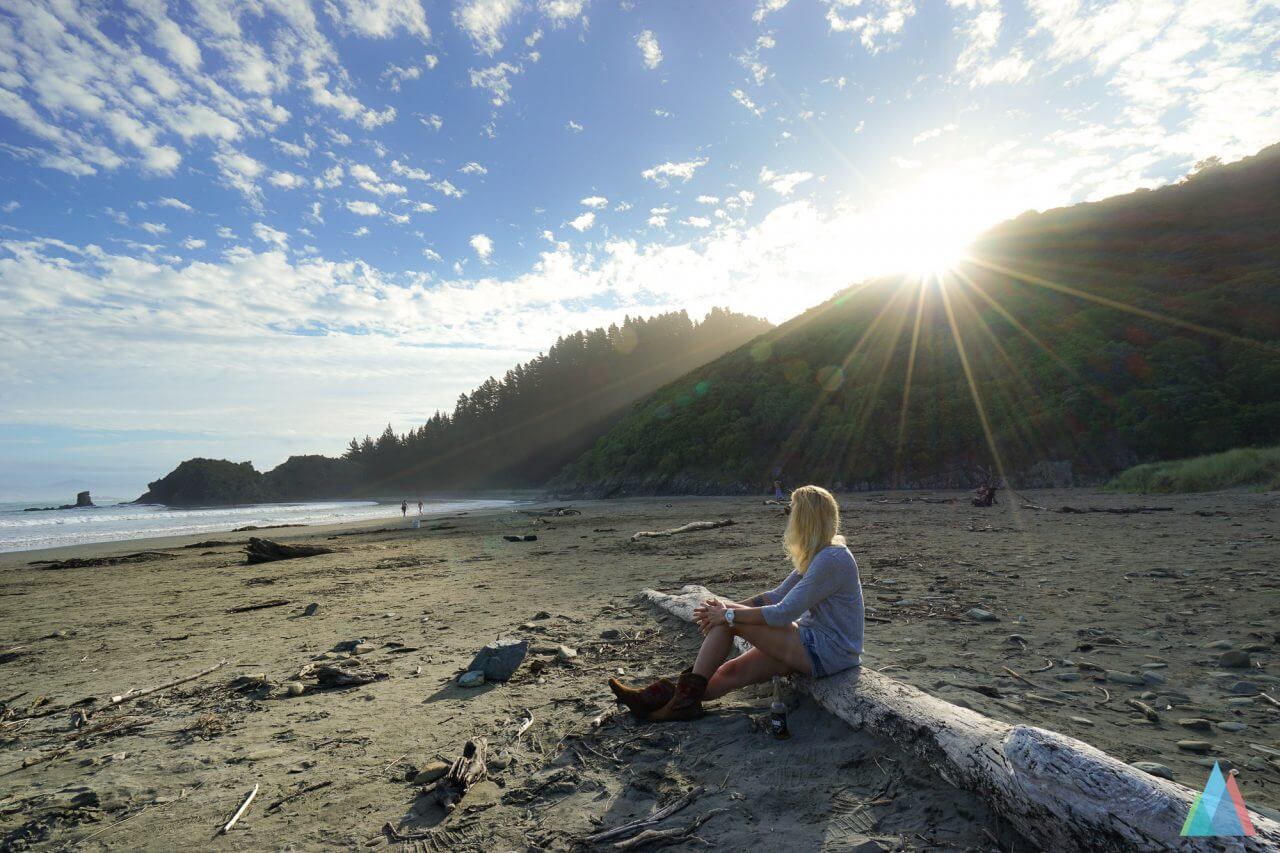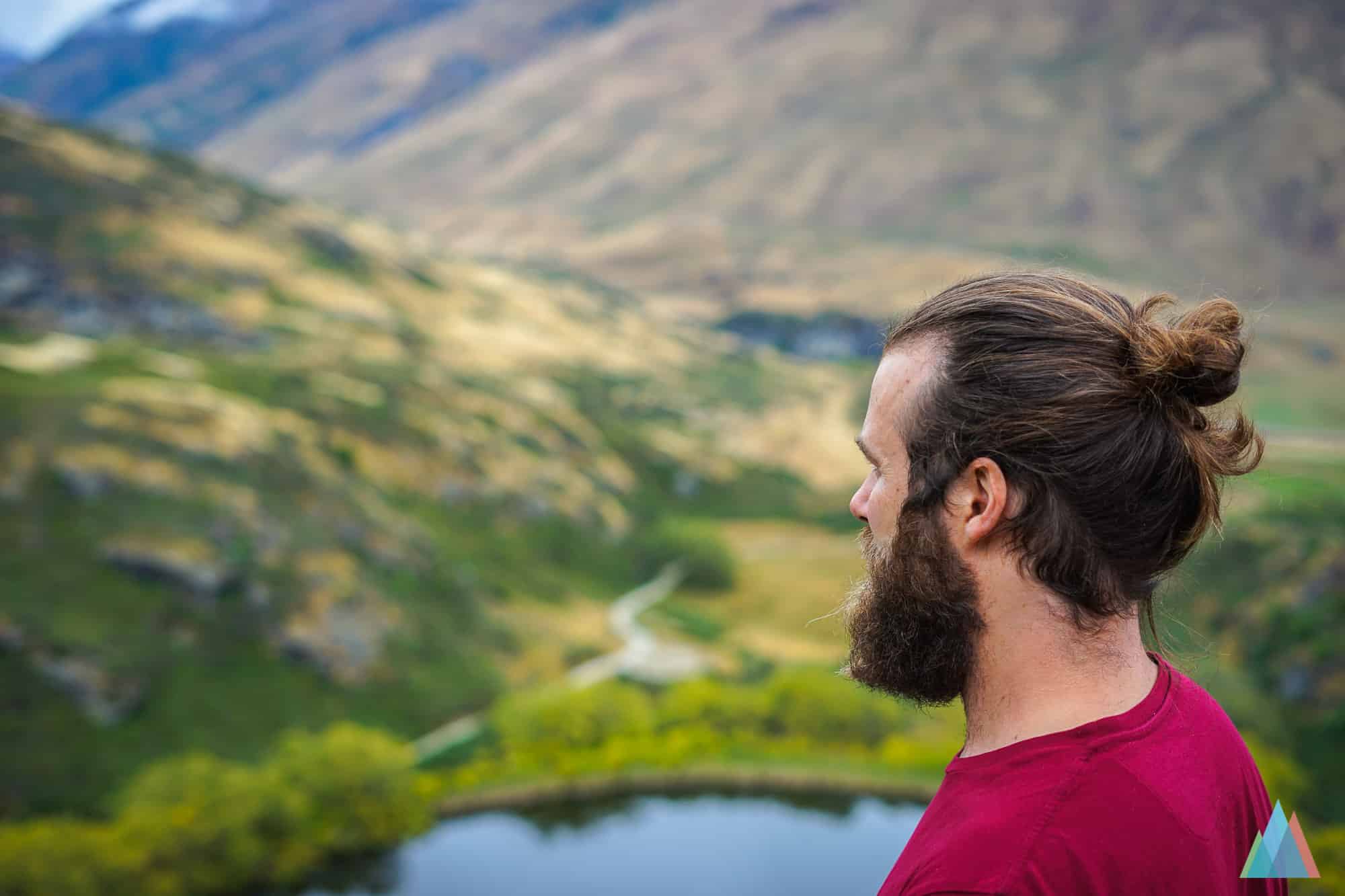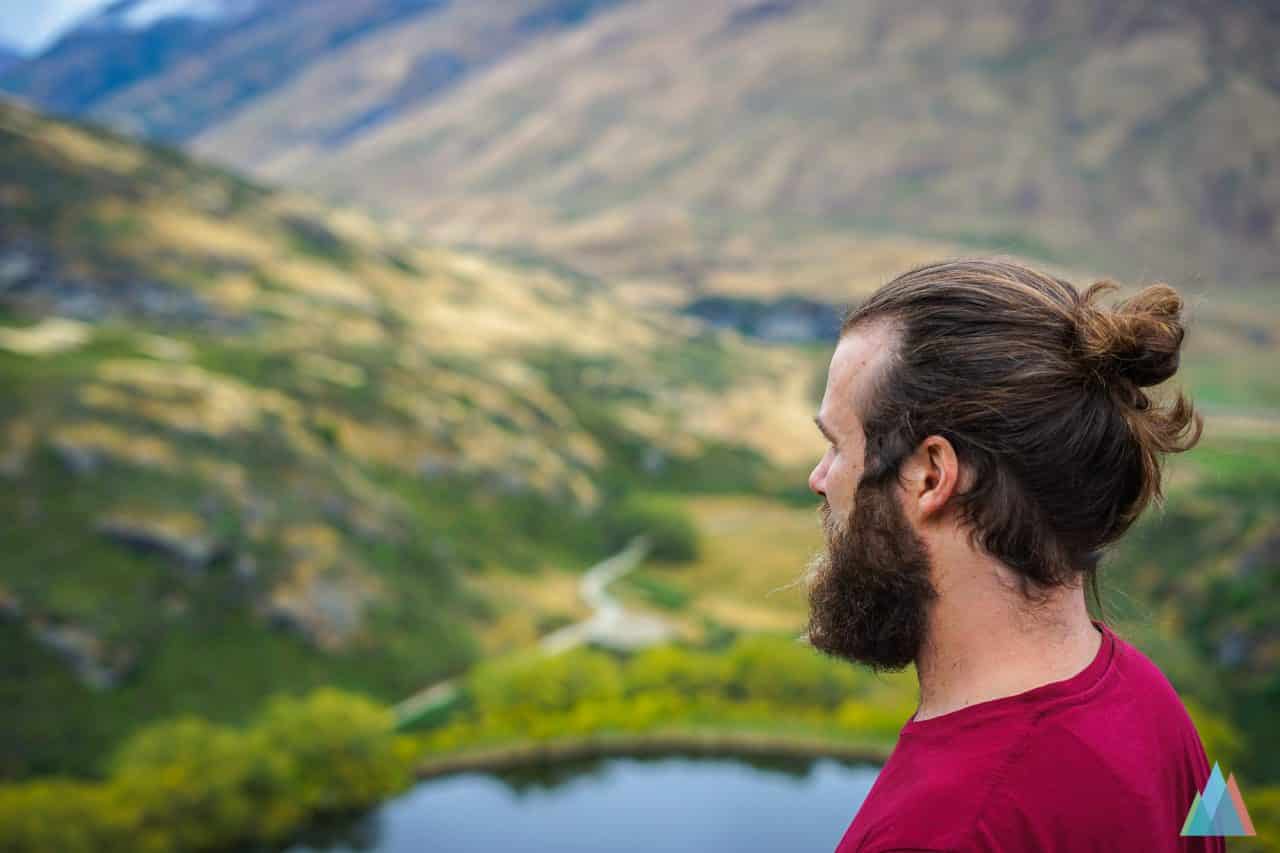 The weather forecast looked not too bad and so we drove towards Greymouth. A few days and nice sights later we went hiking at Franz Josef glacier and spent four days in this region without phone reception and discovered the unbelievable silence and beauty of the west coast.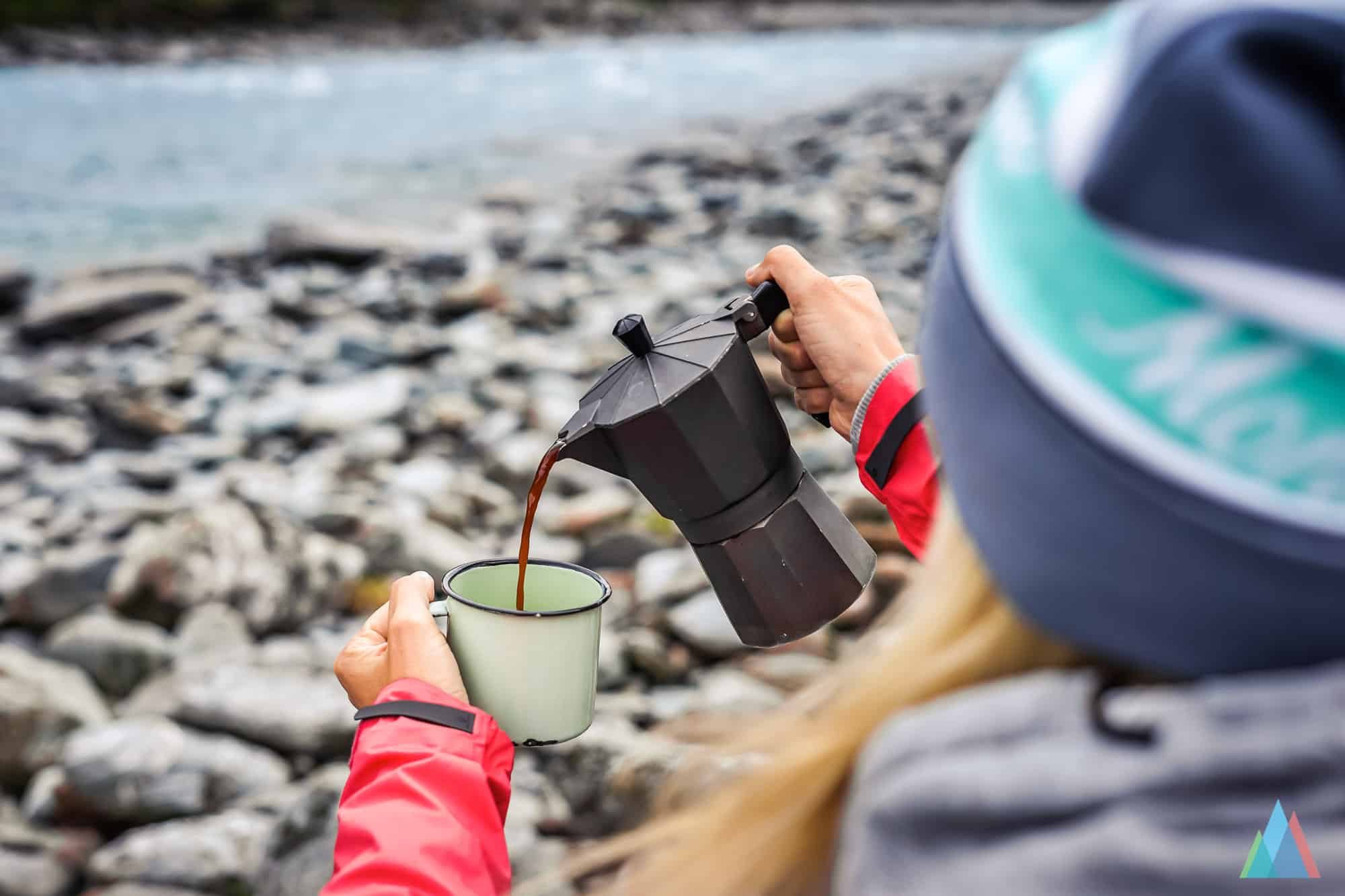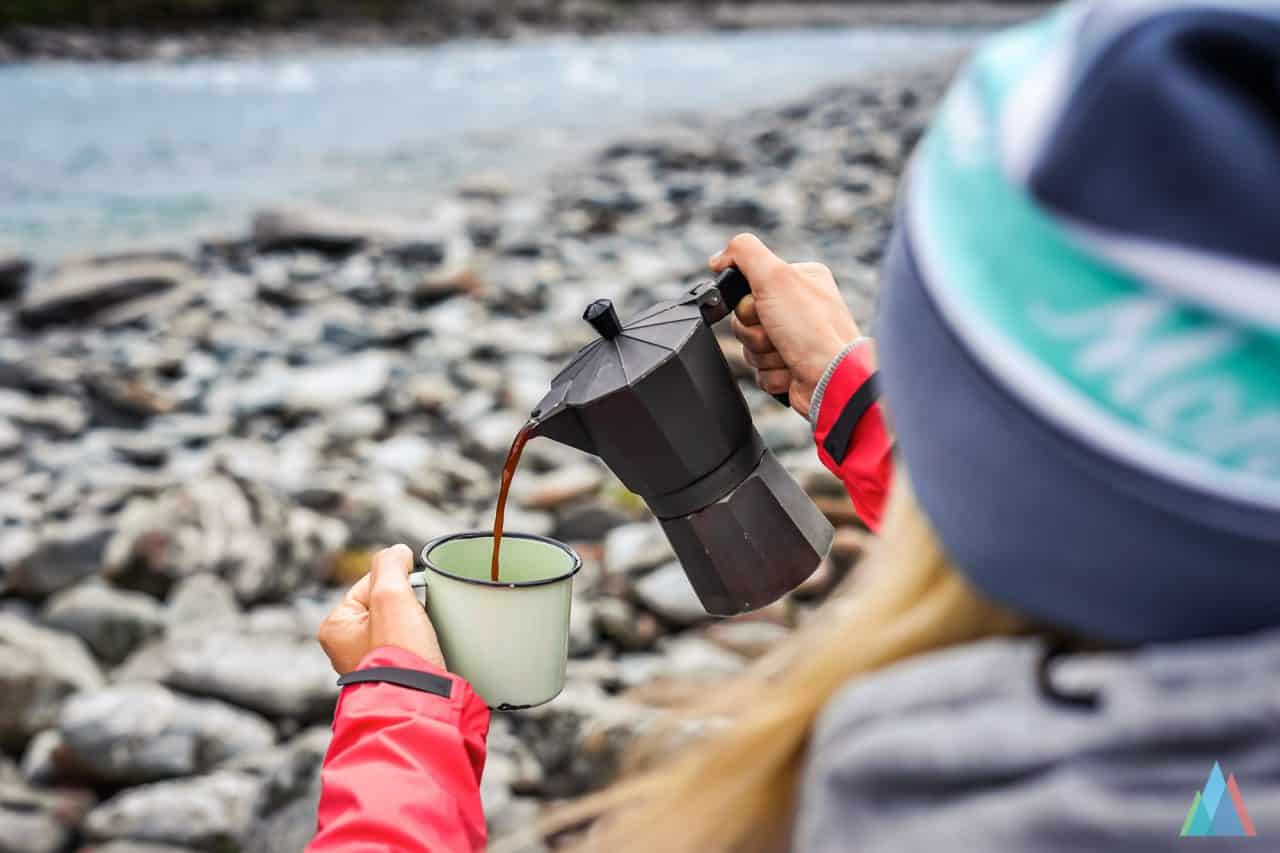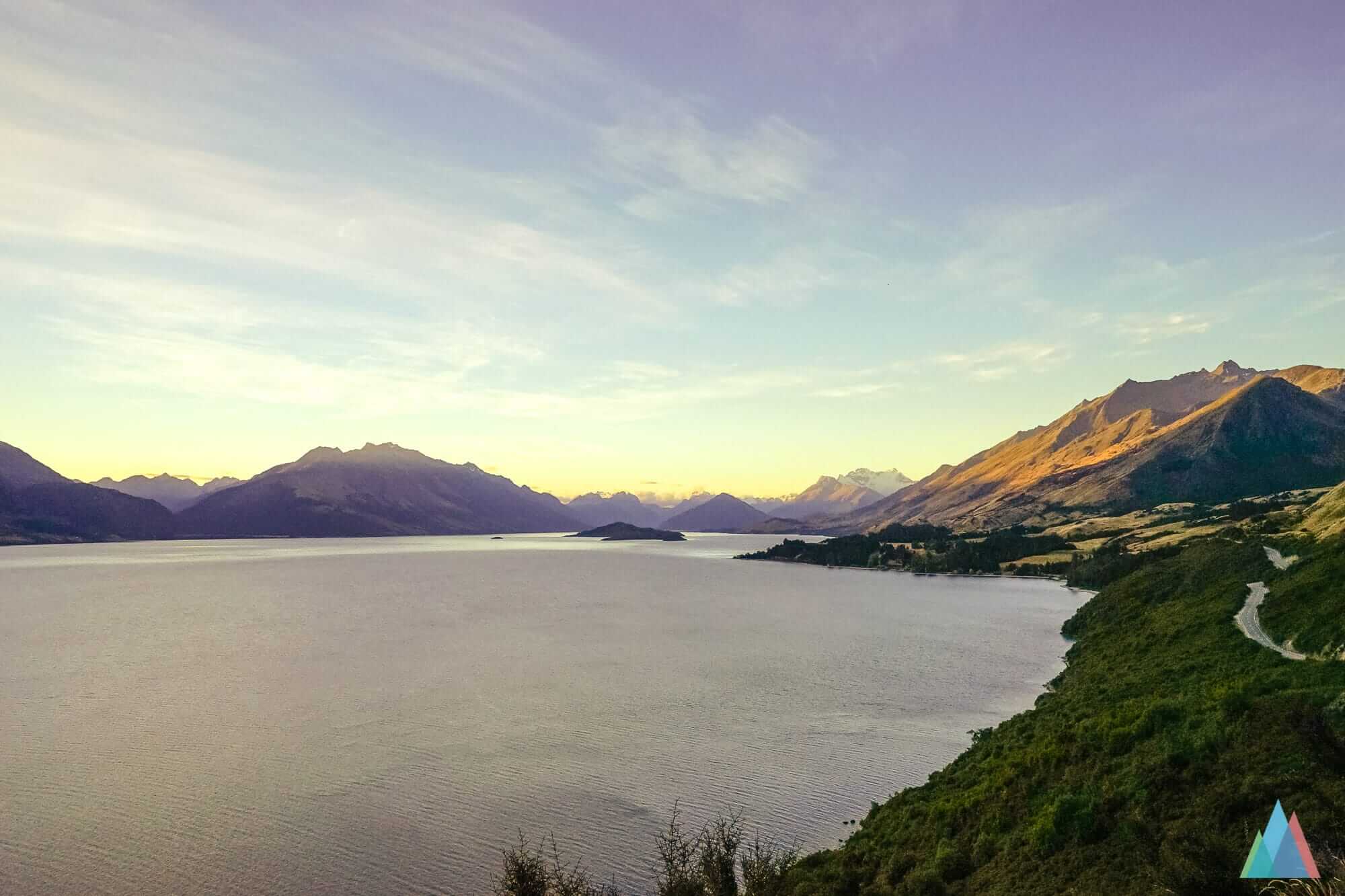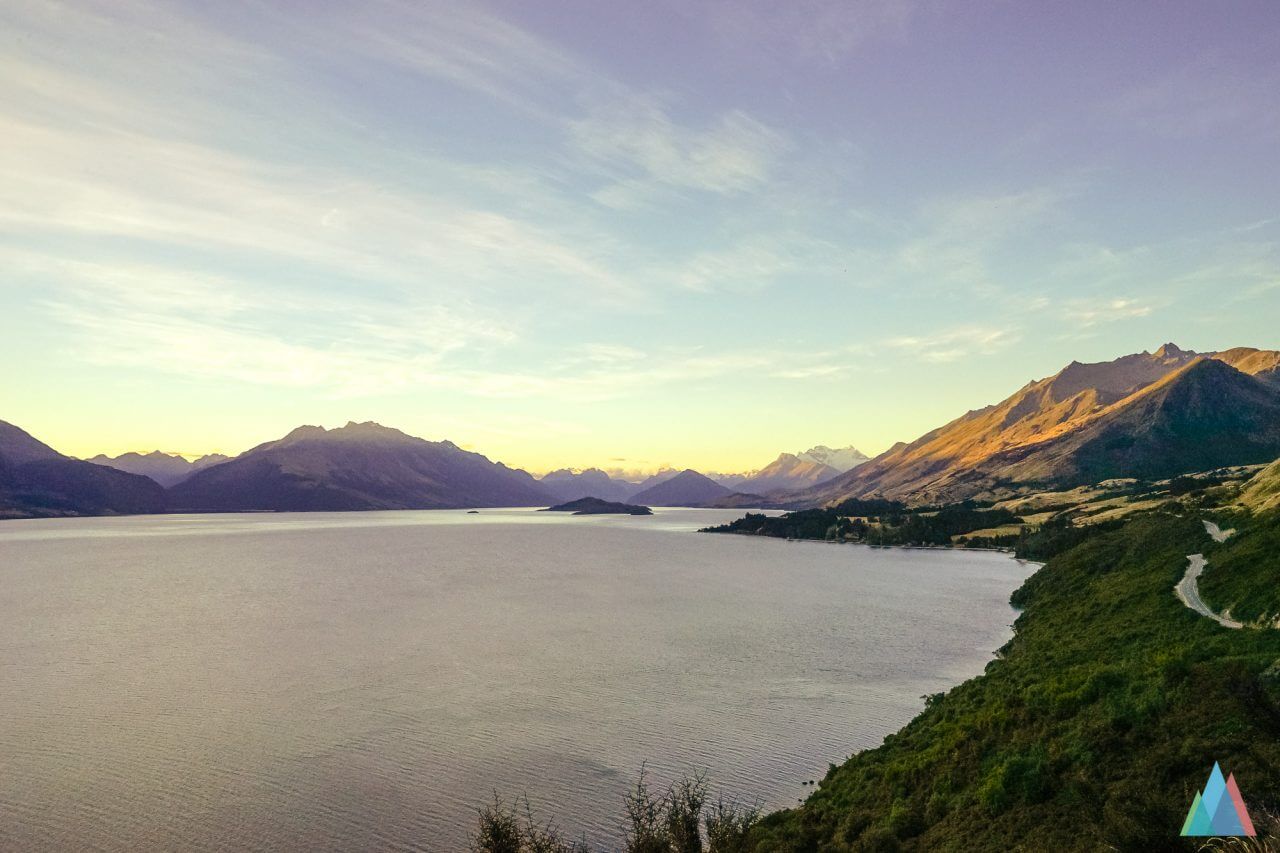 Unfortunately the whole trip into the wild got a little disturbed by the sudden loss of our vans 5th gear. Luckily we were still able to continue our trip with 4 gears and the knowledge that the whole gearbox might brake down suddenly. Our van was now not only very slow accelerating but also only traveling at 80km/h.
Lake Wanaka – resembles a bit to Switzerland, a bit to Canada – must be New Zealand
Our expectations of Wanaka were high. Lake Wanaka tourism represents the region exceptional well on all possible channels. After seeing pictures of the vast mountain ranges and lakes we were expecting bike adventures similar to Switzerland. Long uphills to the high mountains surrounding Wanaka and long descents thereafter.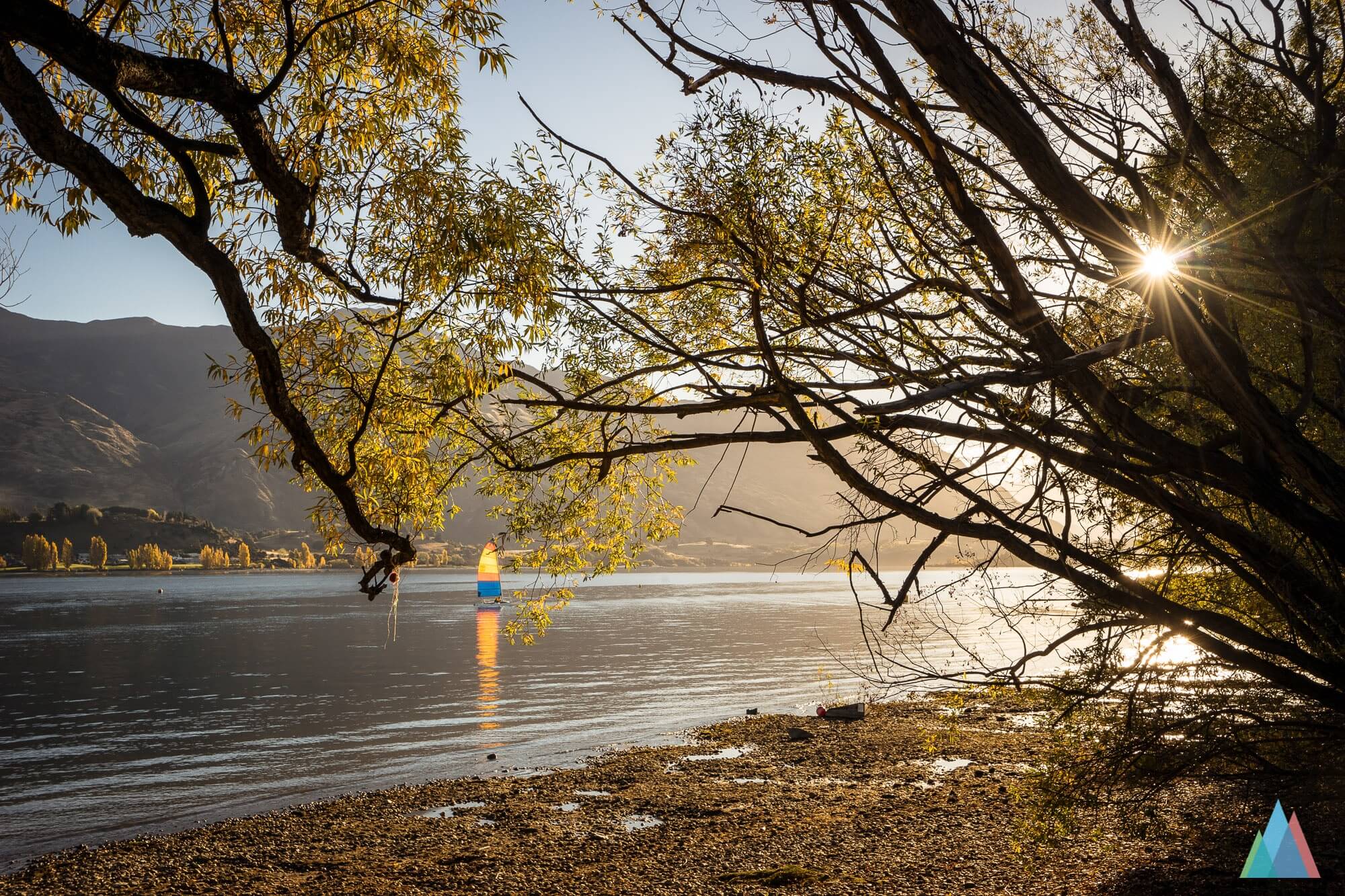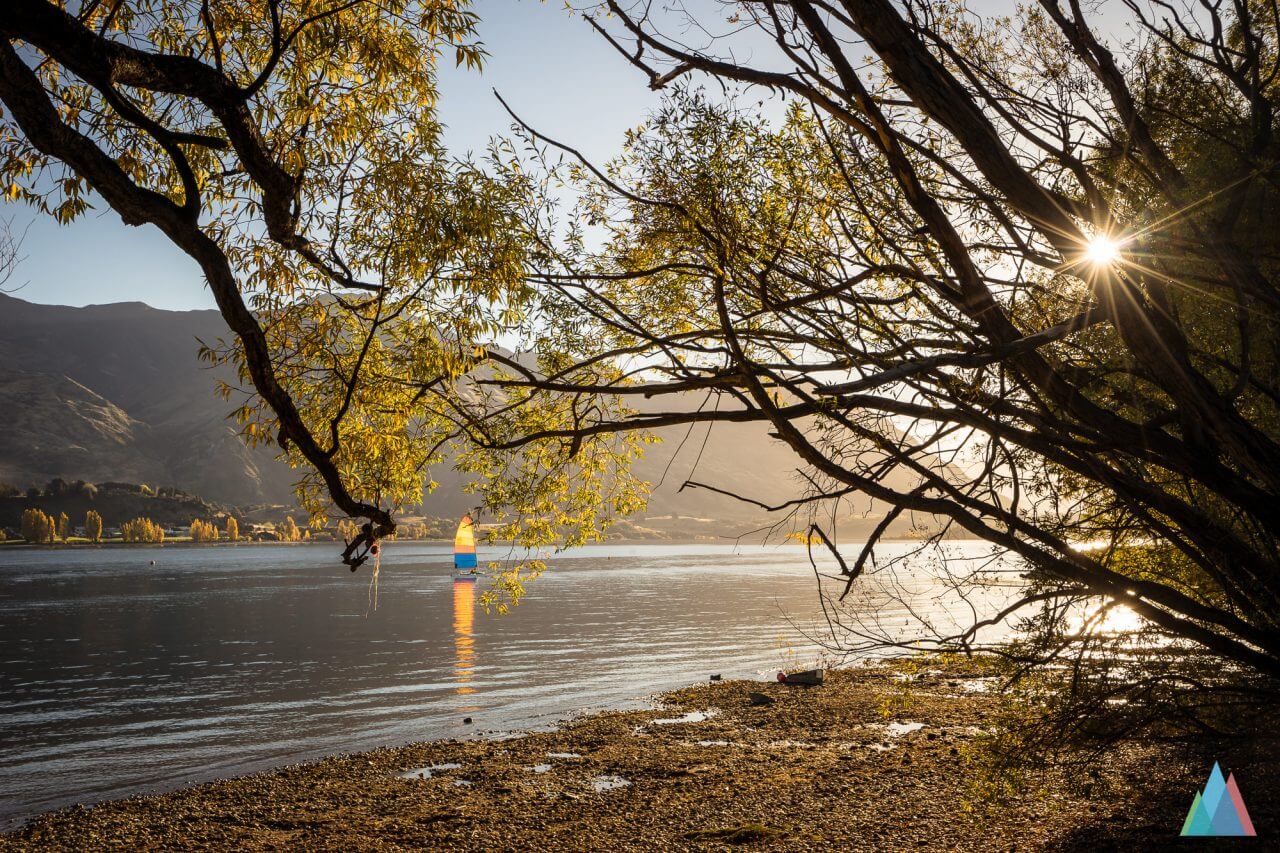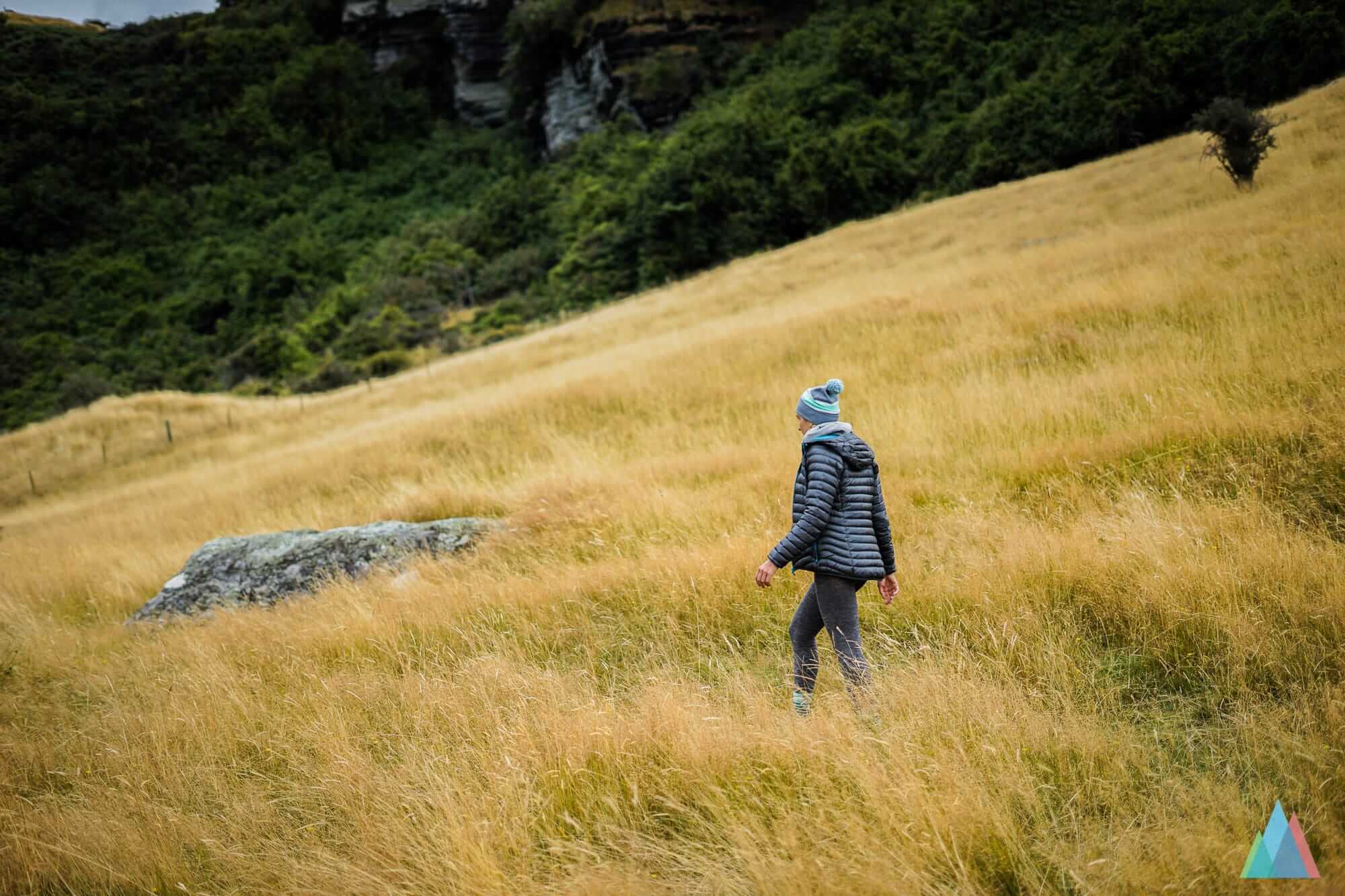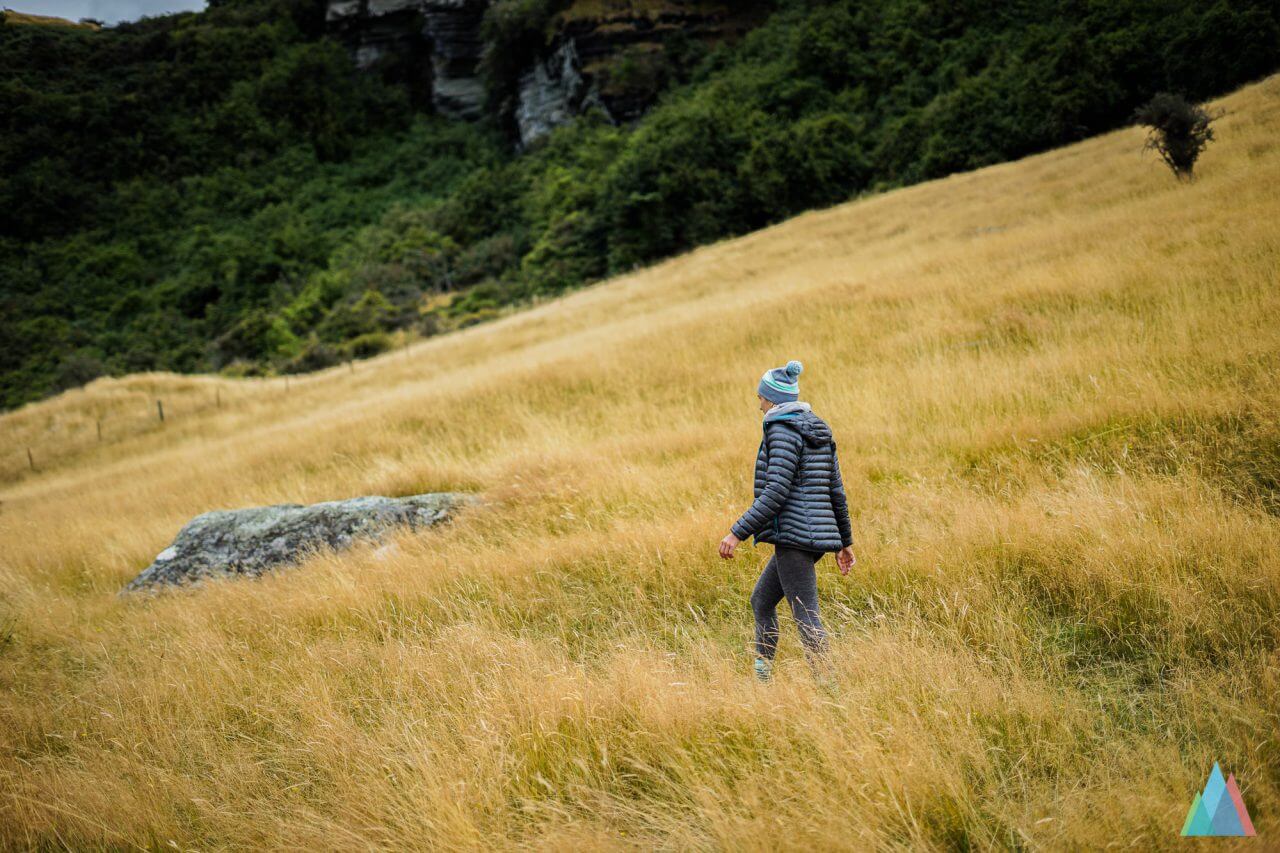 We soon had to realize that you can hike many of those hills but most of those hiking trails are prohibited for mountainbiking. Wanaka offers plenty of outdoor activities, but the focus seems to be more on hiking, climbing and water sports in summer. A bit disappointed, we double checked on trailforks and found a small hill within Wanaka city boundaries full of green, blue and black lines. Not exactly the high mountains trailriding that we had in mind but a hill full of trails just at the border of beautiful Lake Wanaka can't be missed.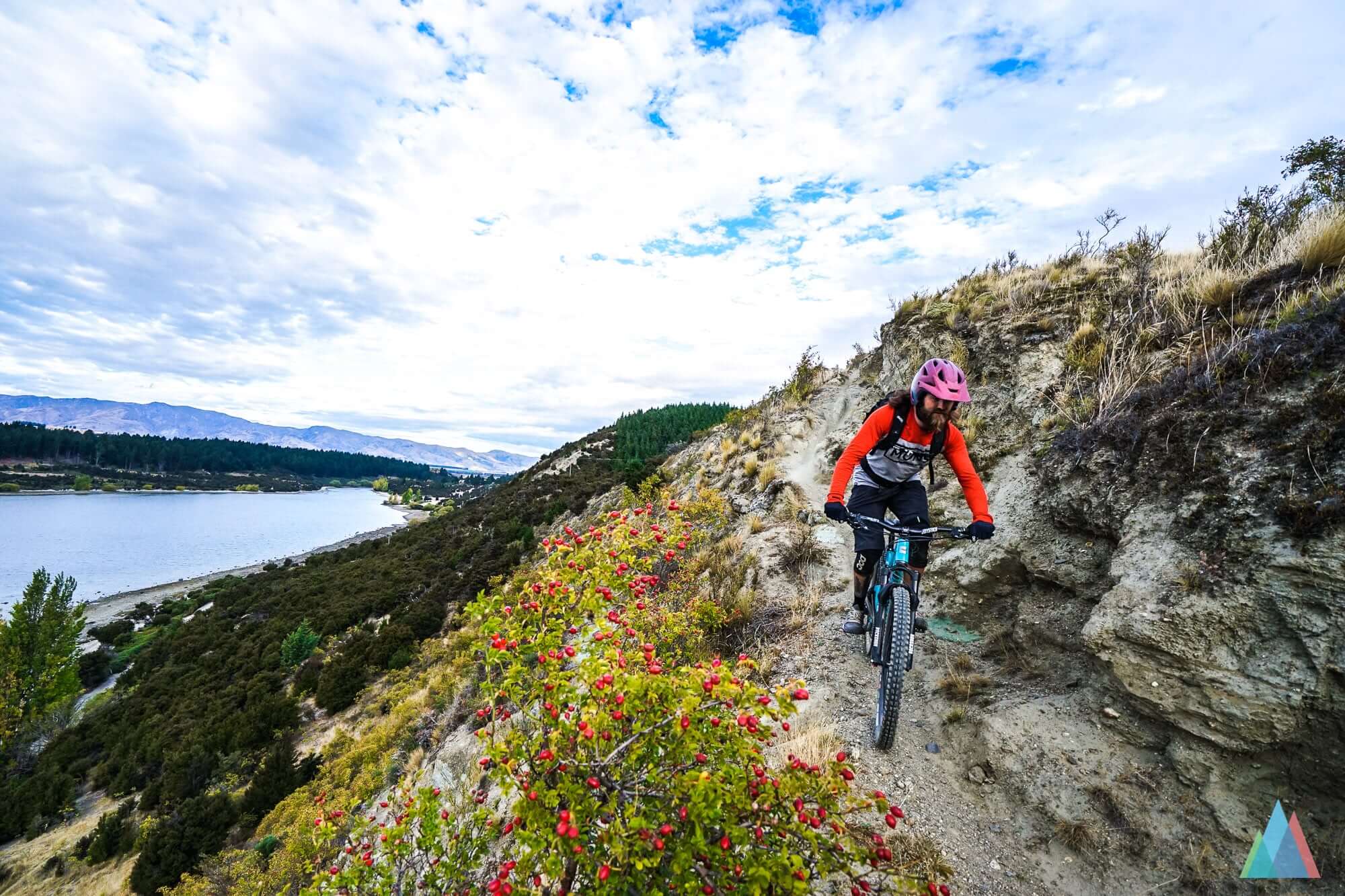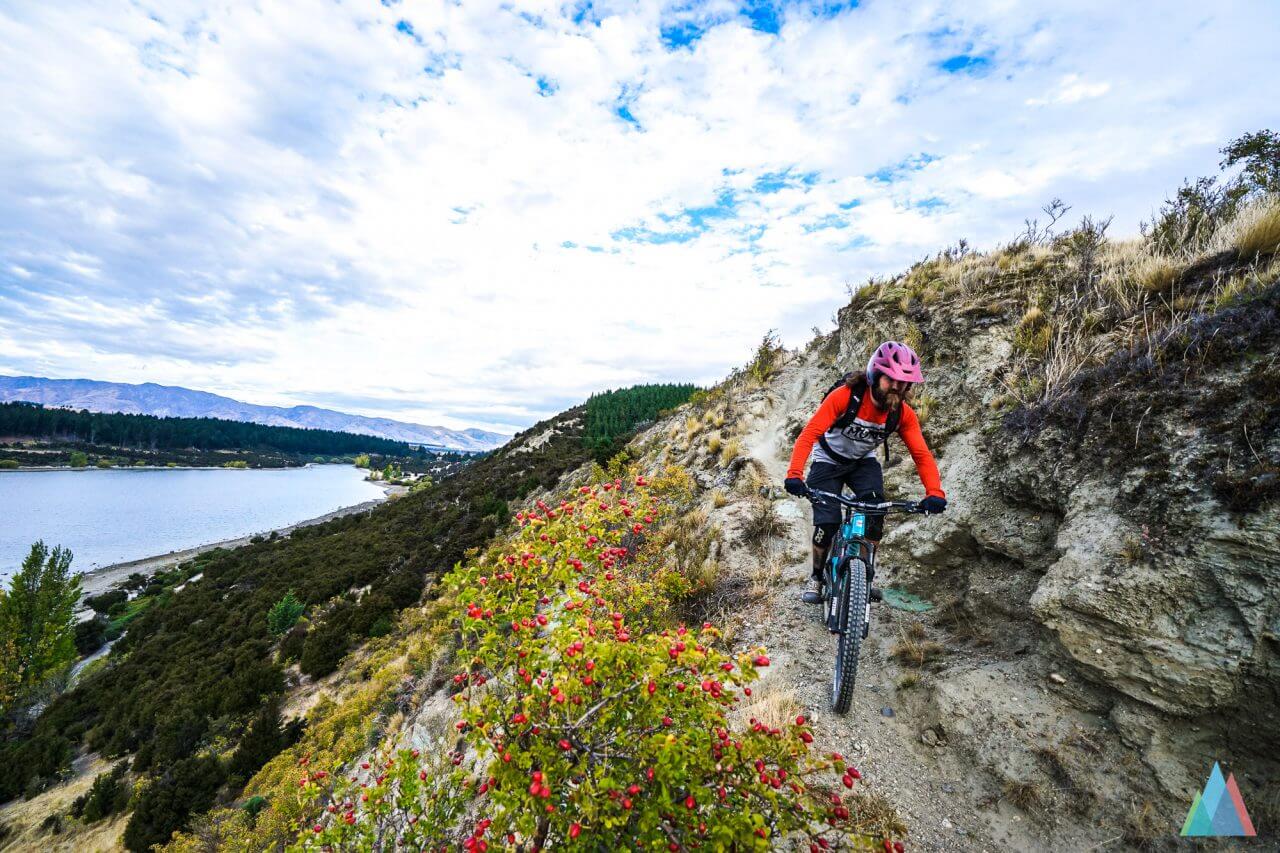 The small bikepark is called "Sticky Forest" and turned out to be a small pearl of delight. What the trailbuilders put into this small hill in terms of quality is unbelievable.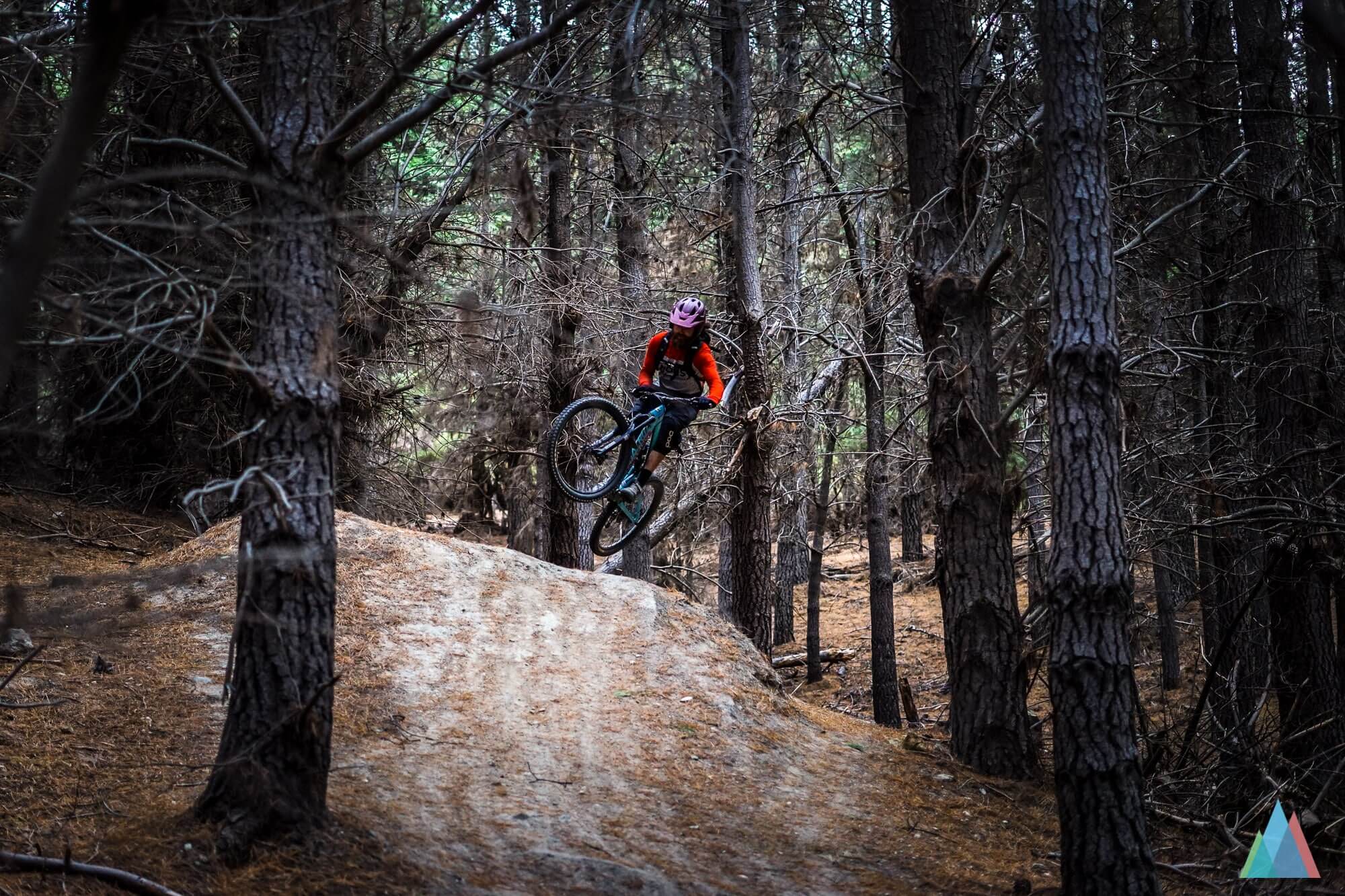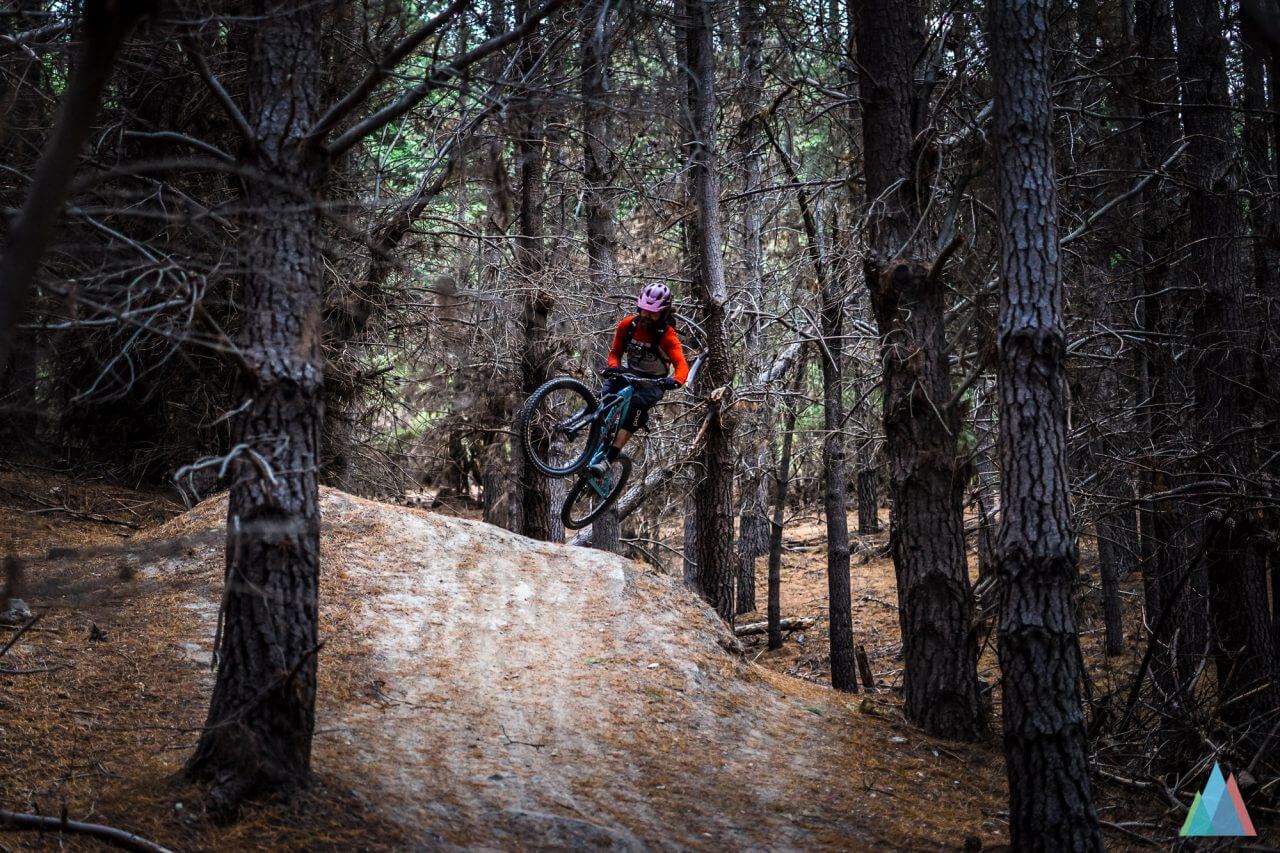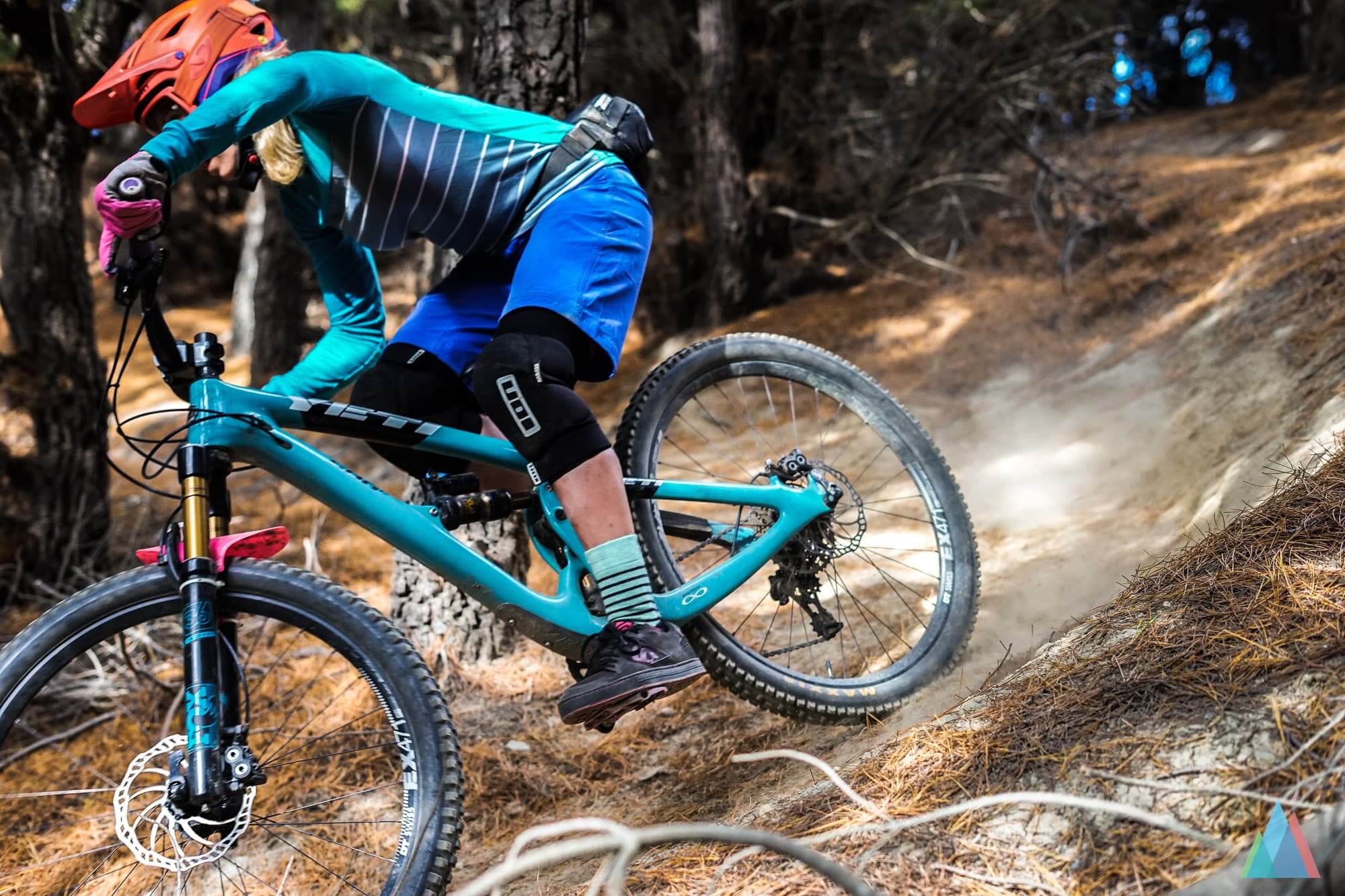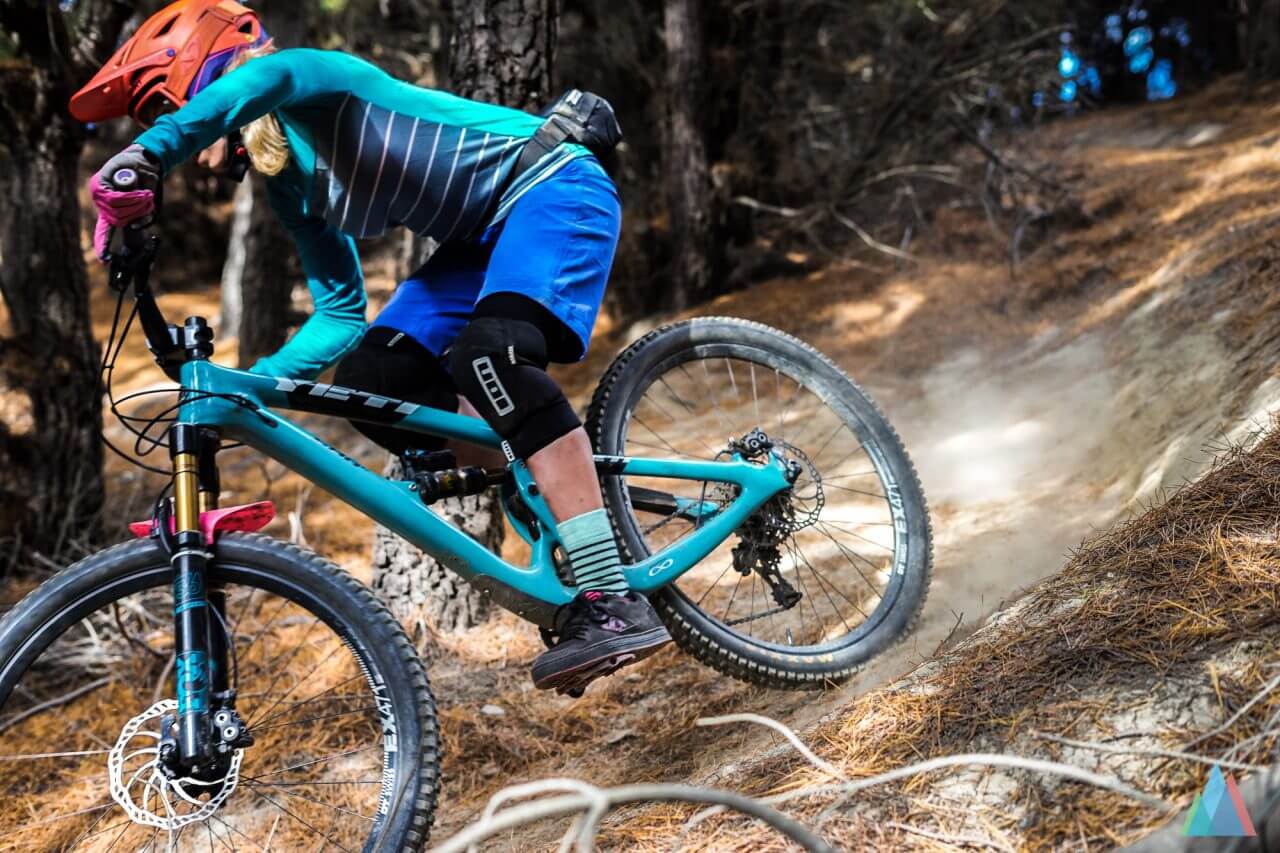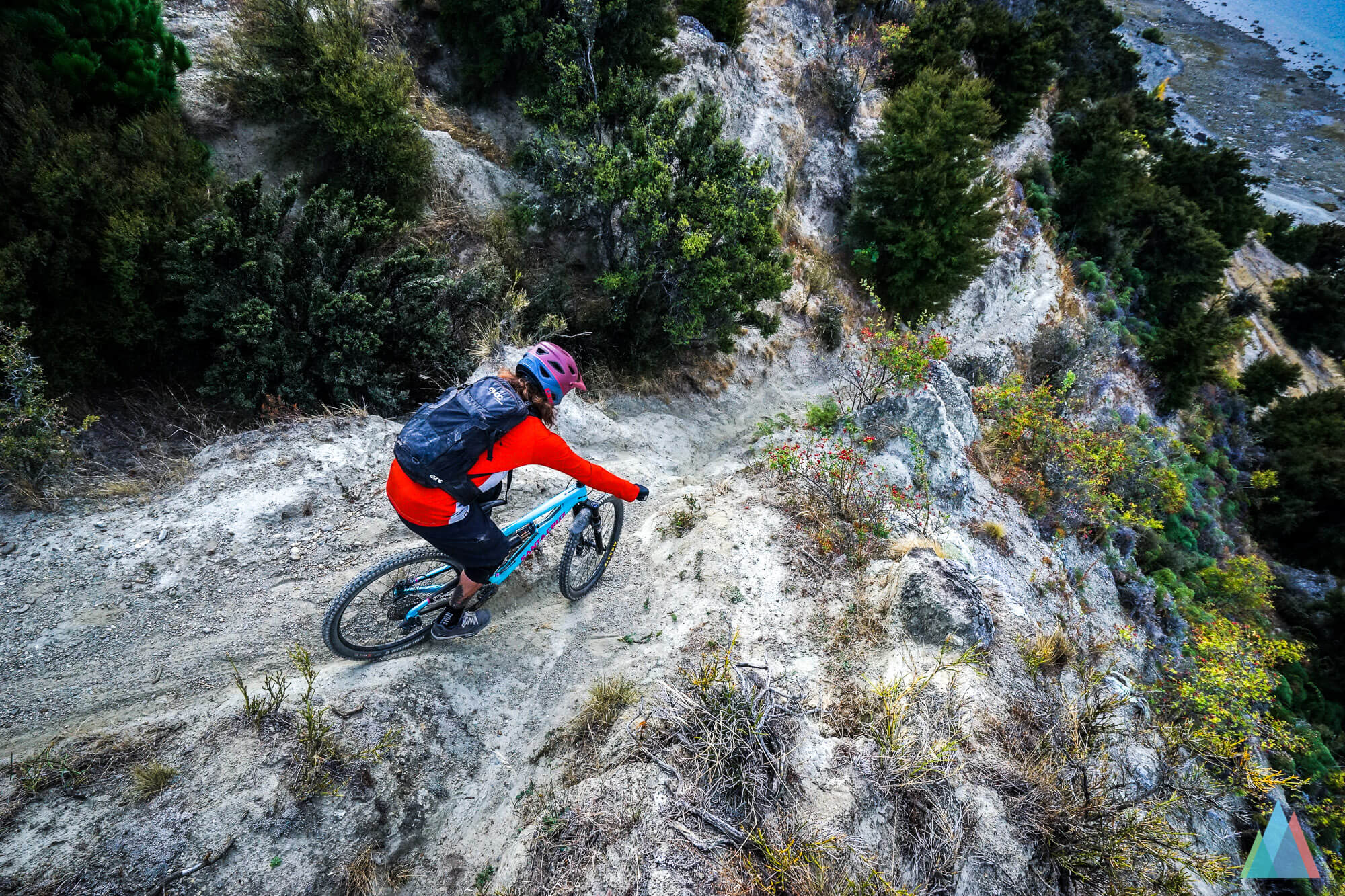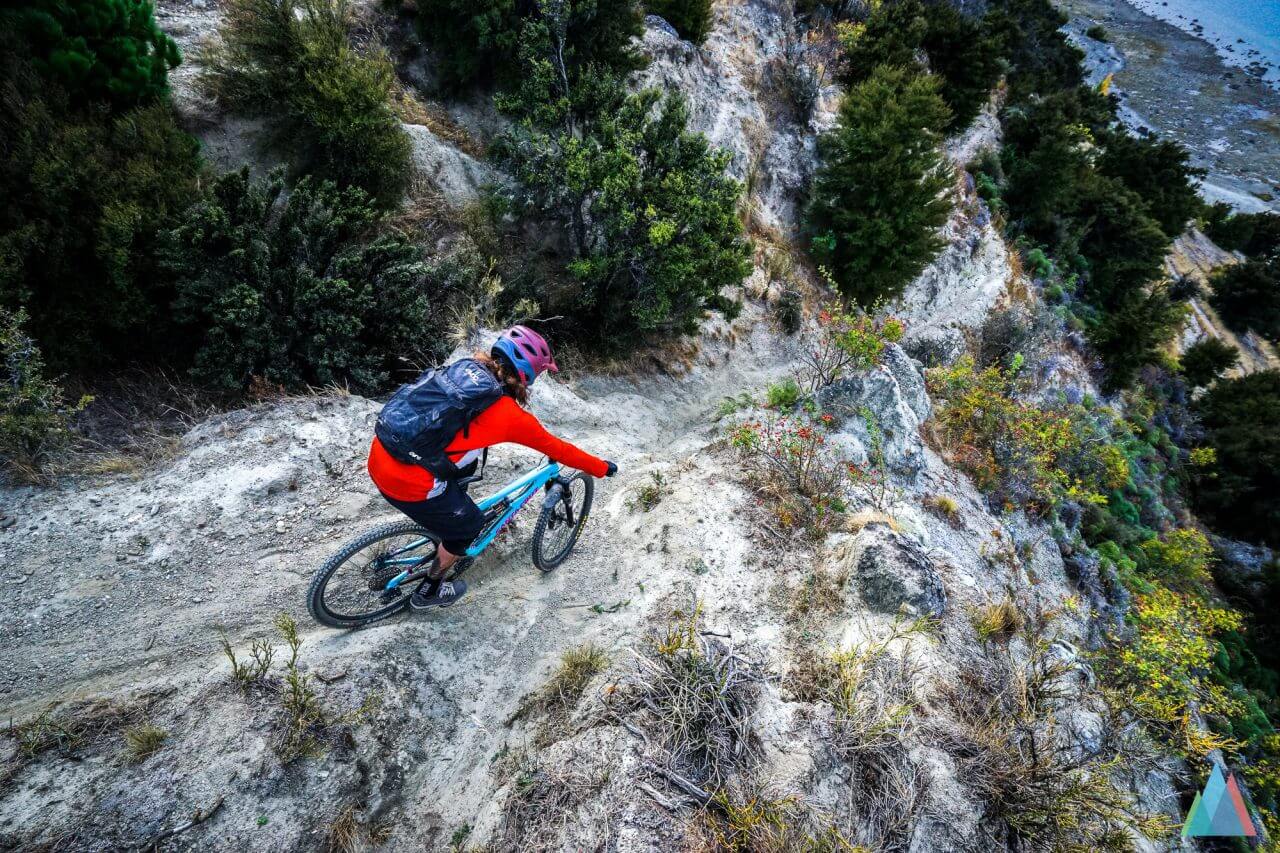 I would be happy to have only one of those trails just in our backyard. After a short uphill onto the top you can choose between jumplines, steep chutes or some flowy trails. Additionally you get from time to time superb views over Lake Wanaka.
Unfortunately this might be also the downfall of Sticky Forest. There are plans to build houses on that hill, quite understandable given its close proximity to the city center and the views of the lake. But the bike community of Wanaka is highly engaged in the cause to preserve this jewel and at least for the moment it looks like they might actually win this fight. We cross our finger and hope that Sticky Forest will remain for a long time the beautiful trail center it currently is.
Back in Switzerland it would never cross our minds to take a Heli to the top of a mountain. One of the reasons might be all the gondola options. Another the high costs that would involve such a thing. Beyond that of course there is still the environmental impact. In New Zealand they don't have that many gondolas neither many accessible roads that will get you up the mountain. A heli drop seems to be just the way to go if you need a shuttle to a remote location. Lucky us we could sneak the last two seats of a heli shuttle up to Mt. Pisa. Our guide John from Wanaka Bike showed us a long descent from Mt. Pisa down to Wanaka. The trail ending directly in a pub. The after ride beer seems to be everywhere in the world the agreed way to finish a great day on the bike. Good stuff.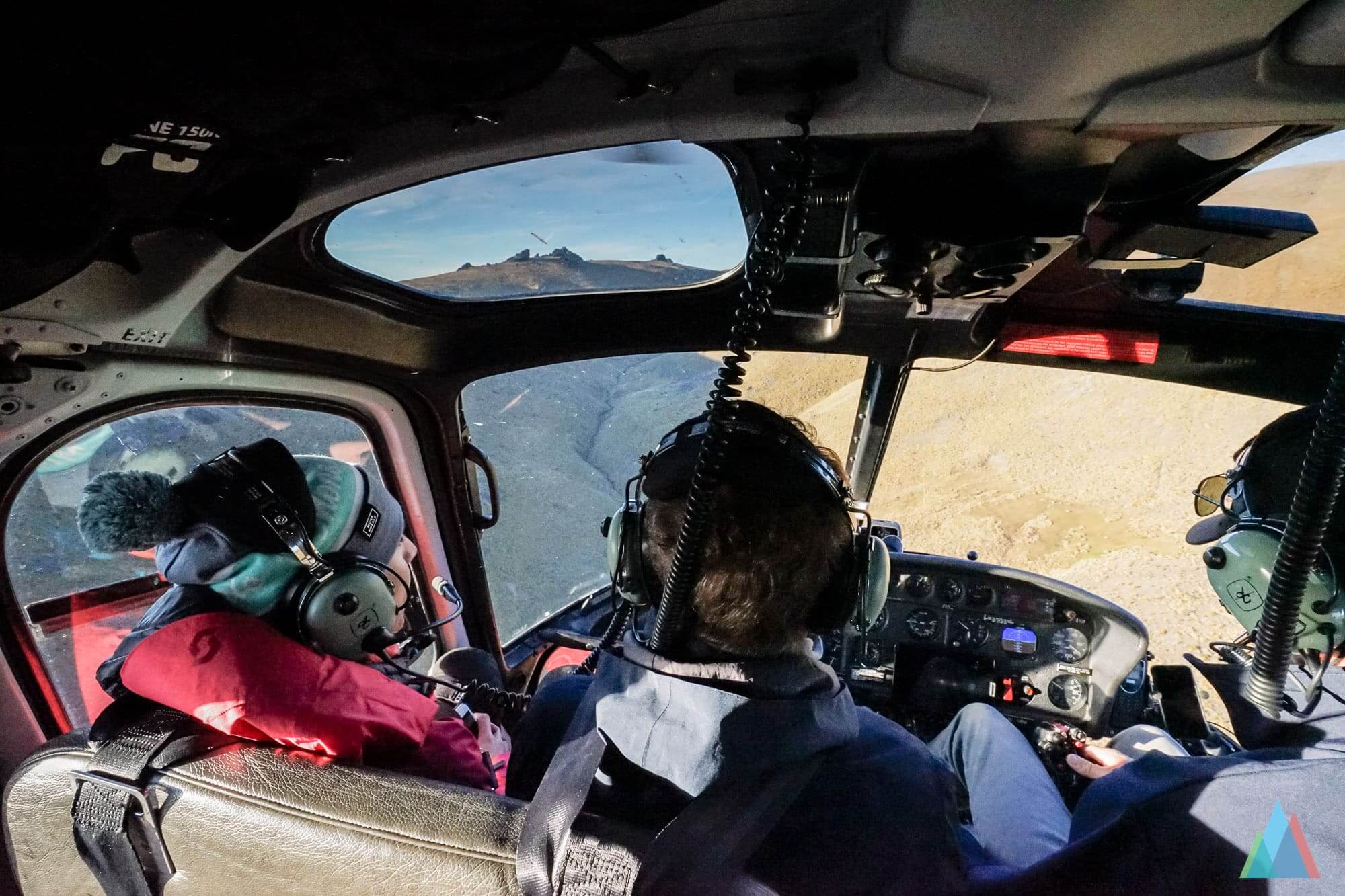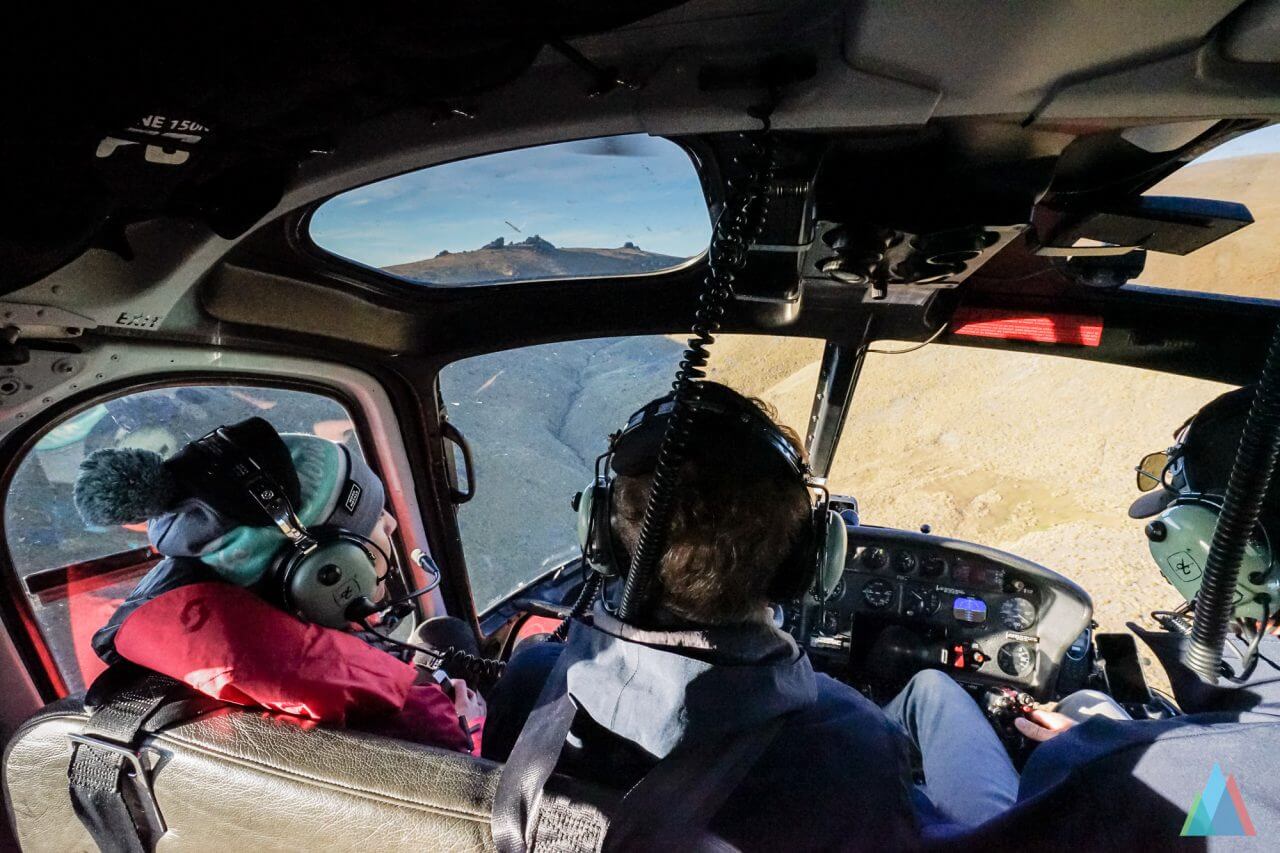 The adventure on Mt. Pisa is on easy trails and can be conquered by pretty much any biker. What made this day really memorable where the views and the length of the trail. It took us 4 hours to get to the pub. There were a couple of short uphills thrown into the mix but still. A long descent. Wanaka is beautiful from everywhere you look at, but being able to see the lake, countless layers of hills all the way to Mt. Cook and Mt. Aspiring in the far back was just amazing.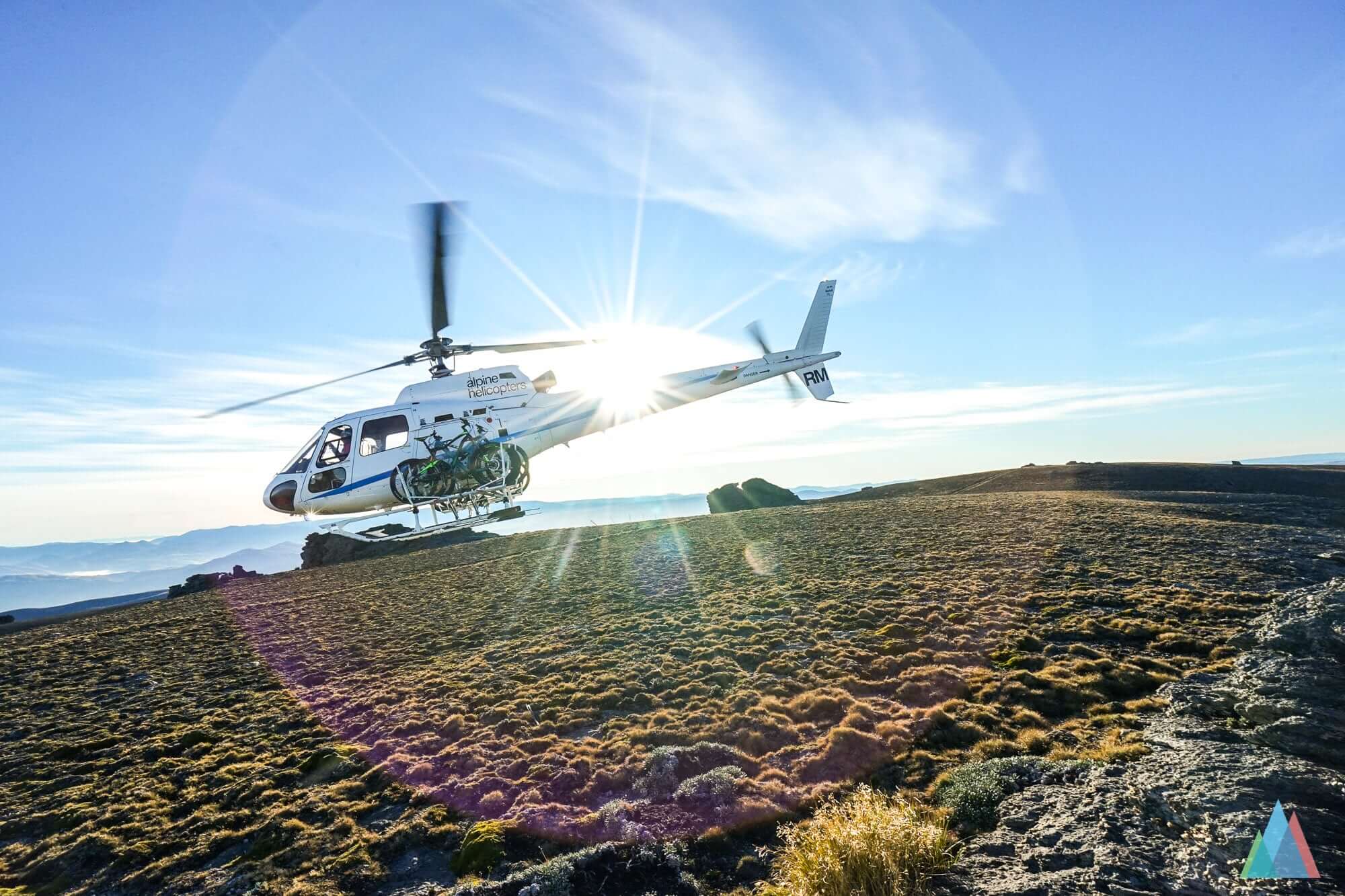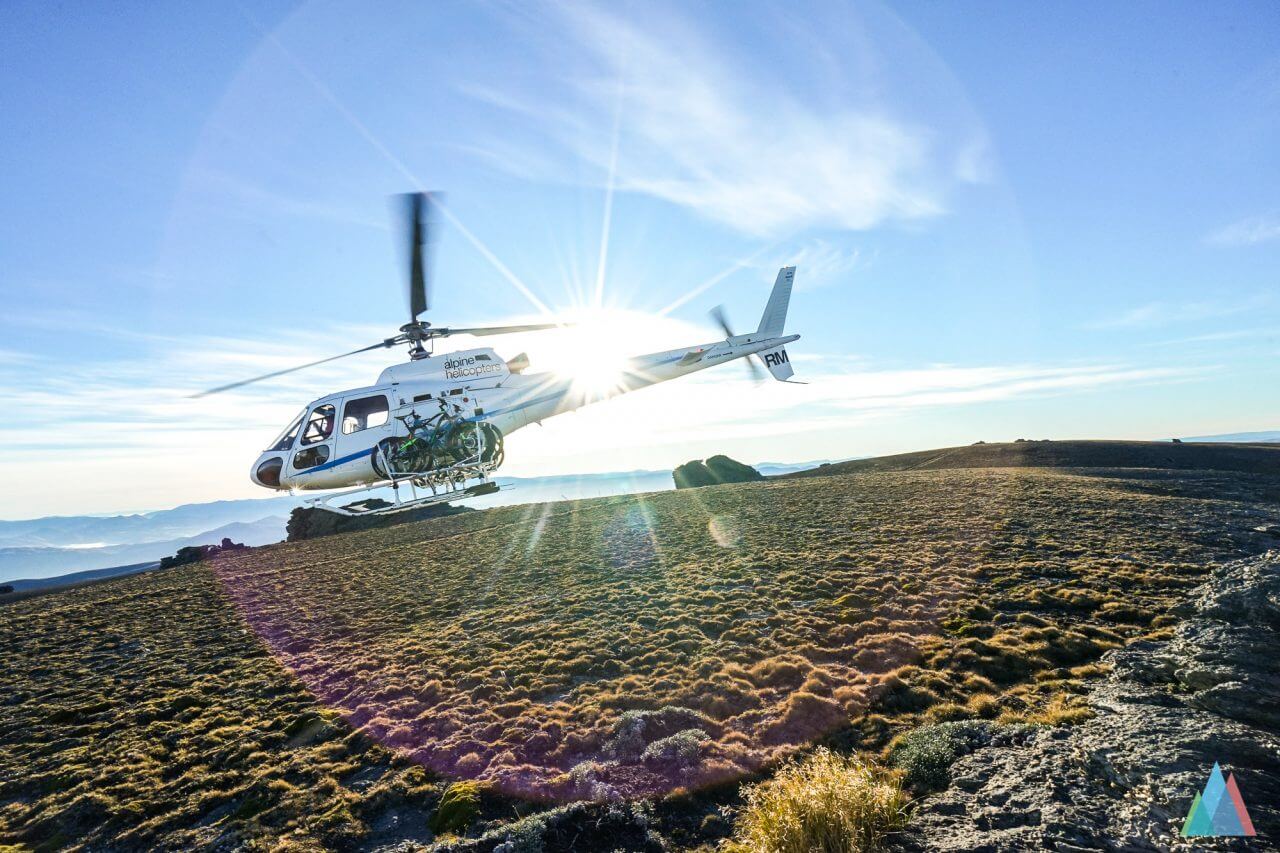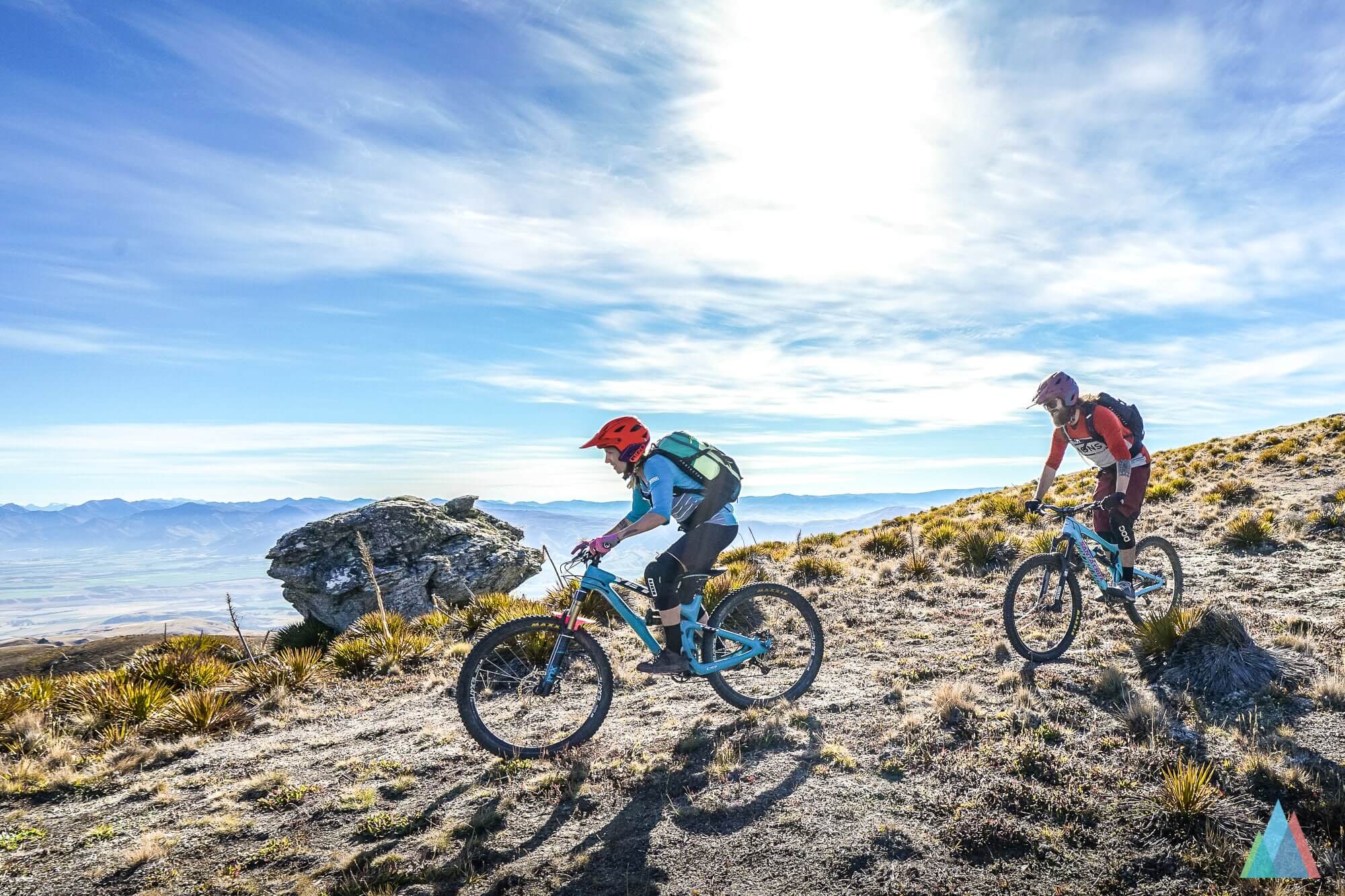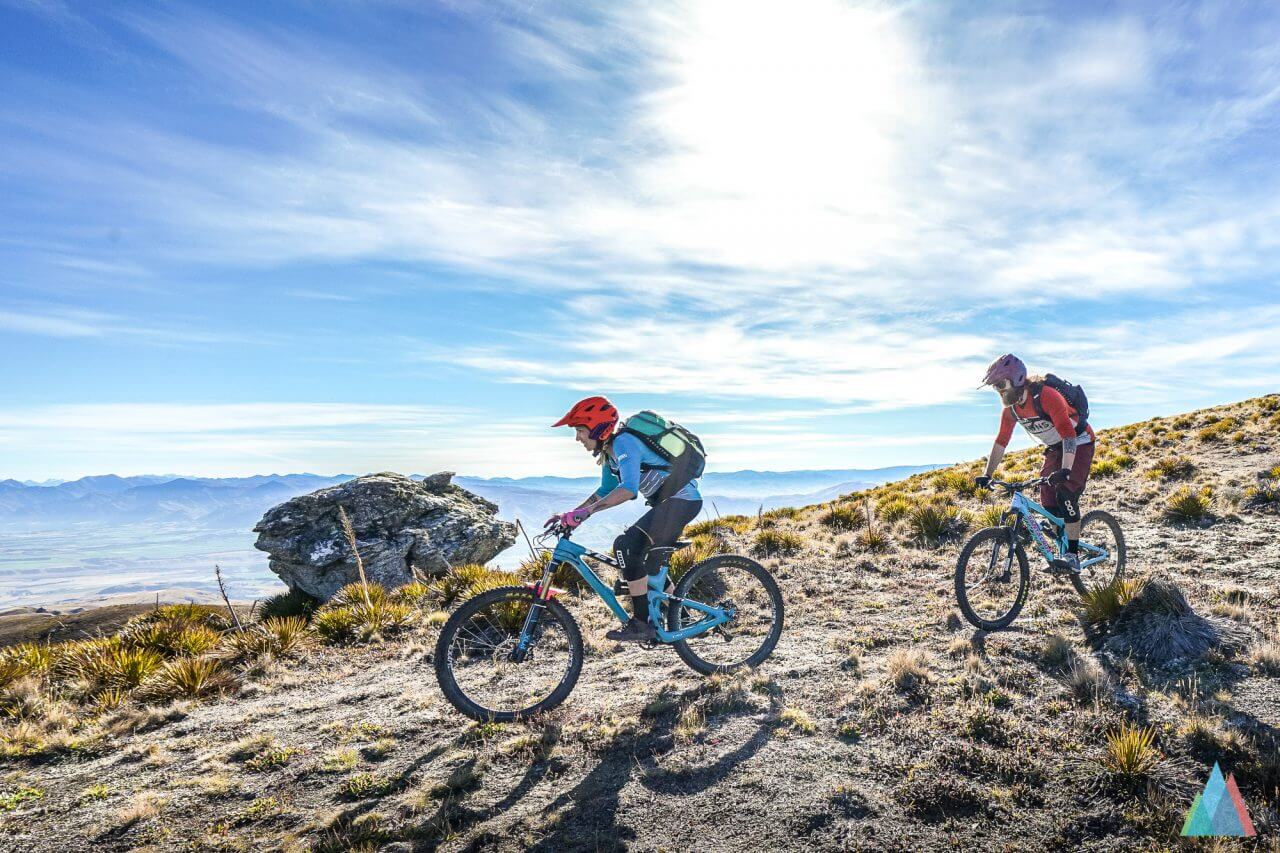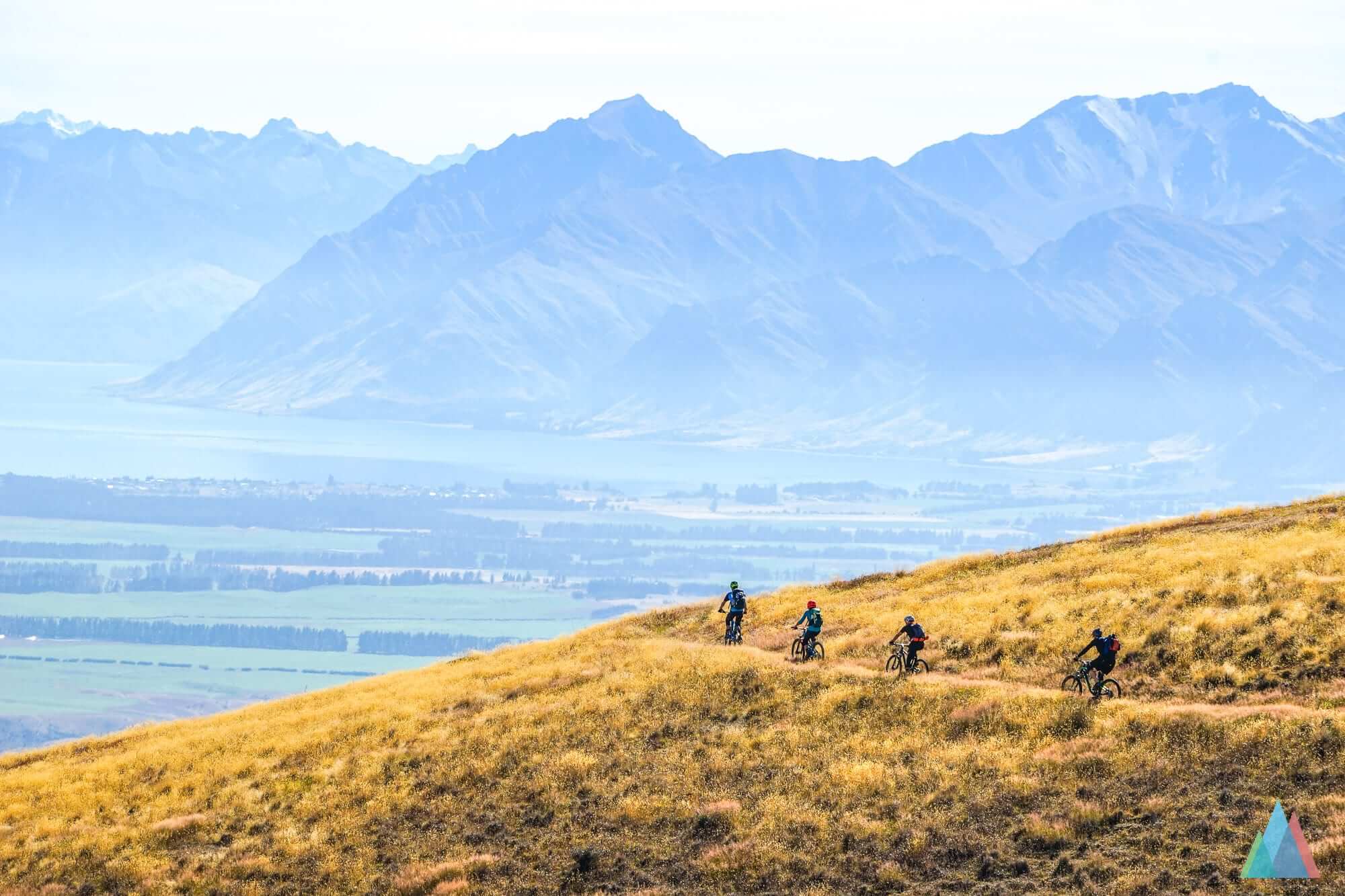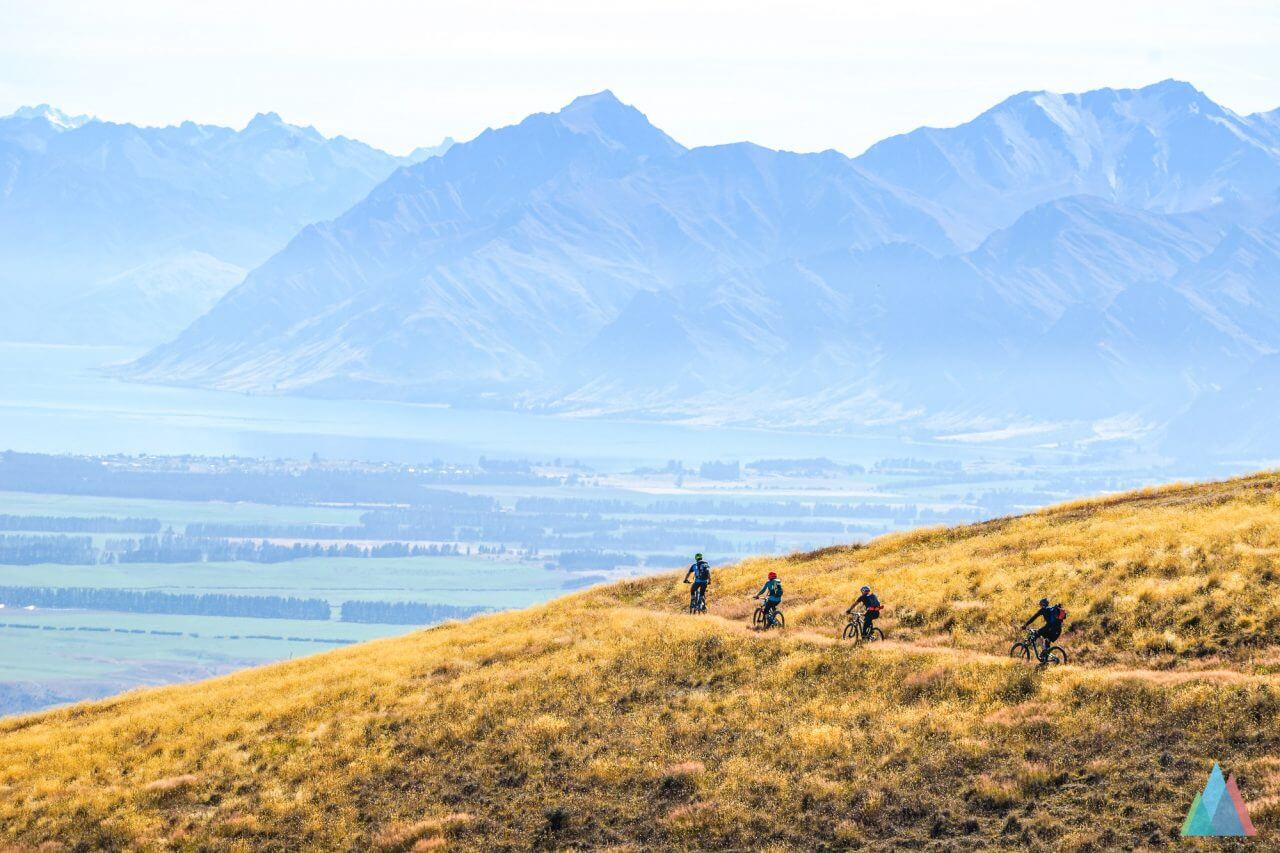 The magic triangle: Queenstown – Alexandra – Wanaka
We spent quite some time riding our bikes and discovering many trailcenters in and around Queenstown, Alexandra and Wanaka. The three destinations make a unique combination of very different places to ride your mountainbike.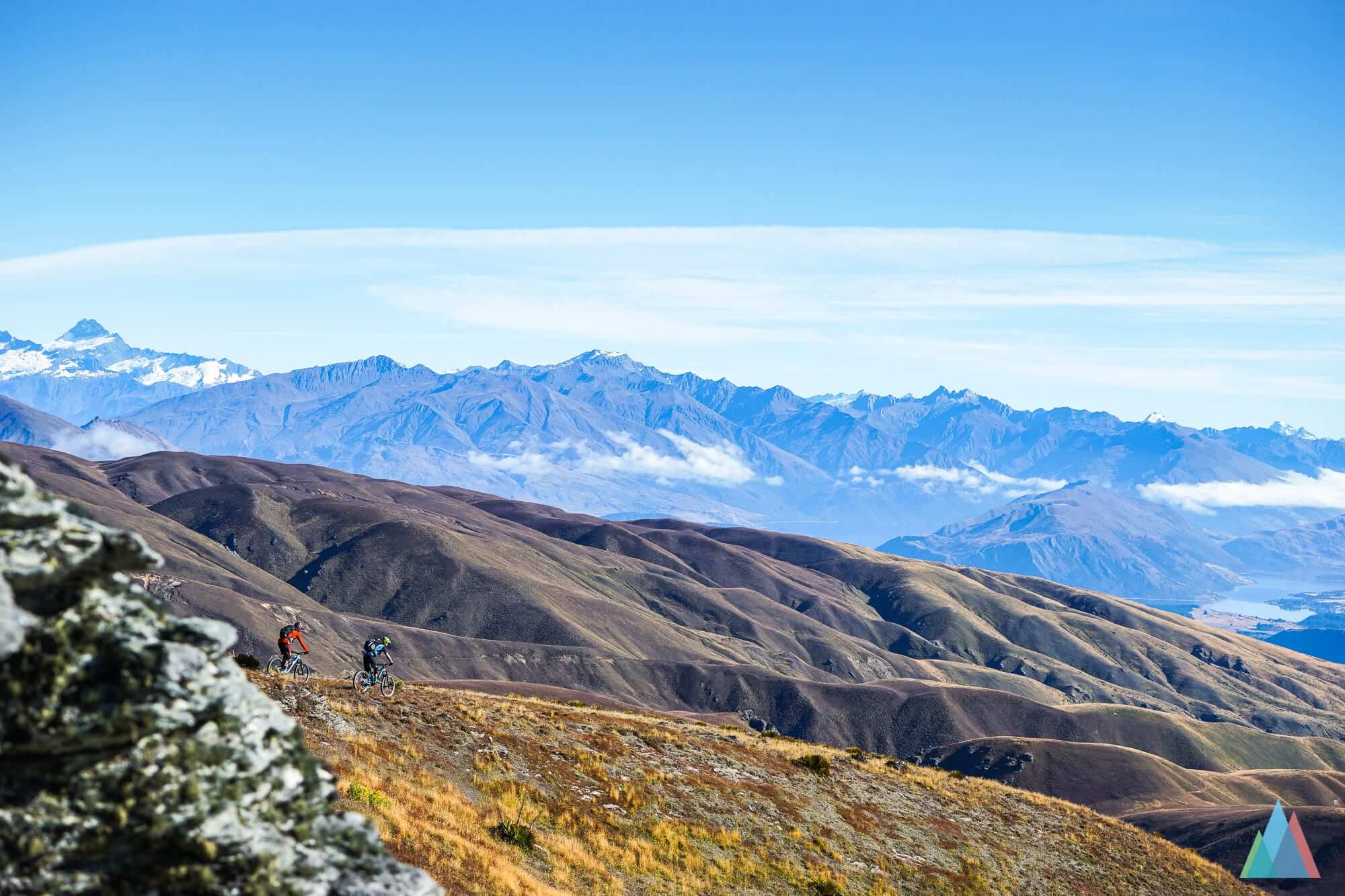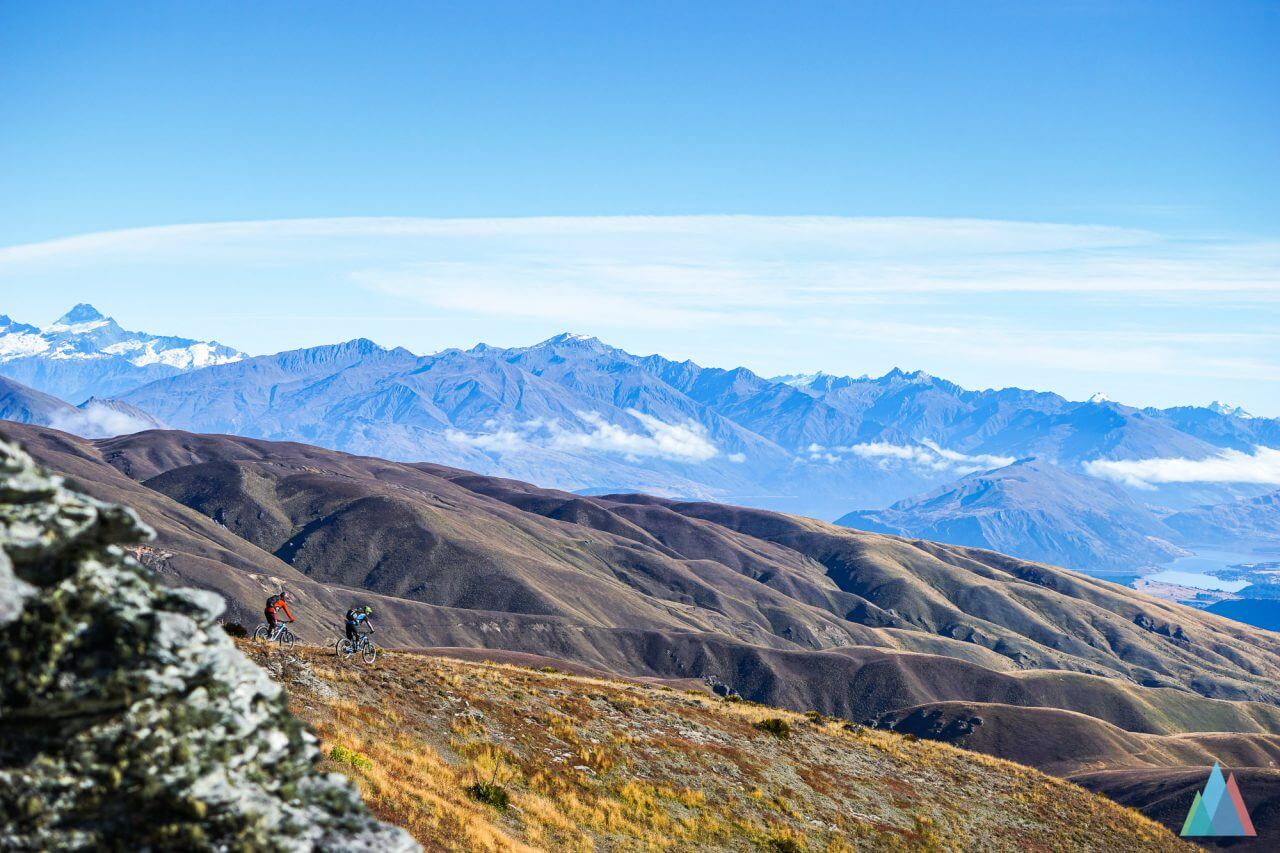 Queenstown stands out with its worldclass bikepark and many, many more trails in the surrounding hills and long descends starting (after pushing the bike up) at the Ben Lomond saddle.
A combination that we are especially fond of is starting at Ben Lomond Saddle at 1300m.a.s.l with upper and lower link, both trails you have to concentrate very hard to not get distracted by the breathtaking views. After that you follow Beached As towards Fernhill. Last but not least we rode down the infamous Salmon Run, a trail that gets your blood pumping. Even without the trails starting at the Ben Lomond saddle, it is worth the pedal to Salmon Run. A friend once said that this trail is so good, that it almost justified the trip to New Zealand alone!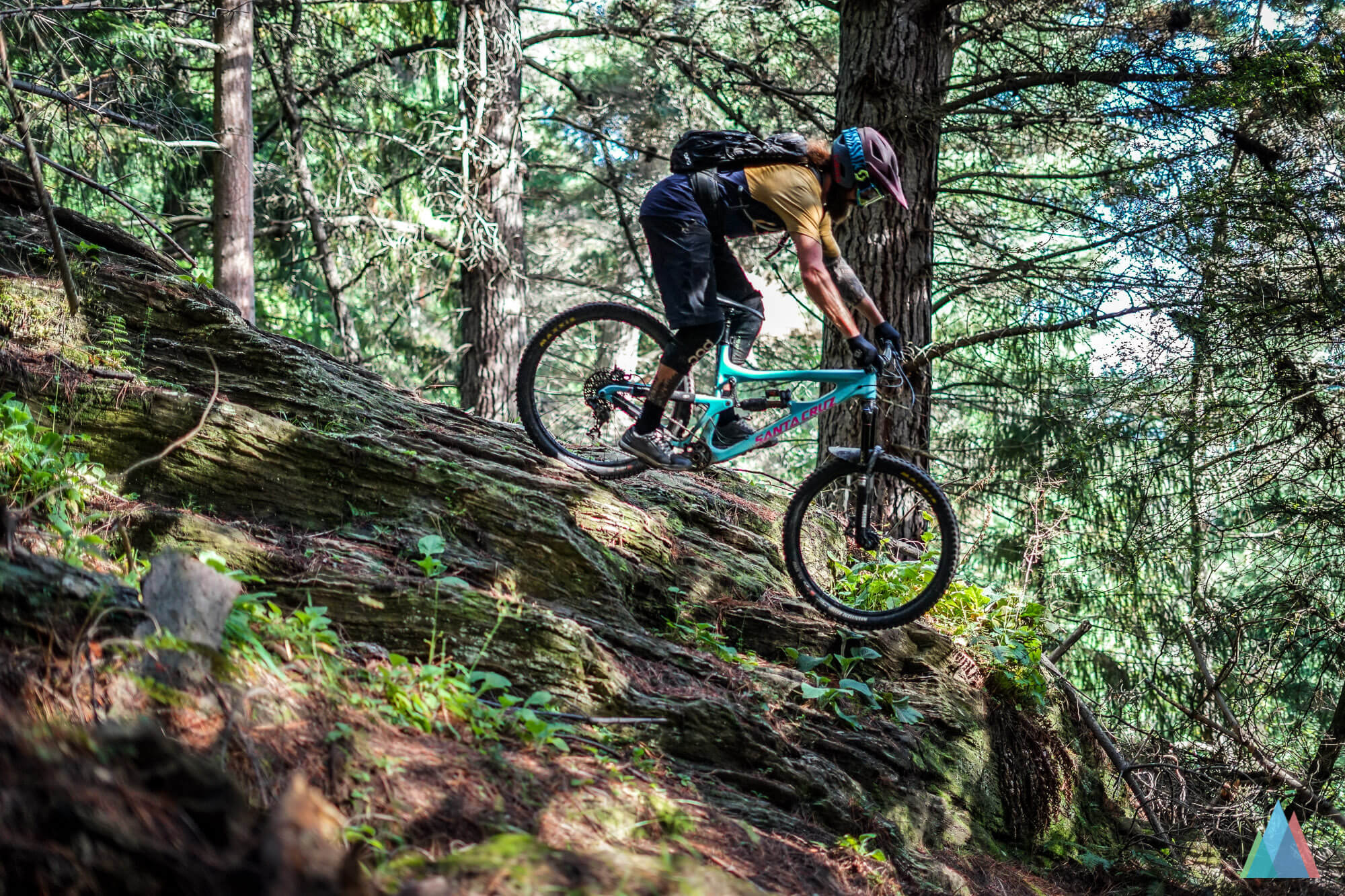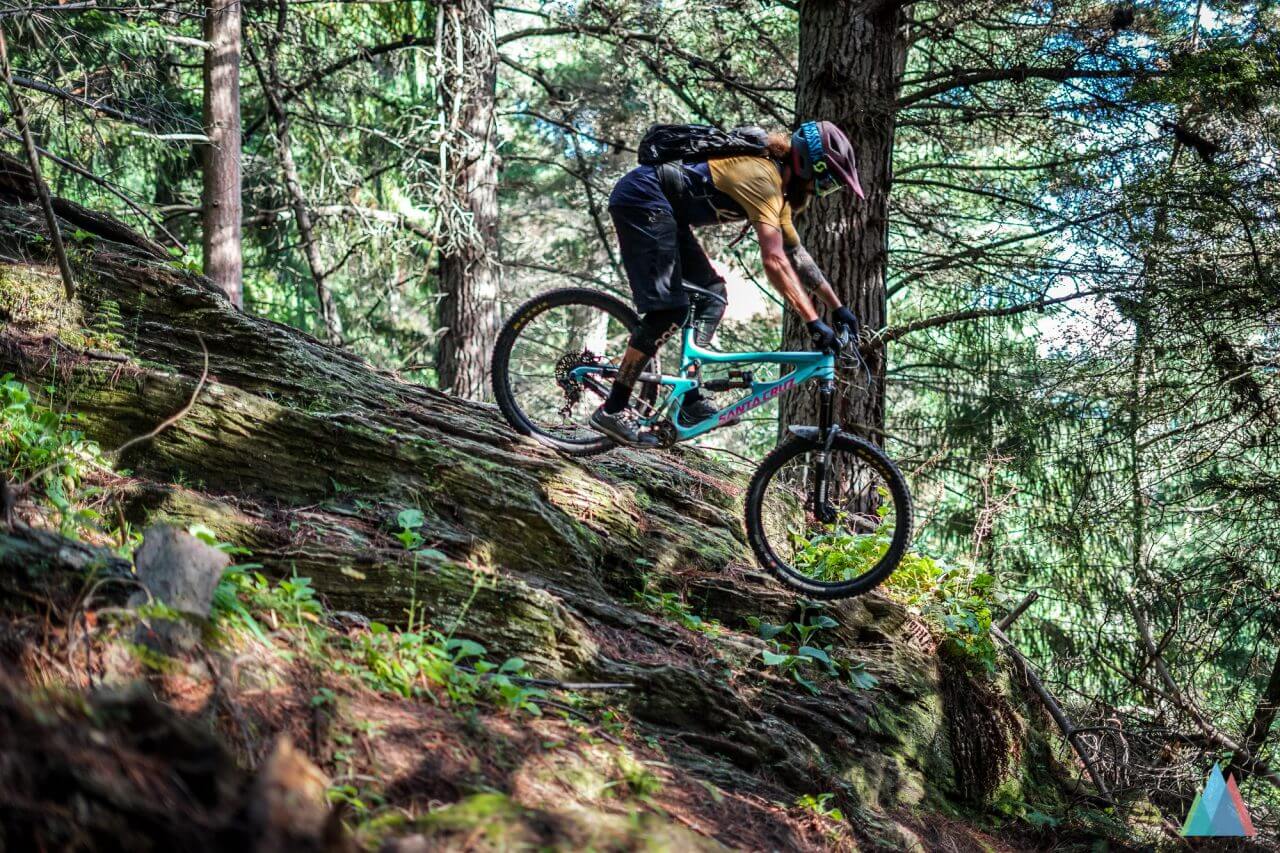 The riding in Alexandra couldn't be more different to the trails in Queenstown and Wanaka which are mostly inside dense forest on either hard packed or loose dirt. Which is exactly what you will not find at all in Alex. Mostly open faces and rocks is what the riding resembles to. Dots on rock rollers, drops or gardens help you to find your way around on a couple of small hills fully packed with trails.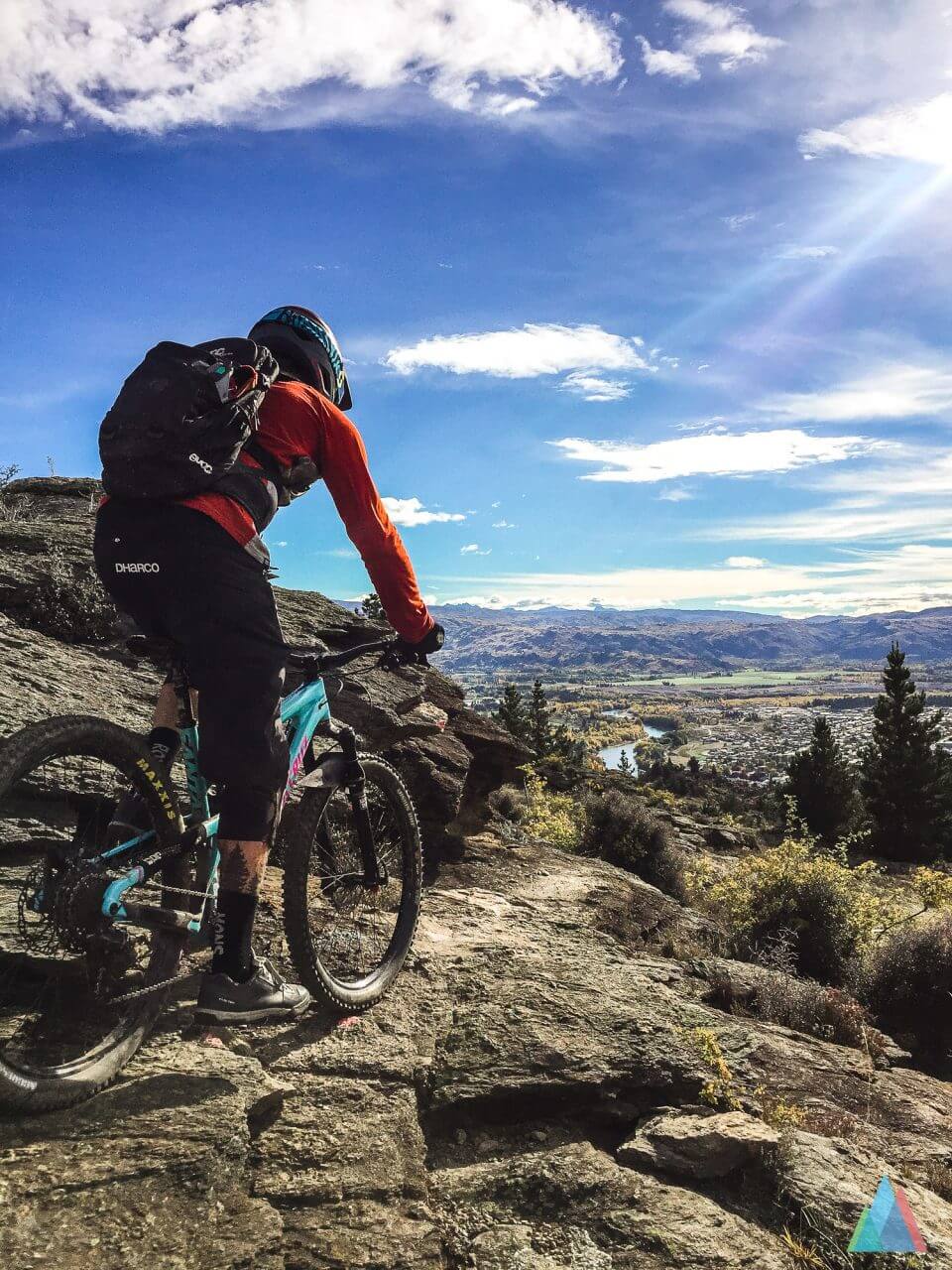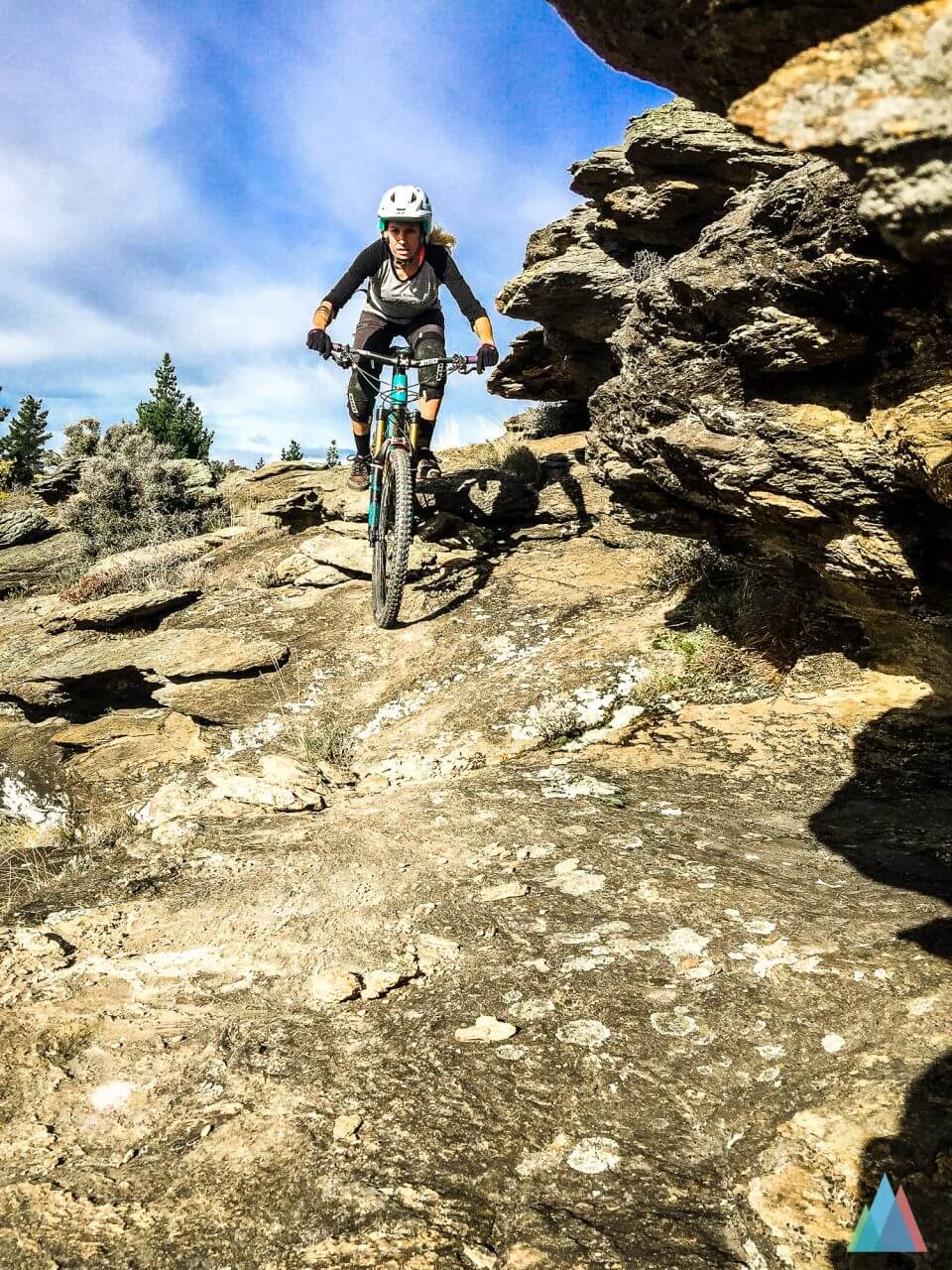 Missing some of those dots or just take a small deviation around them might get you into serious trouble. Best way to discover this area is definitely with a guide as besides the dots on the rocks the trails are nowhere indexed.
Reminder: Gearbox still broken!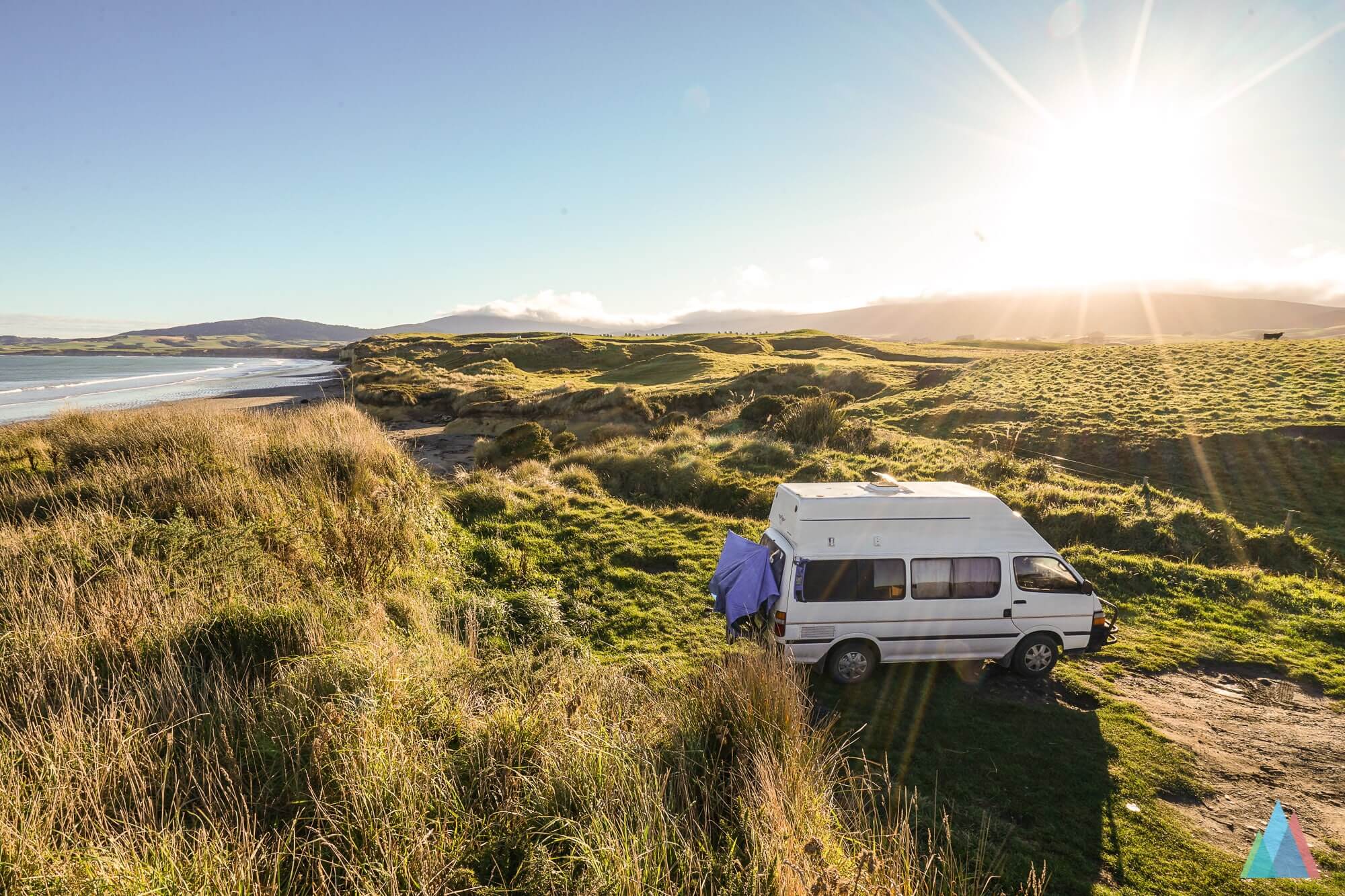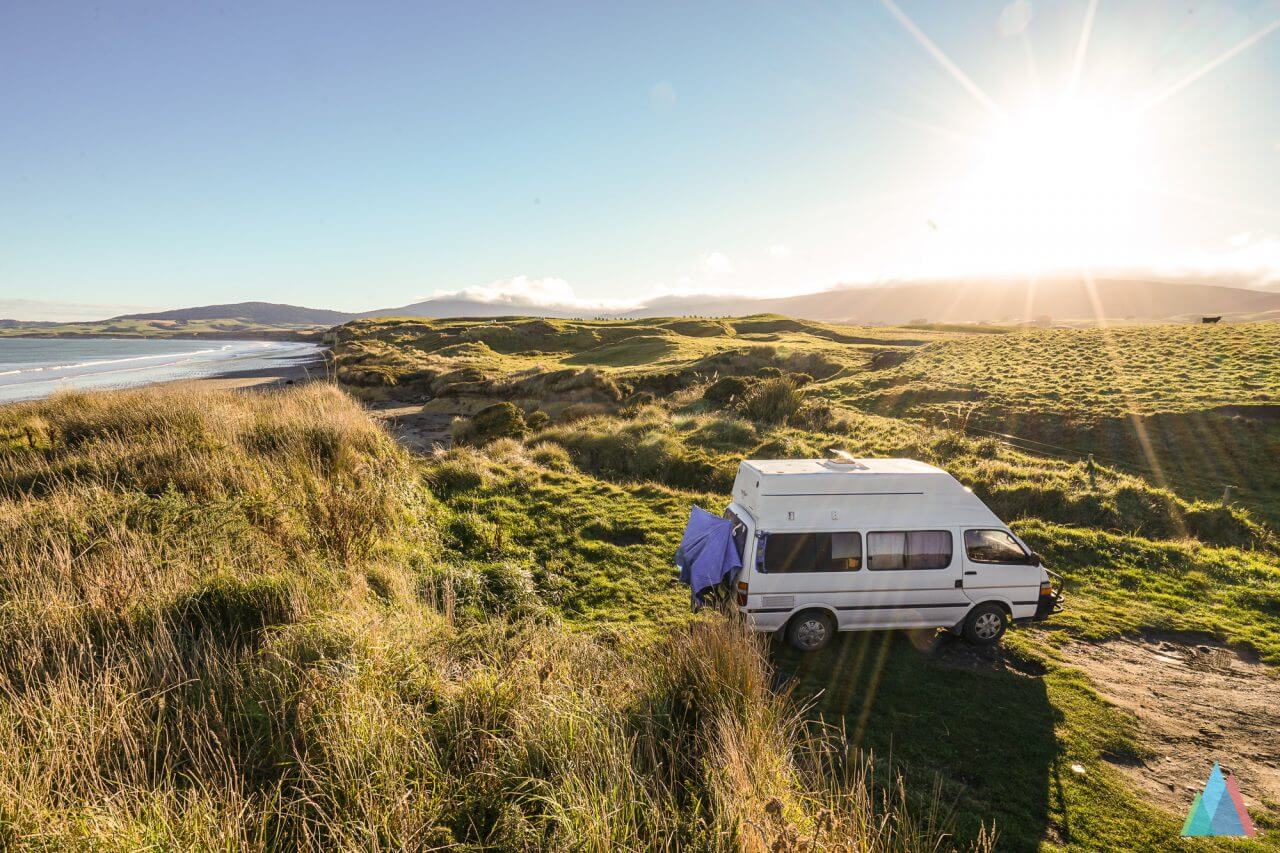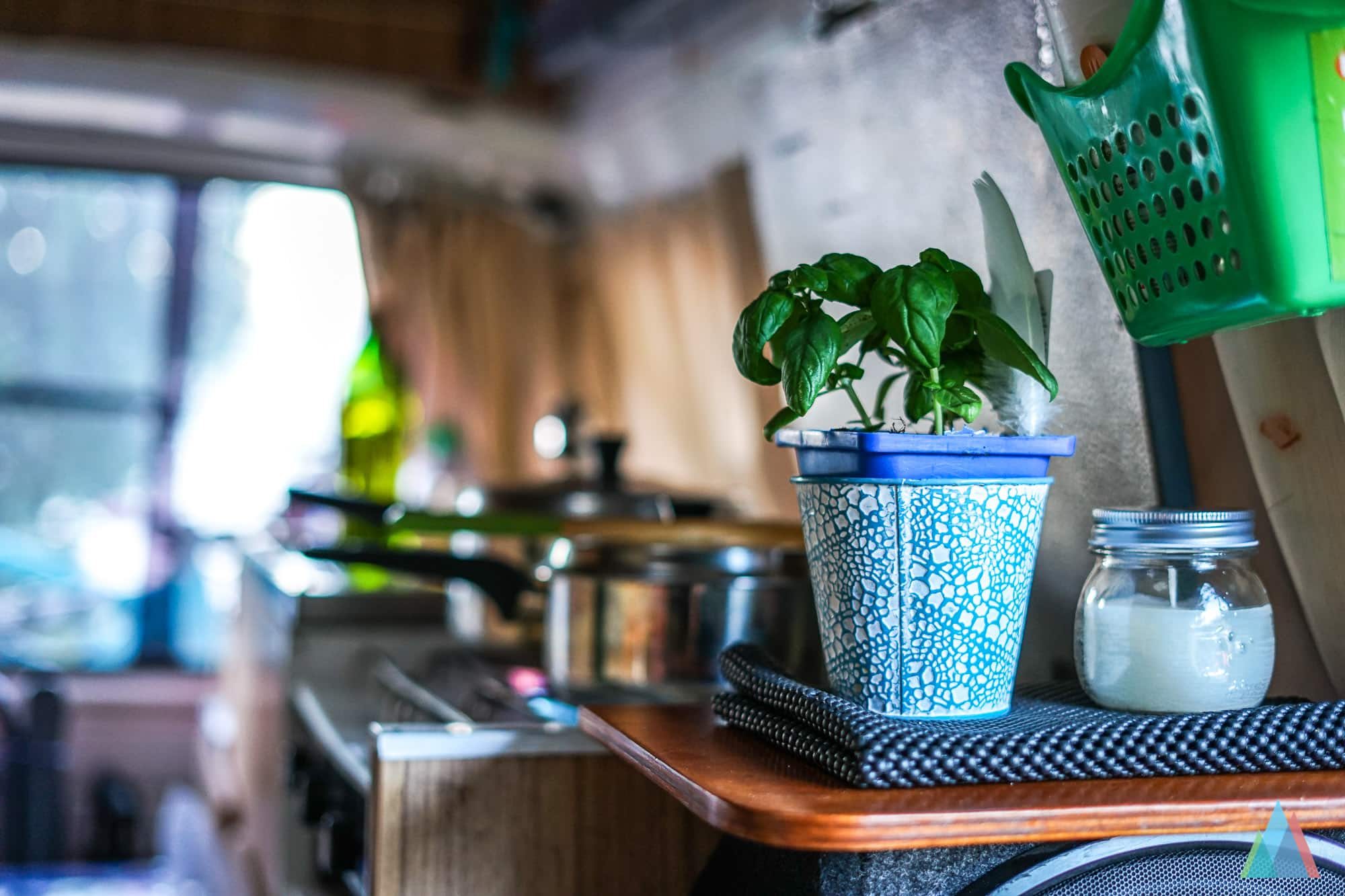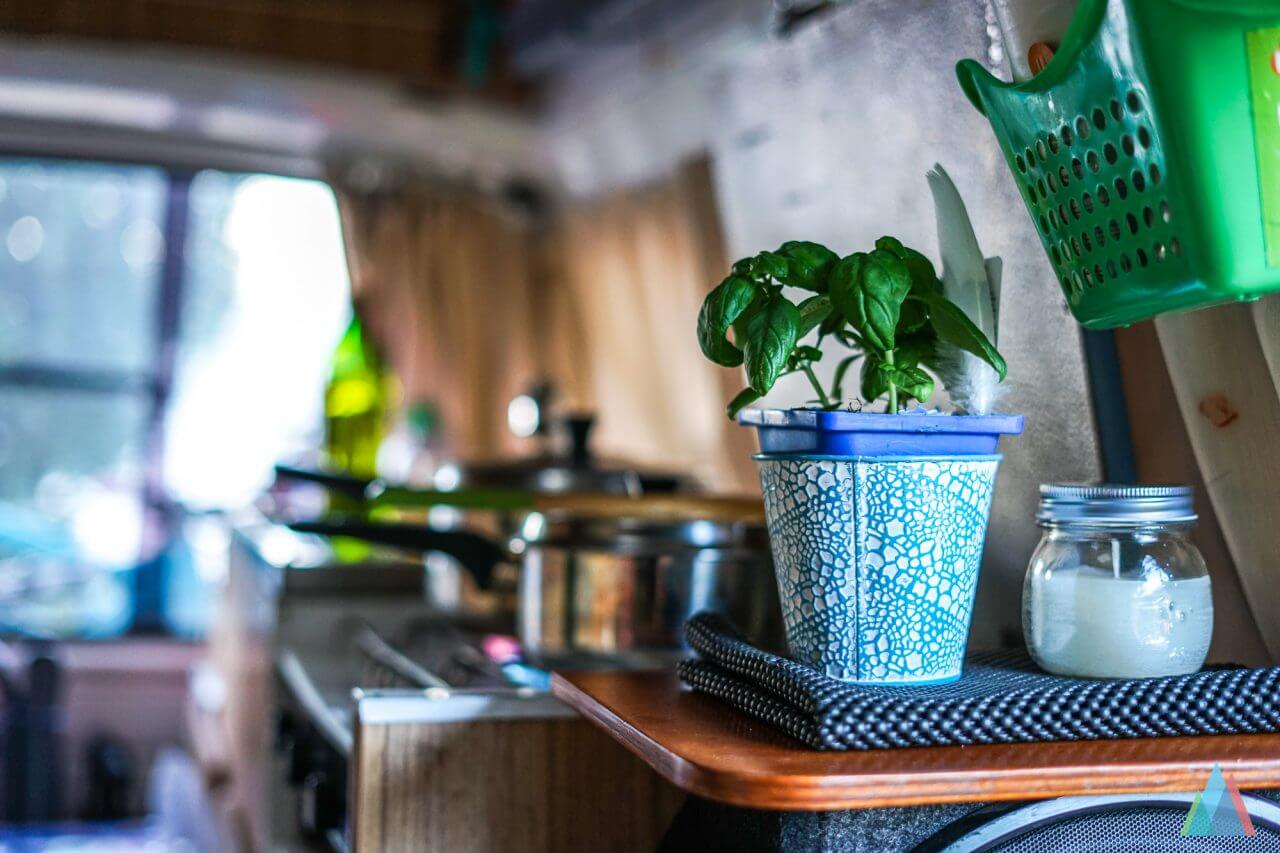 In Dunedin we got to know people who know people which helped a lot in finding and mounting the gearbox quickly. Even then, it cost us 1500 NZD including work. A lot of money when you try to travel cheap. But the renewed gearbox did change our travels in a big way. Besides having again 5 gears, we finally could drive the expected speeds on highways, while even be able to speak to each other.
It seems as if it doesn't matter wthere we travel to, everywhere we go we get in touch with a vivid mountainbiking scene, Dunedin was no exception. We went shuttling with the locals for 2.5NZD per ride on another hill full of trails – Signal Hill. Besides Signal Hill, Dunedin has trails spread all around the city.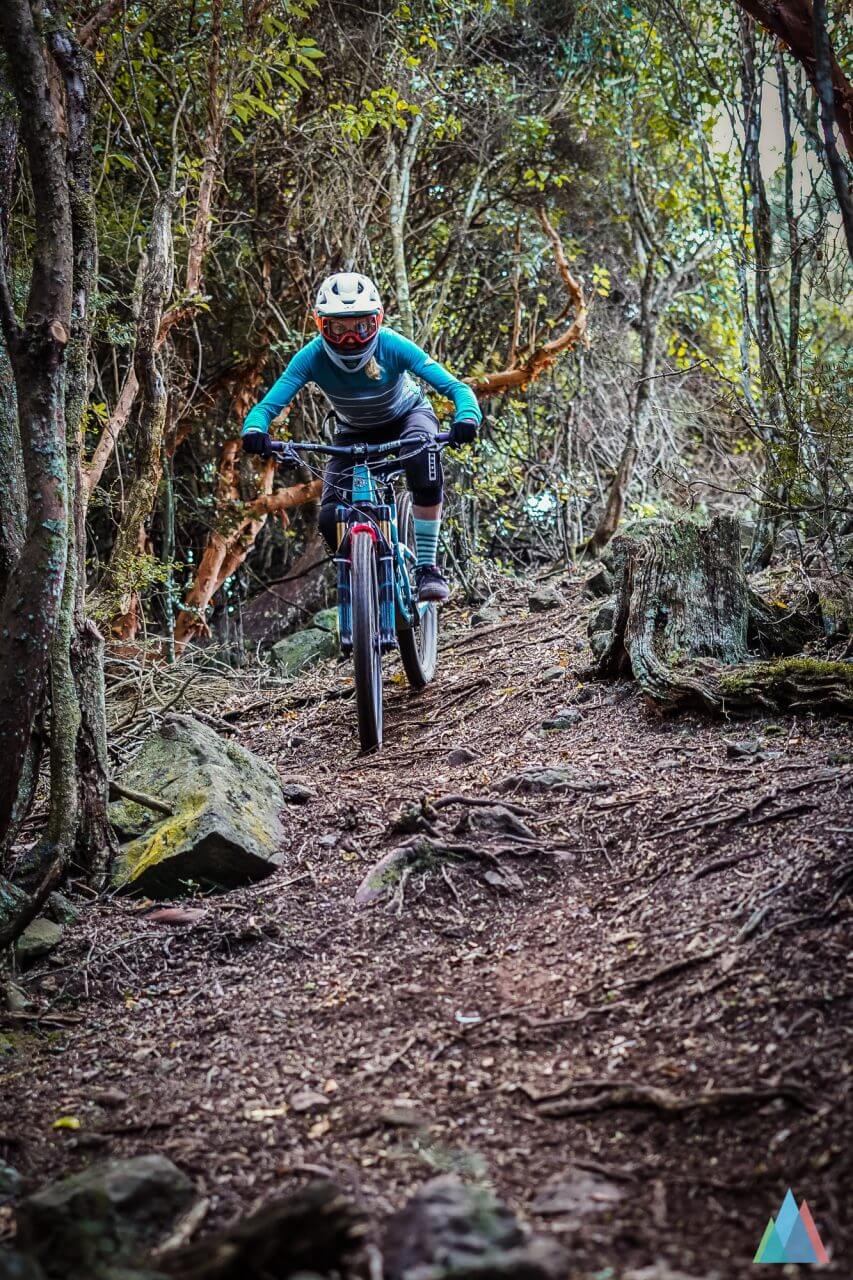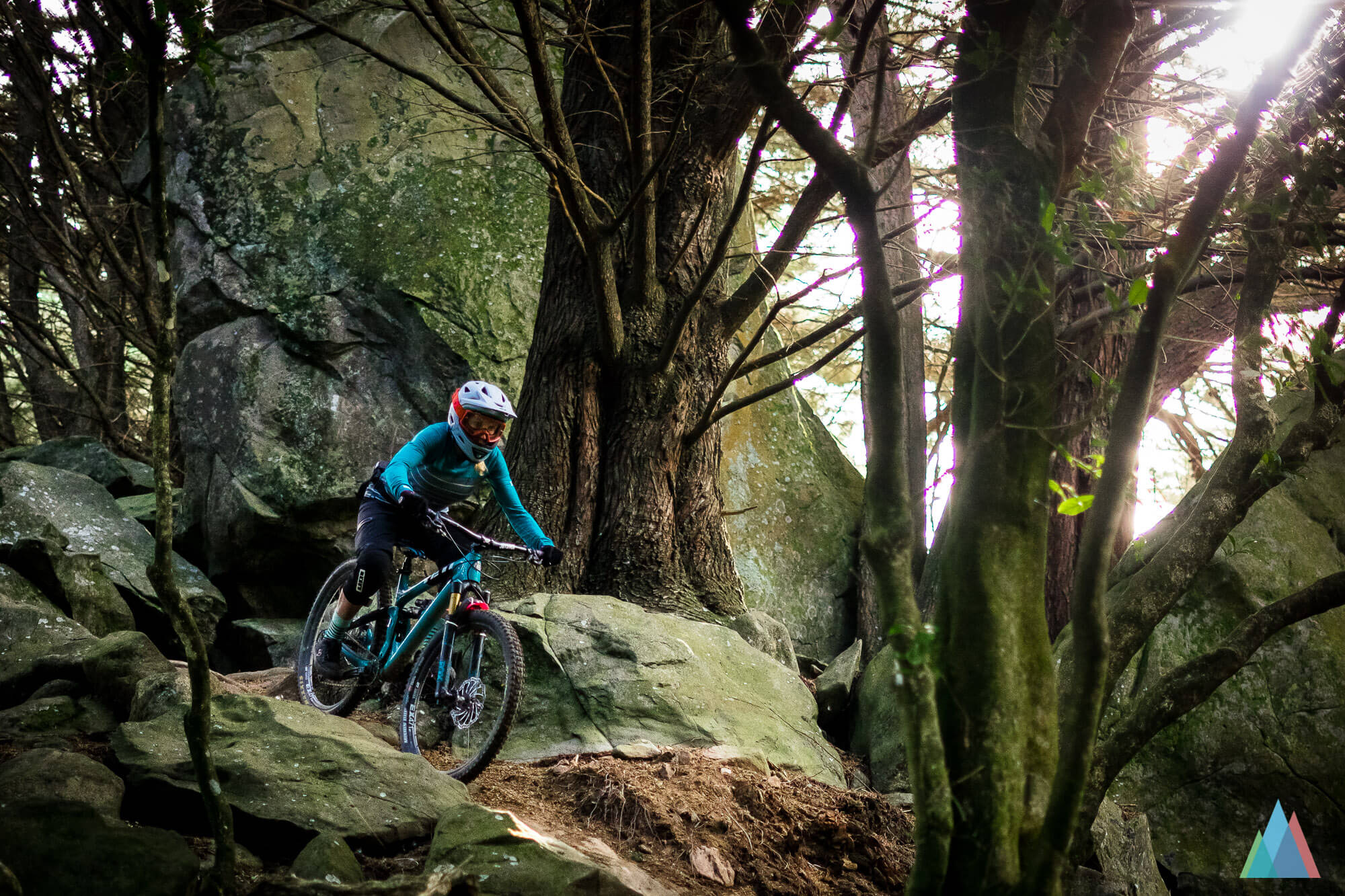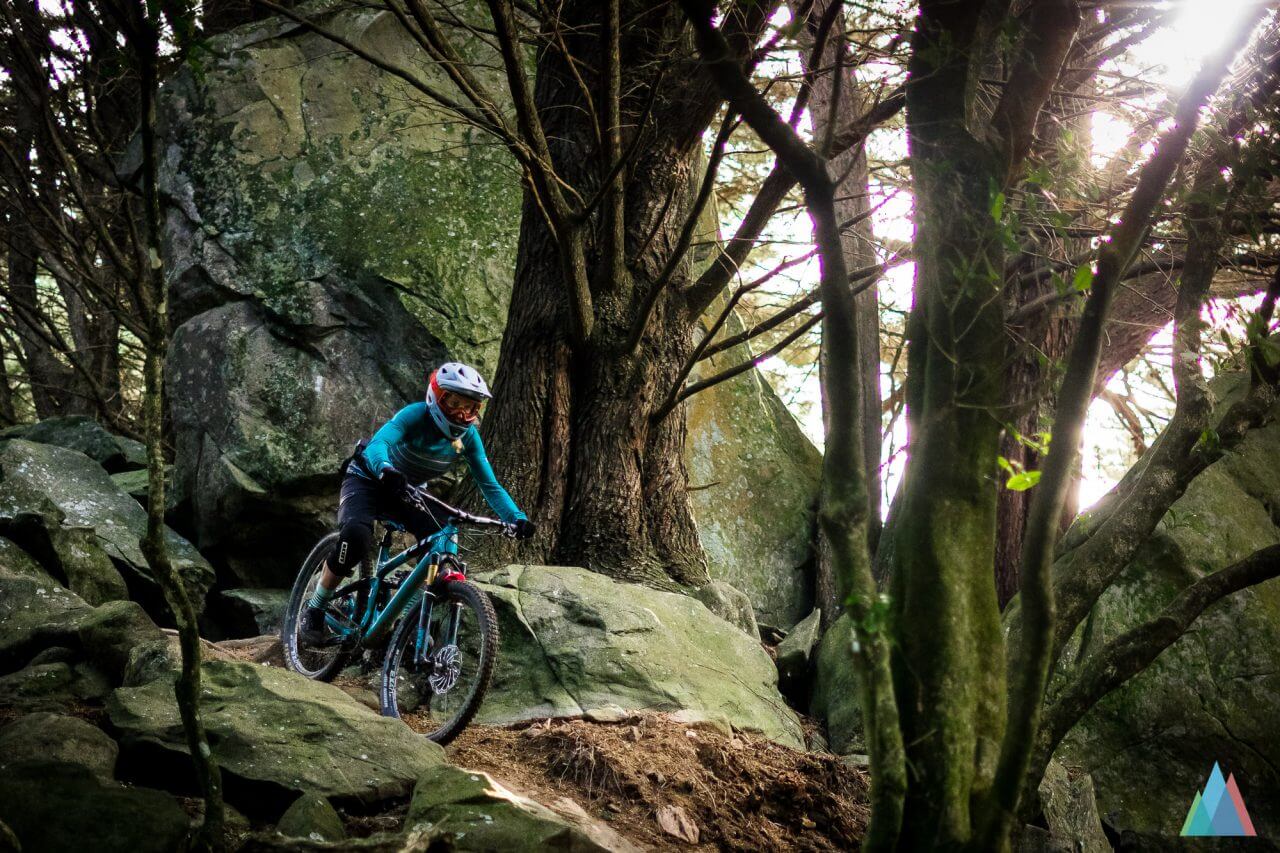 Dunedin pleased us in many ways. It was a city but still quite small, there were many riding zones close to the city and with Alexandra, Queenstown and Wanaka there were tons of riding options only a few hours away. The surfing looked great, just slightly too cold for our 3mm wetsuits. Additionally the city did offers many great coffee shops as well as pubs and wasn't shy of hip vintage stores and trendy restaurants. Last but not least there were a few remarkable official freecamp spots right next to the ocean. We can safely say that Dunedin is a bit off the beaten track, but well worth the deviation!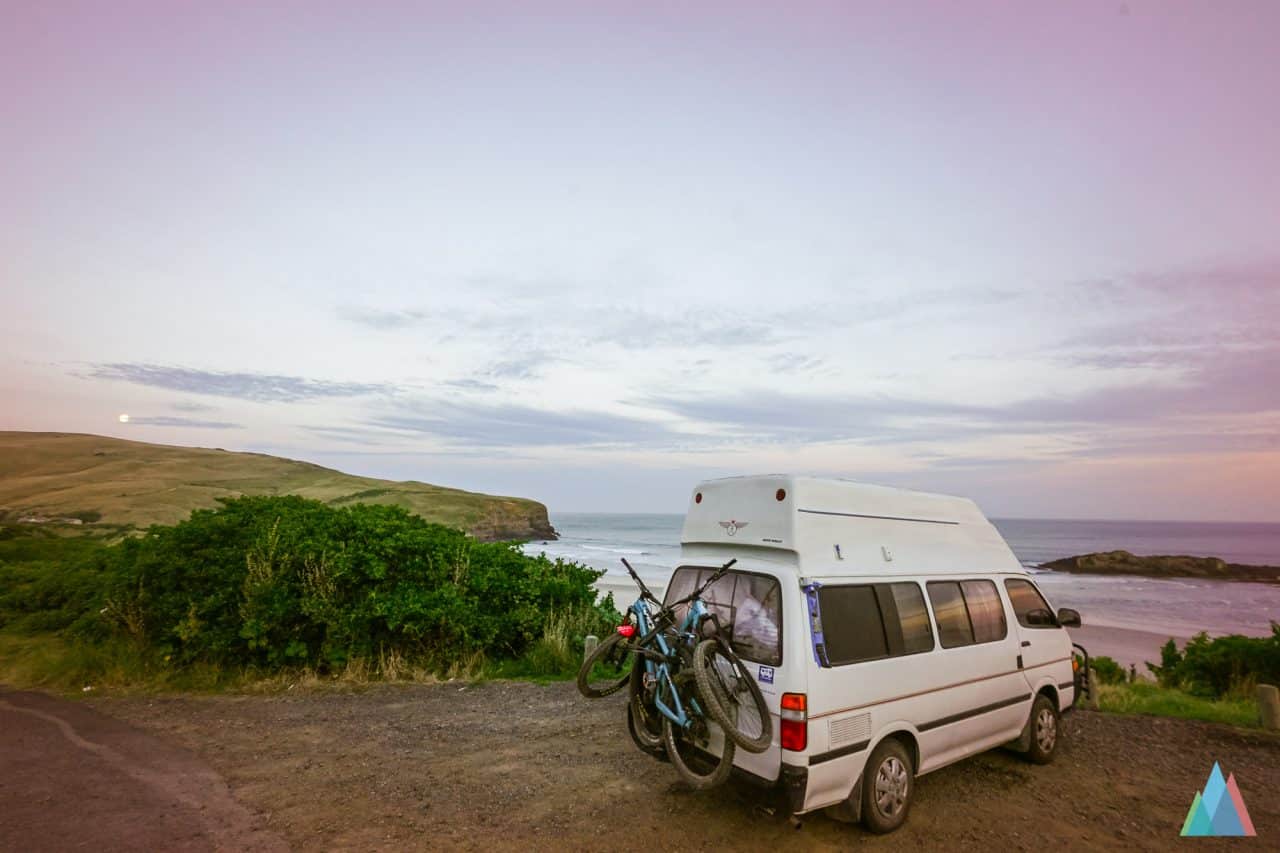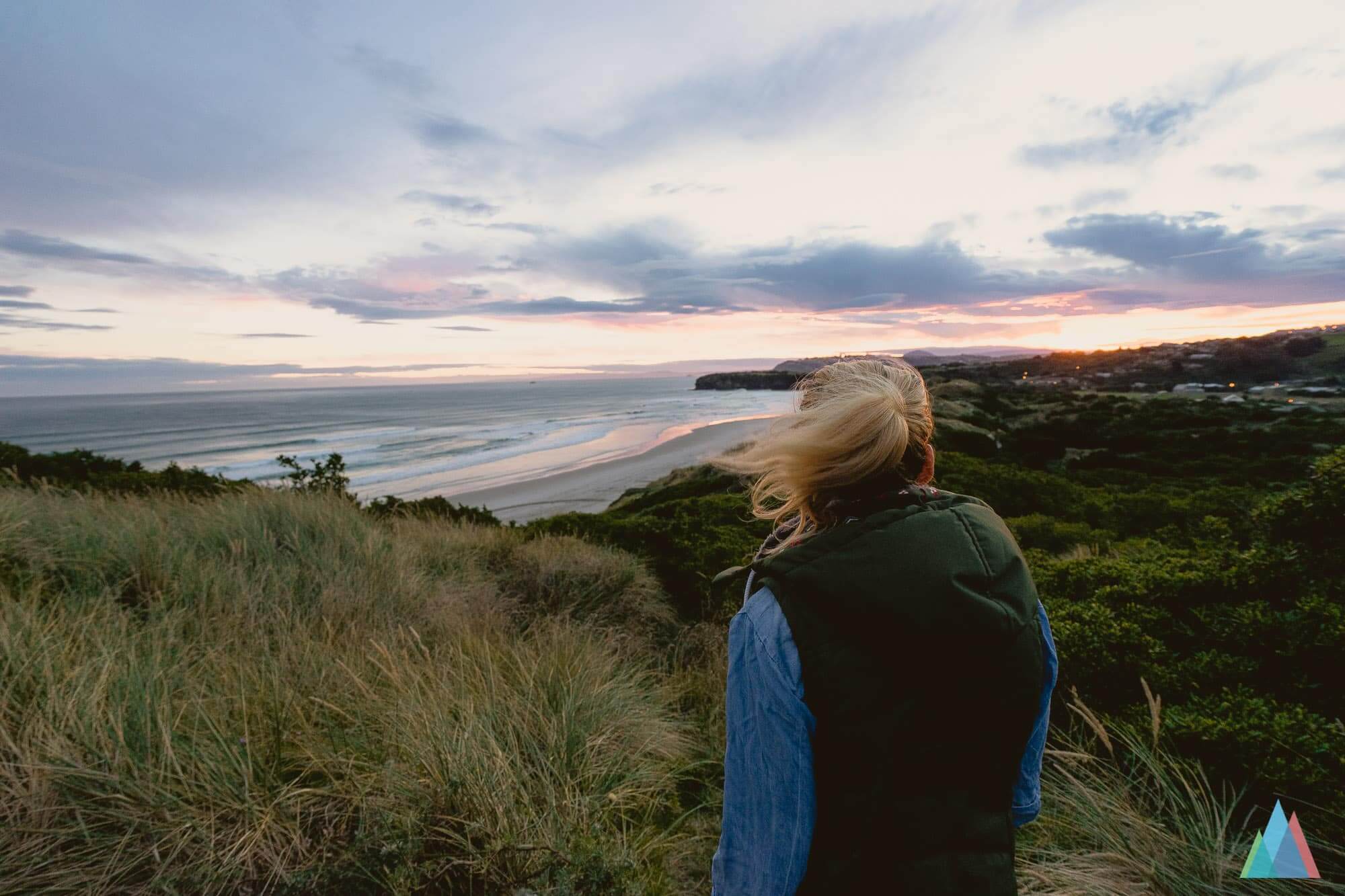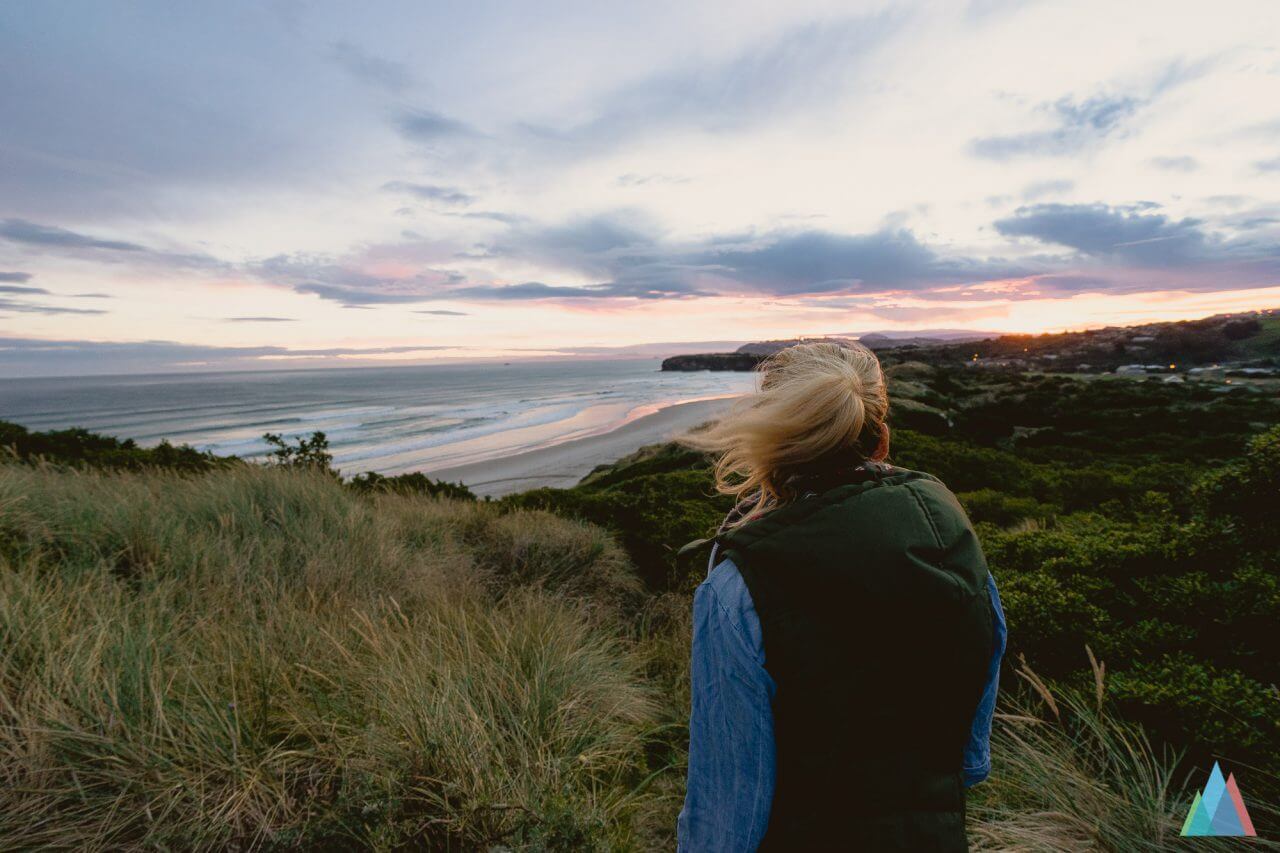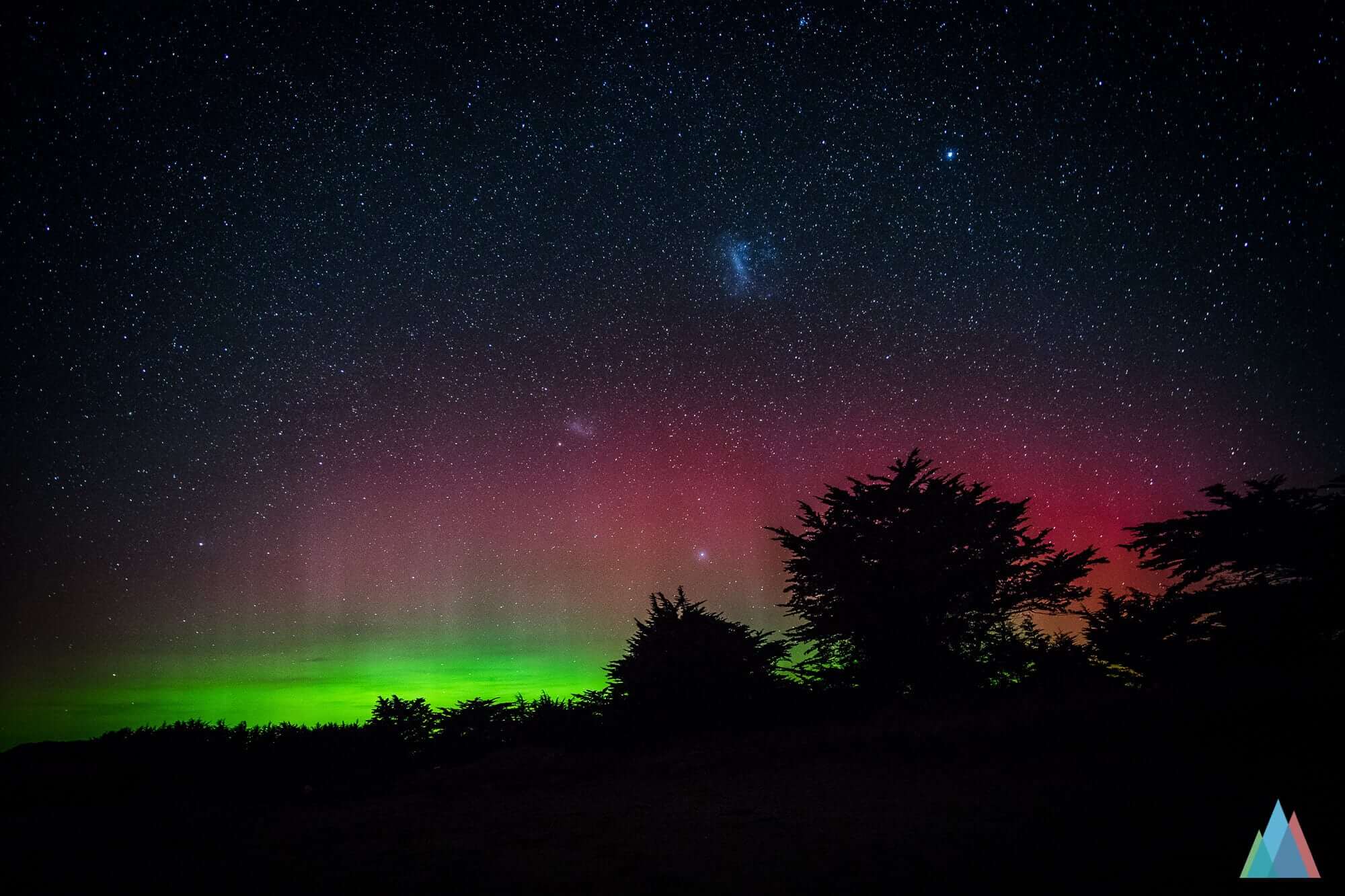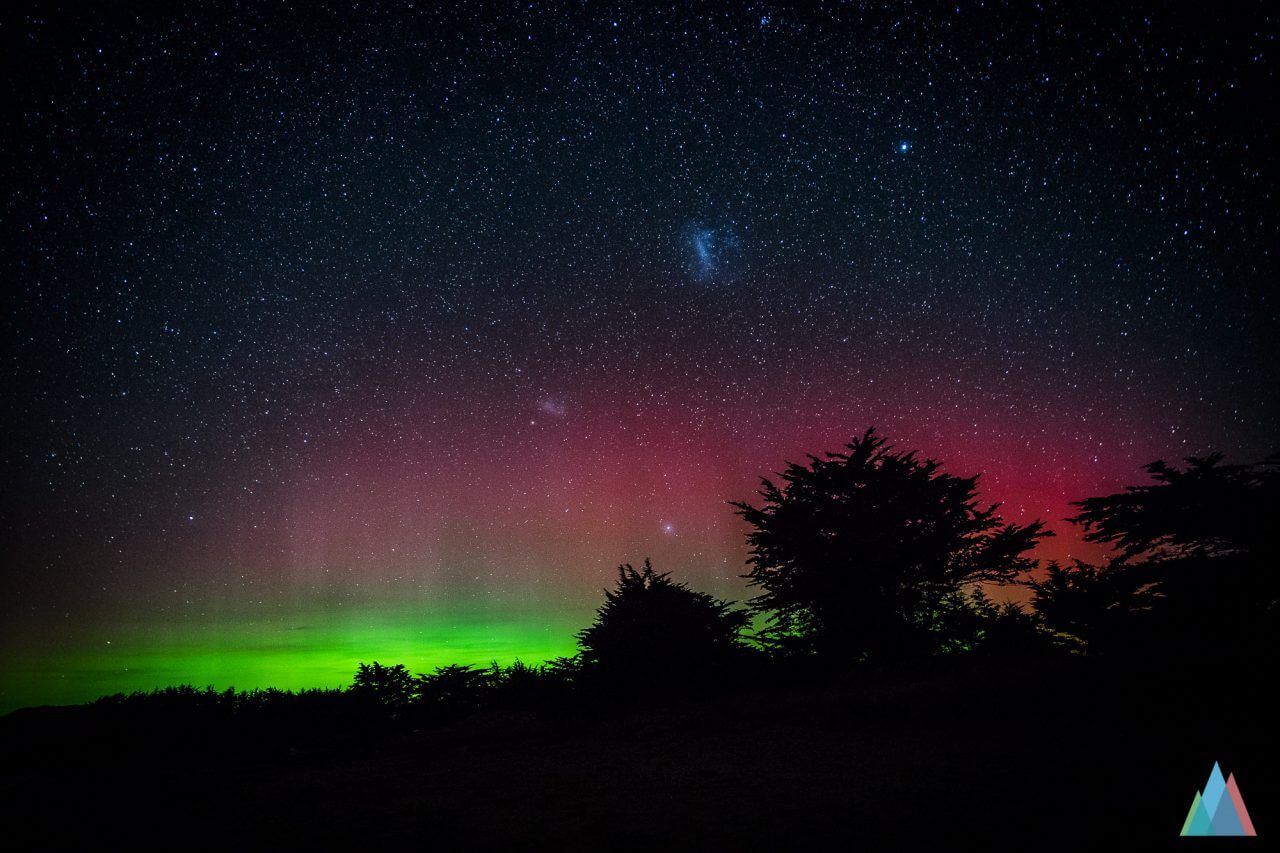 Time runs fast..
While riding in Dunedin we kind of felt as if we run out of time. The NZ trail bucket list was still long. In the same time we had to start planning on where and when to sell the van – and also plan in some time to do so.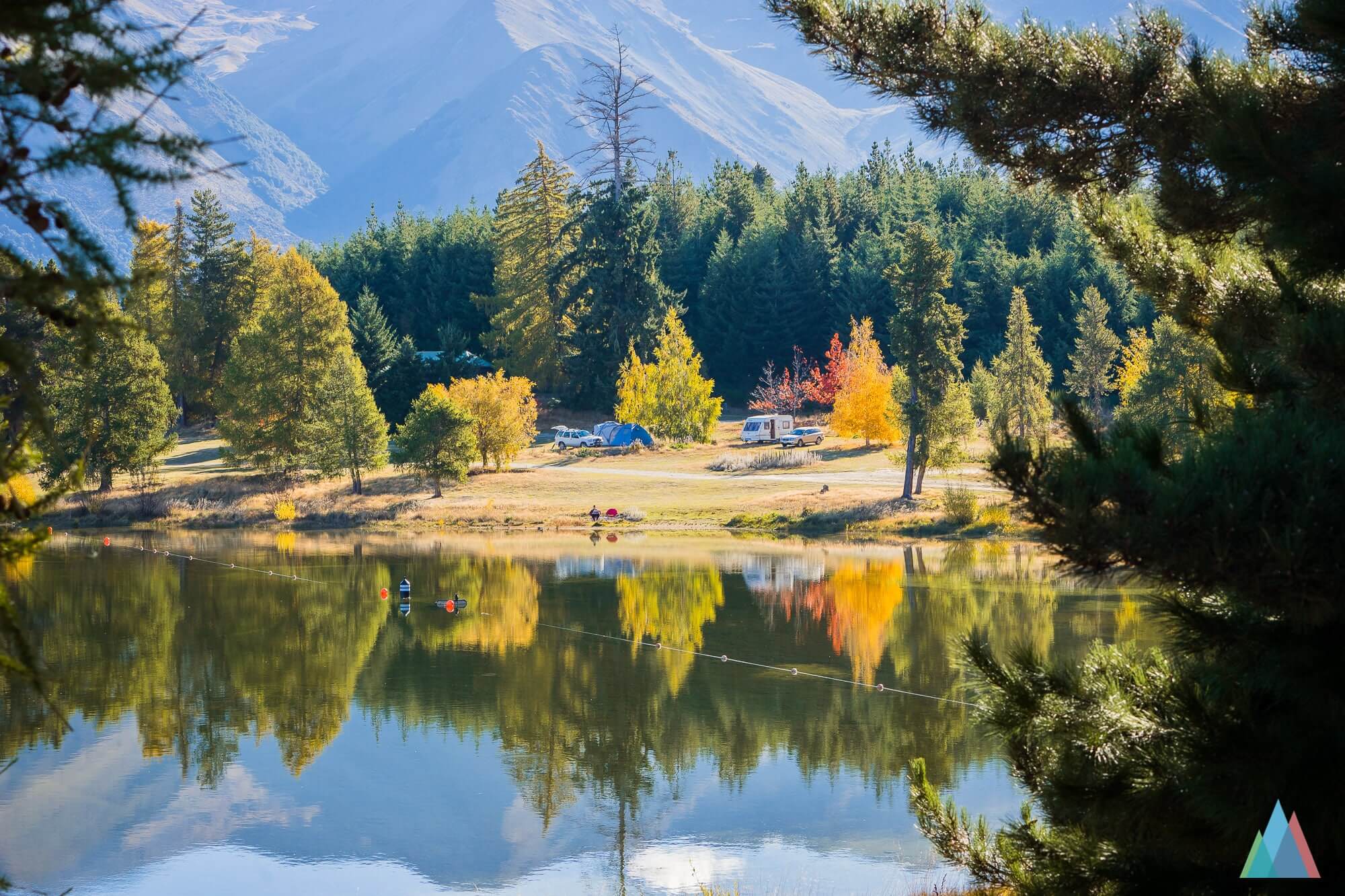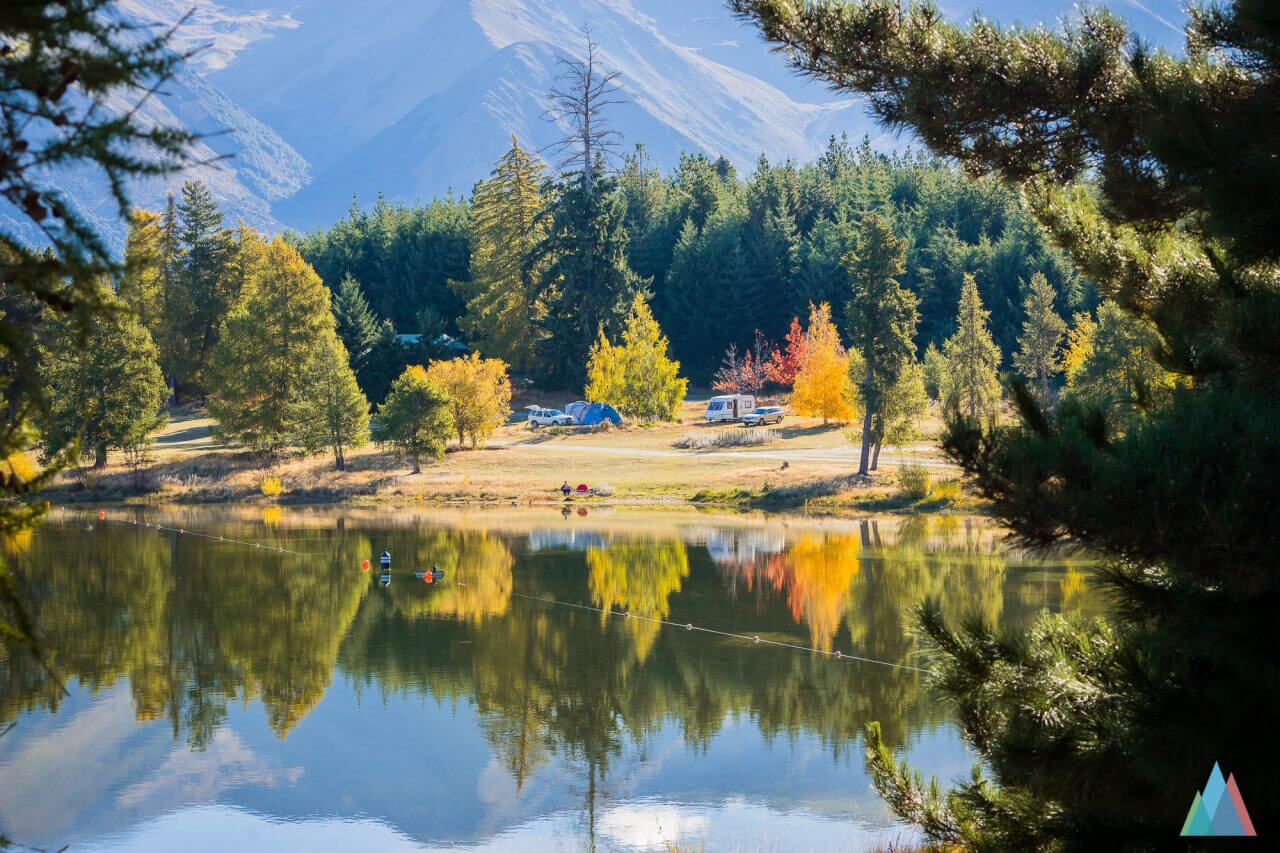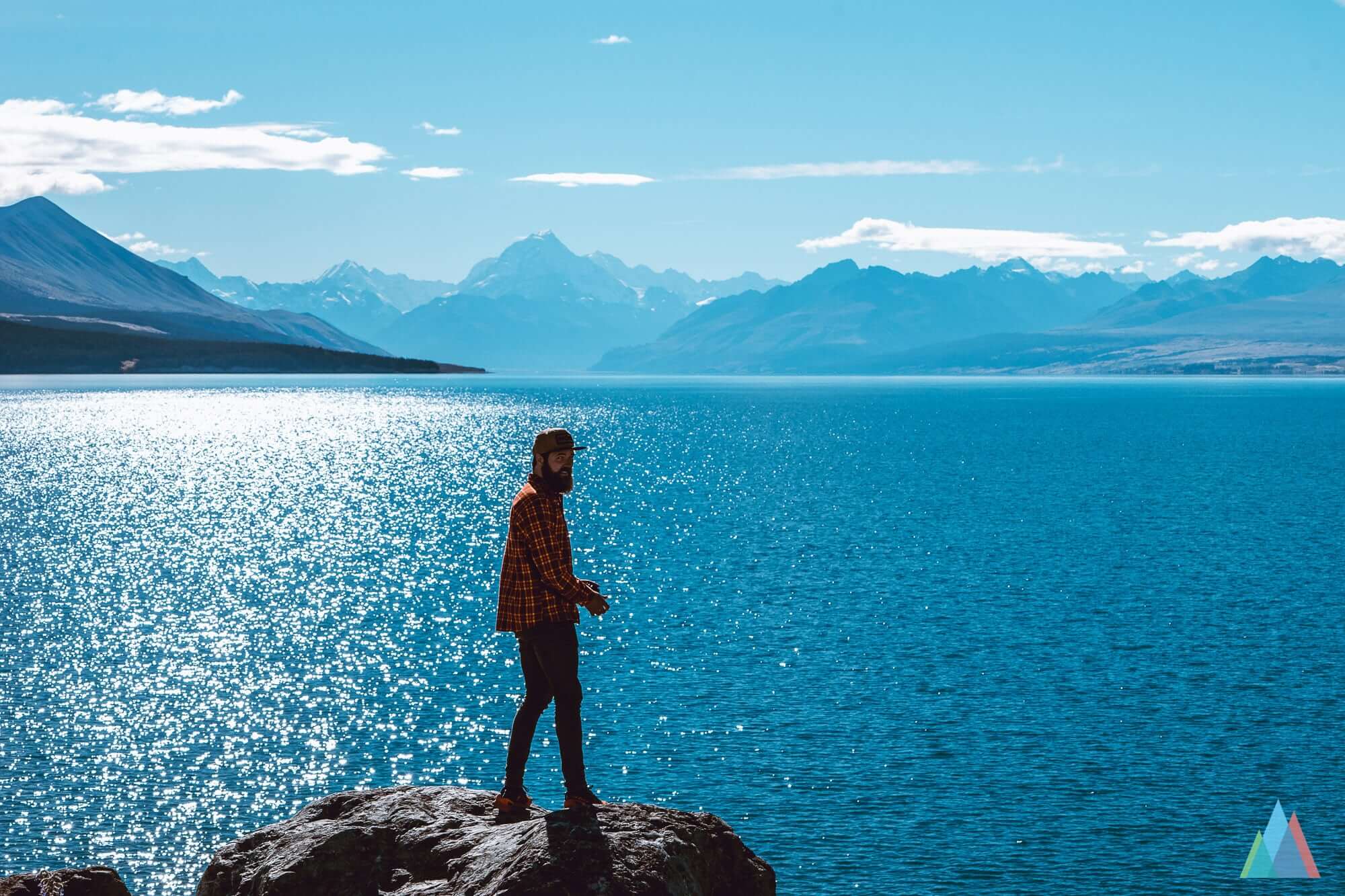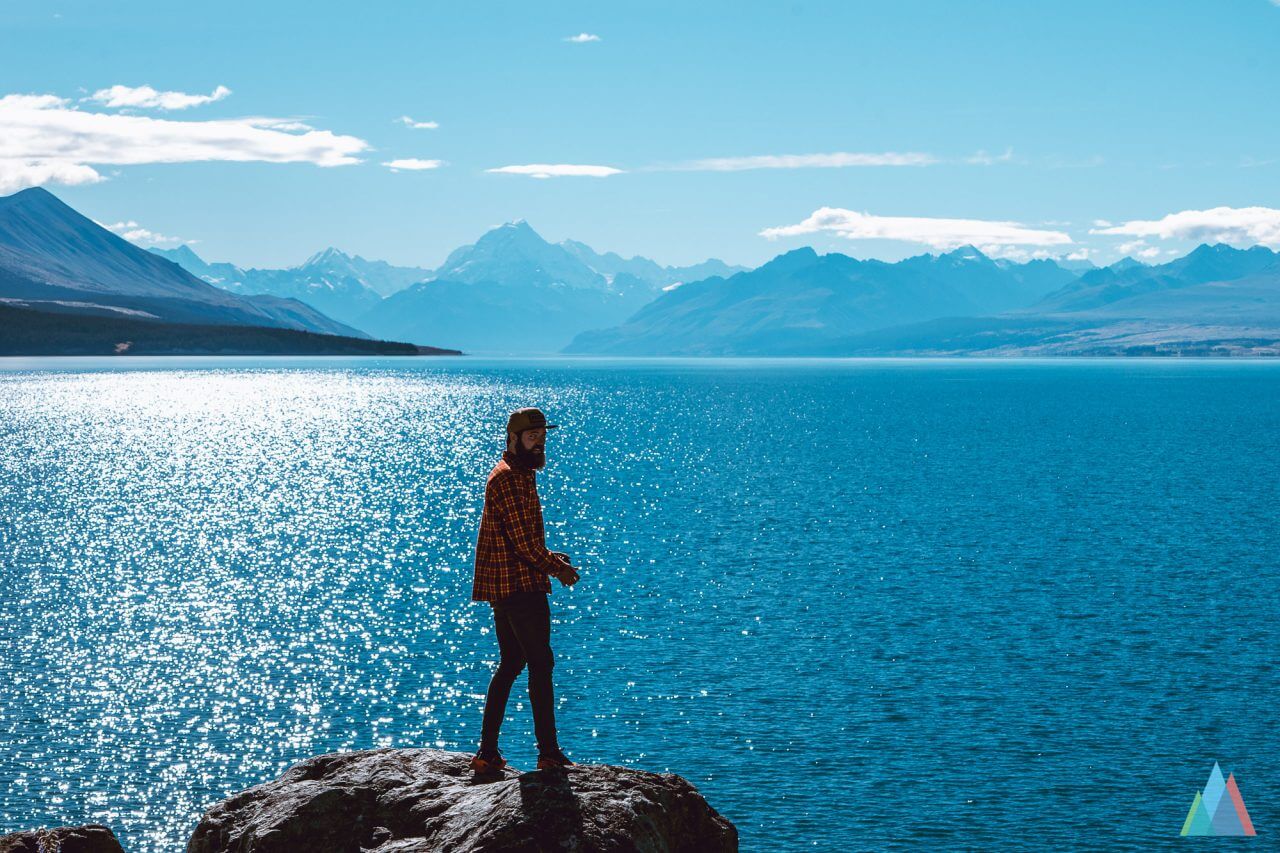 Soon we found out that we needed to renew the "Warrant of Fitness" to sell the van. To get a new WOF the van needs to be in a good state – mainly concerning its security features but also rust.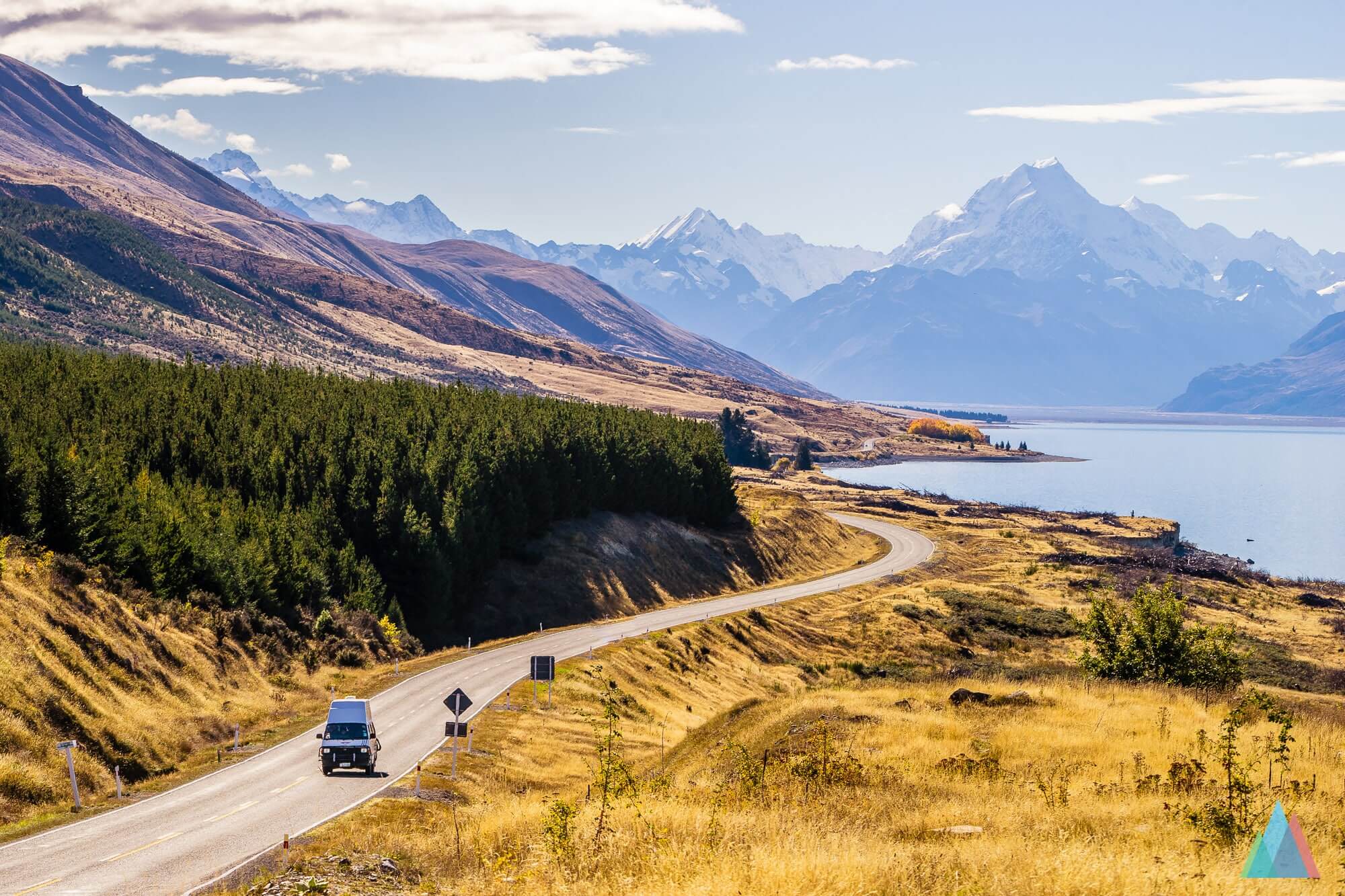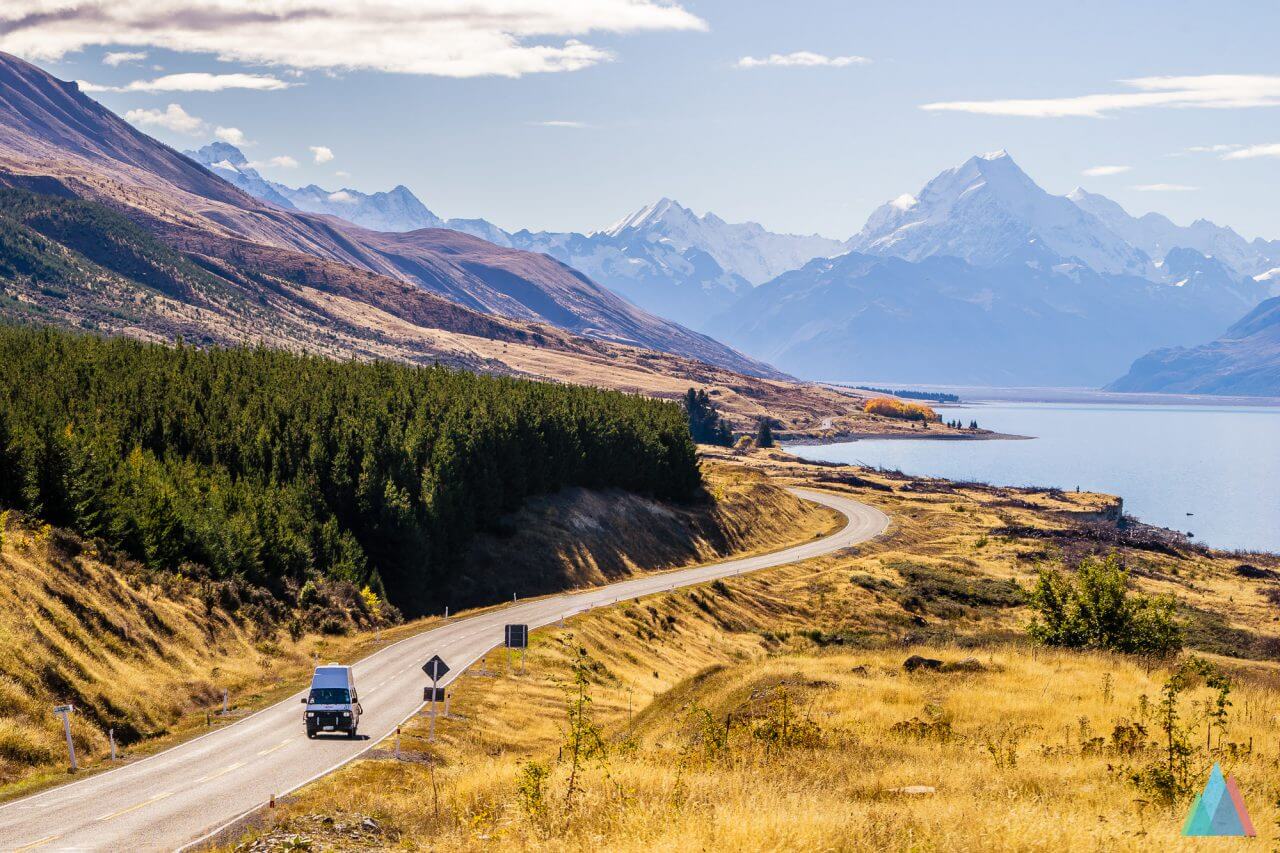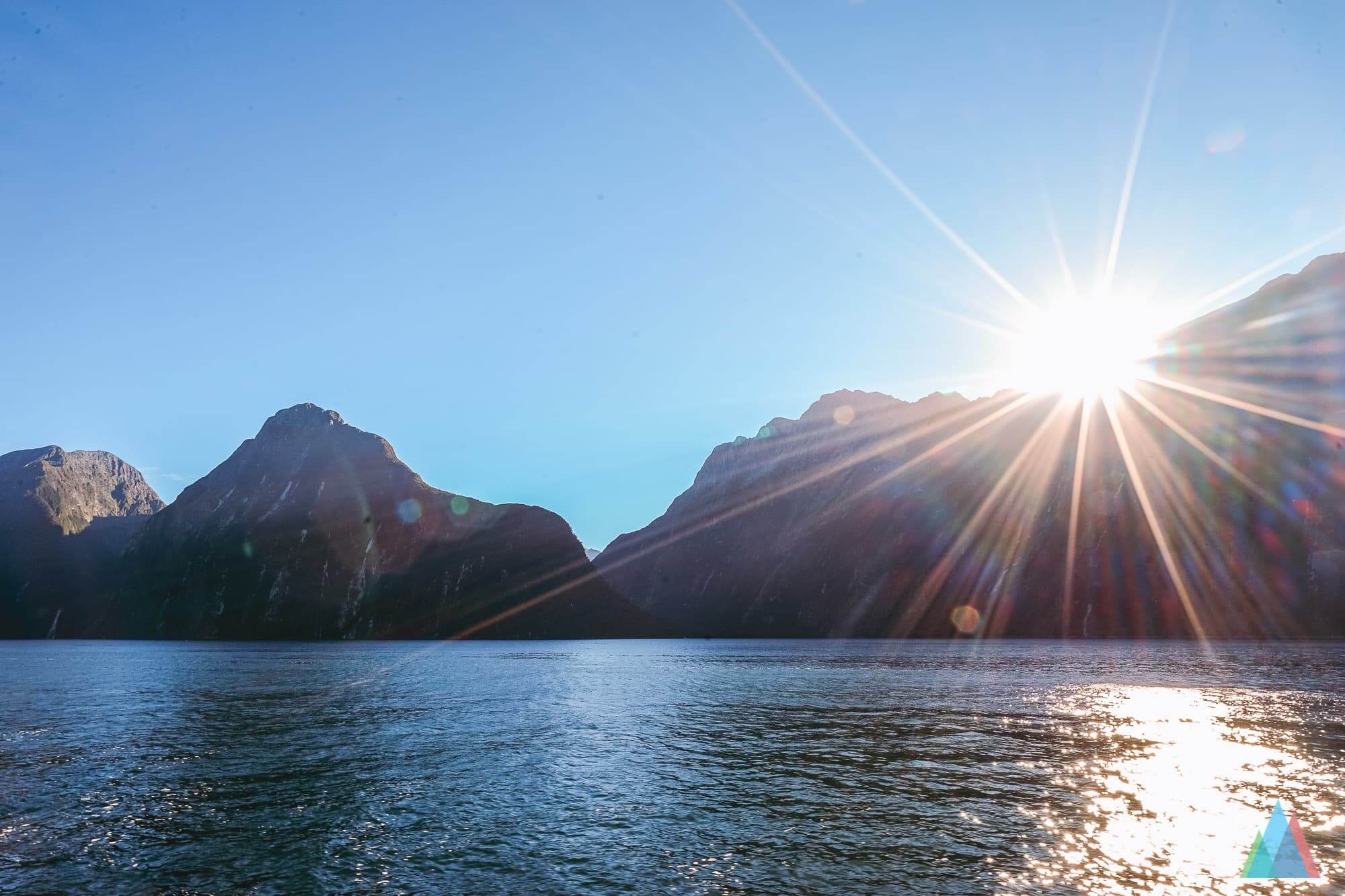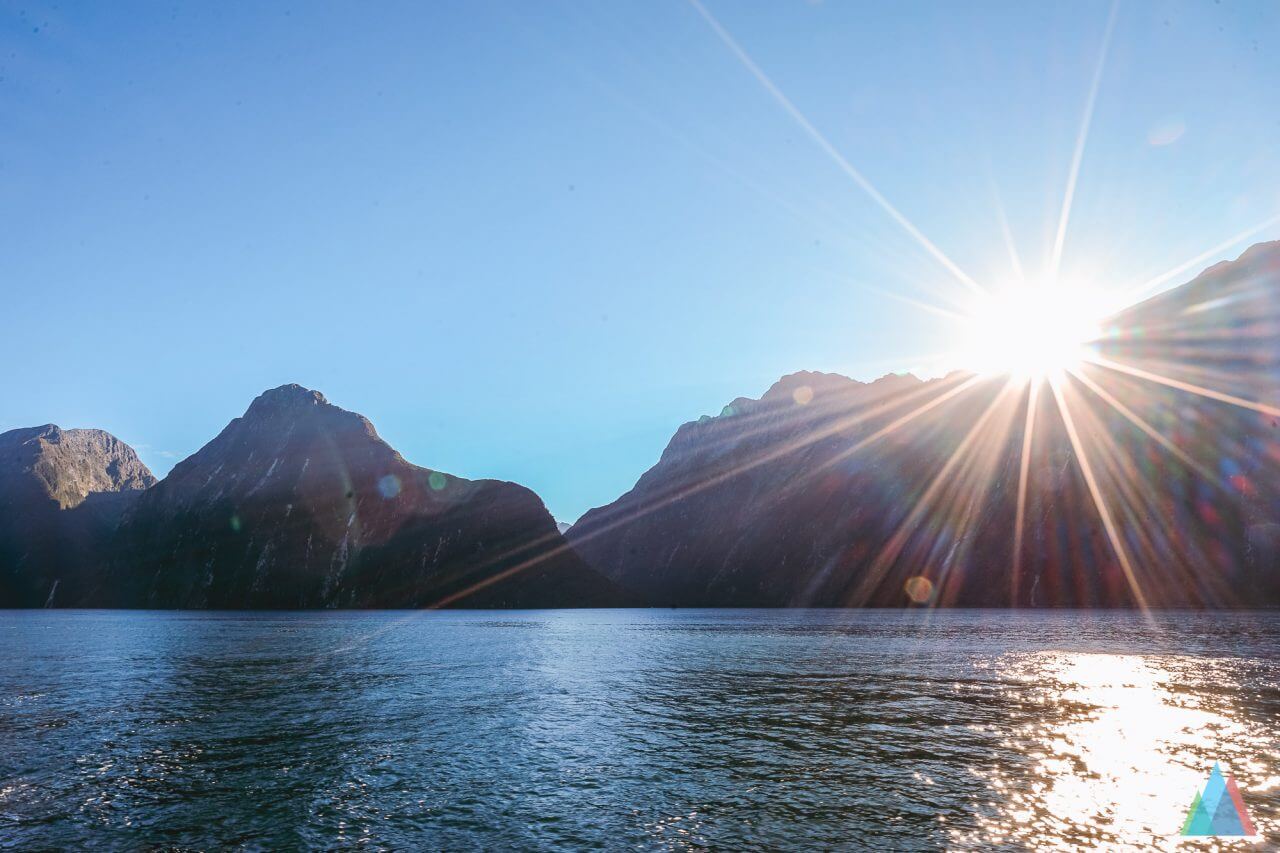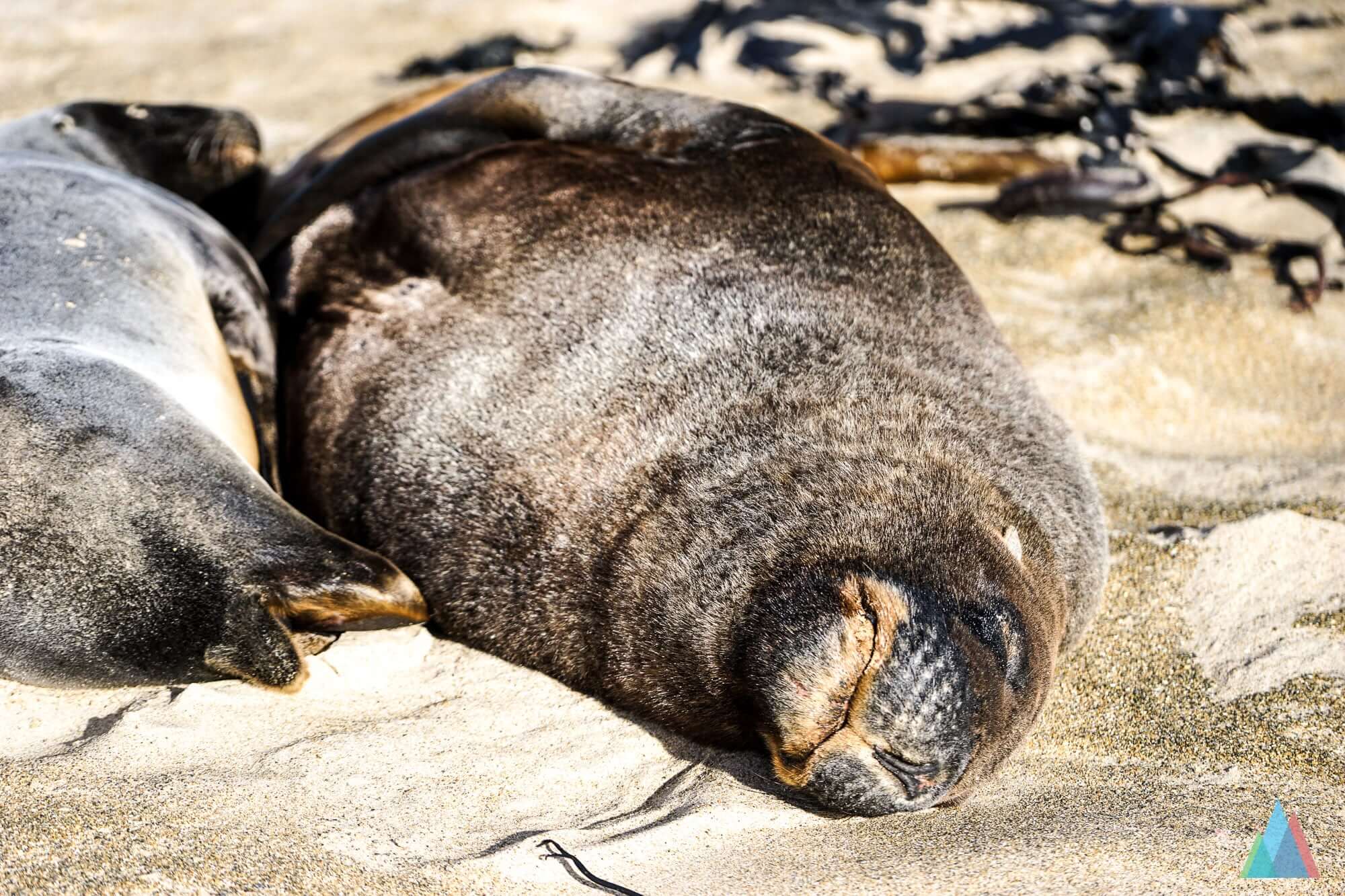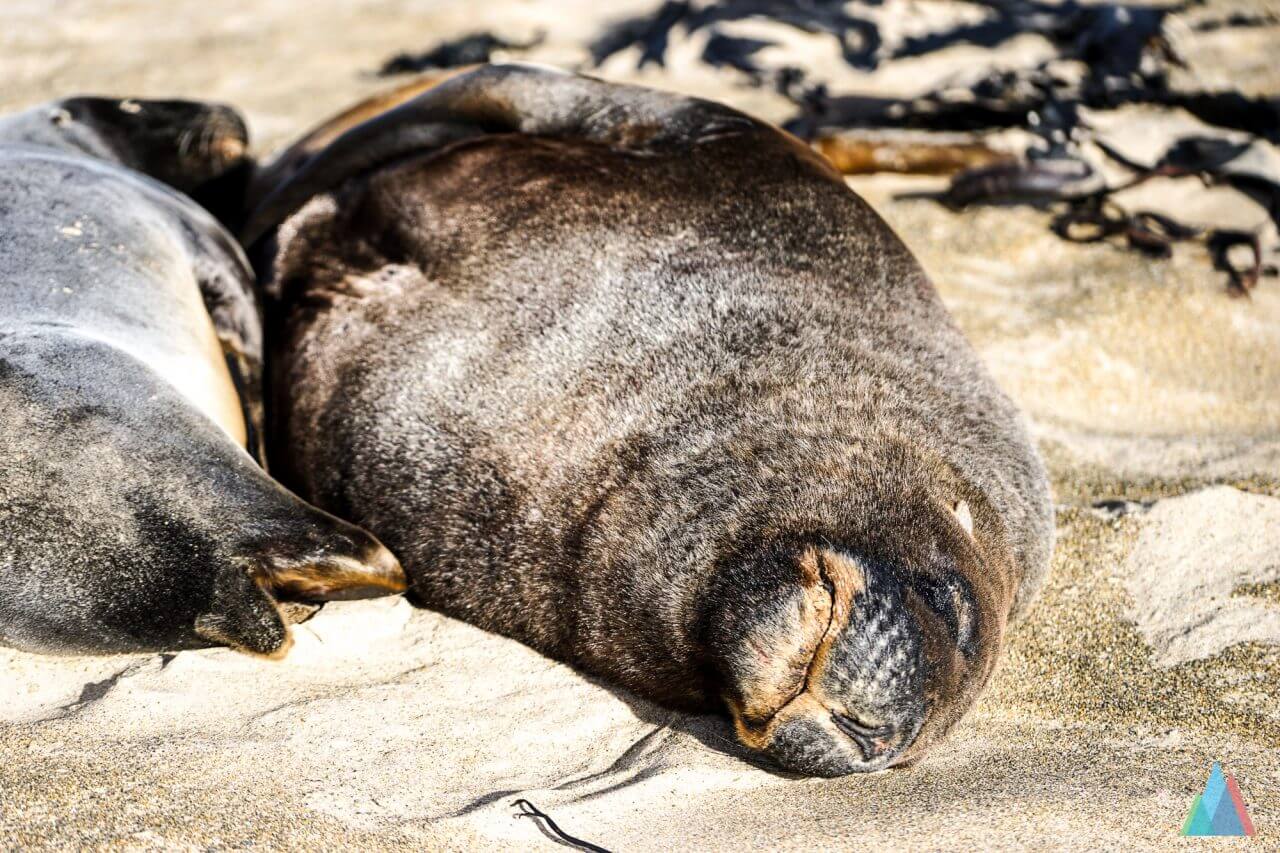 Since we had to get back north towards Auckland anyway, we agreed on driving from Dunedin to Christchurch and get the WOF there. Of course a short deviation towards Mt. Cook National Park was a must and so we arrived a few days later Christchurch. In contrary to our fears, "Chröser" passed his WOF on his first attempt.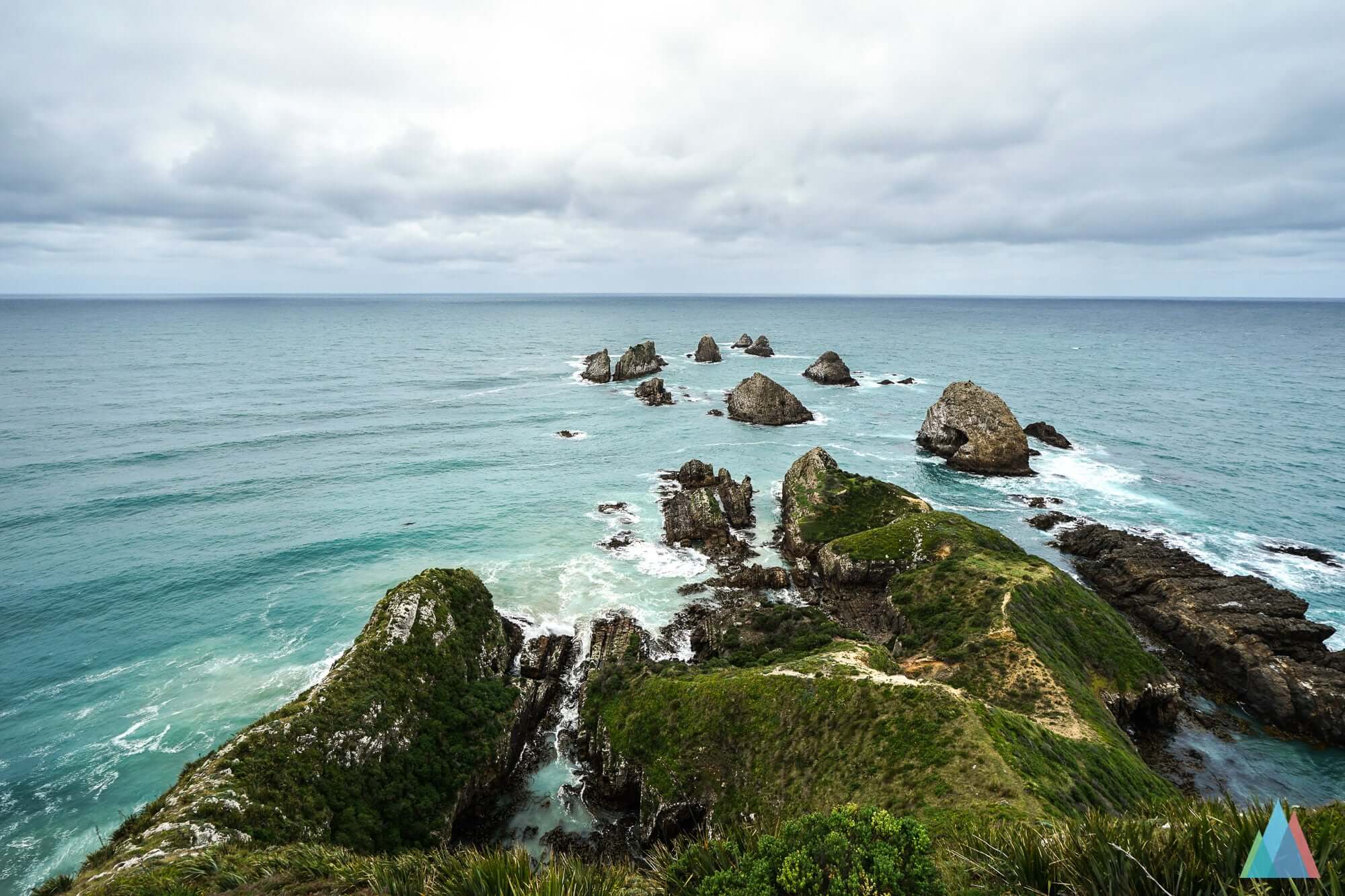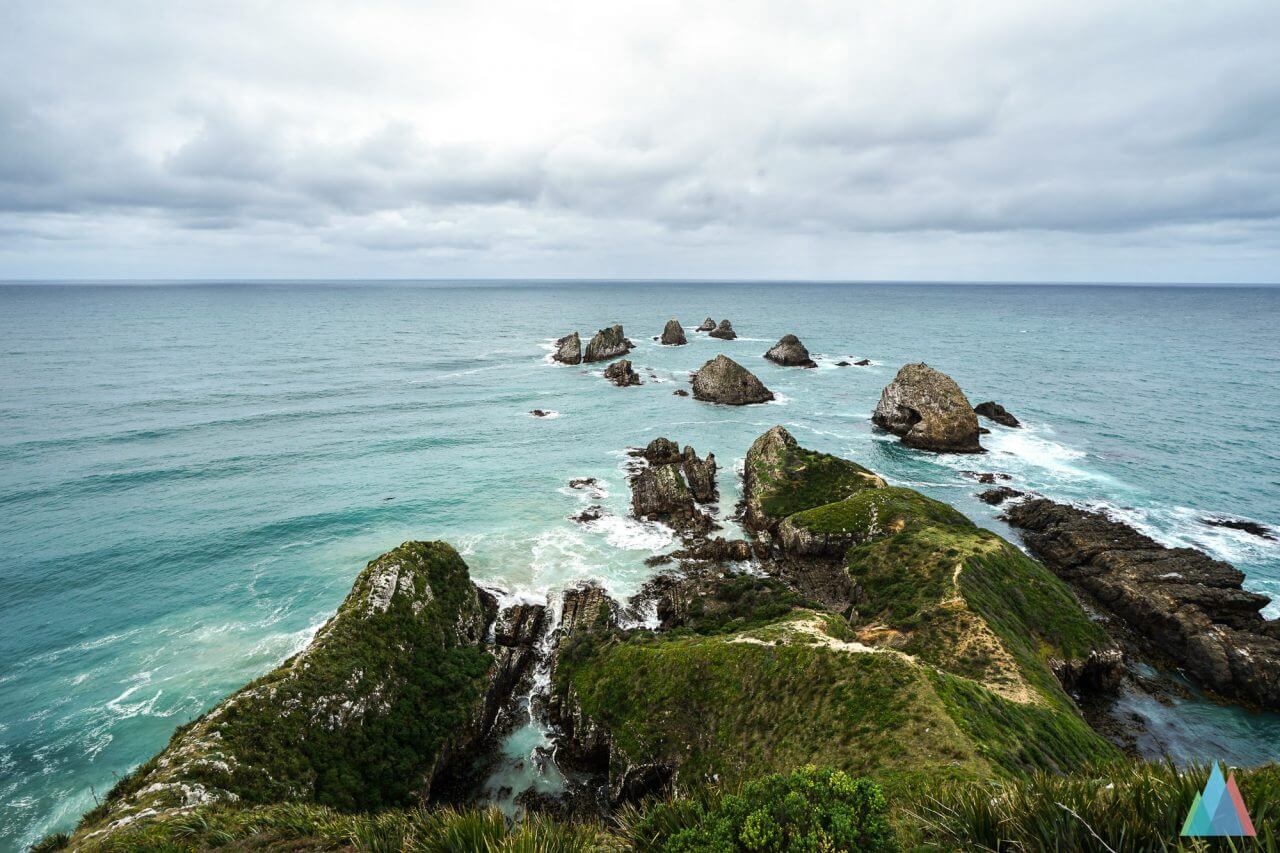 Christchurch and Craigieburn – old downhill tracks and loamy goodness
With the WOF out of our mind, we could start focussing on mountain biking again. And there was heaps of trails on our NZ bucket list in this region. I guess I have to stop mentioning it since it seems to be everywhere the same in New Zealand – big riding scene, trails all around the city and many people volunteering to dig on the trails. There would have been even more to ride. Unfortunately the Christchurch Bike Park burned down when we arrived in NZ – just 3 months after opening.
As everywhere, locals where happy to show us their home trails next to the burnt down bike park. Some very steep, classic dh runs and a long trail over lava stone back to the city.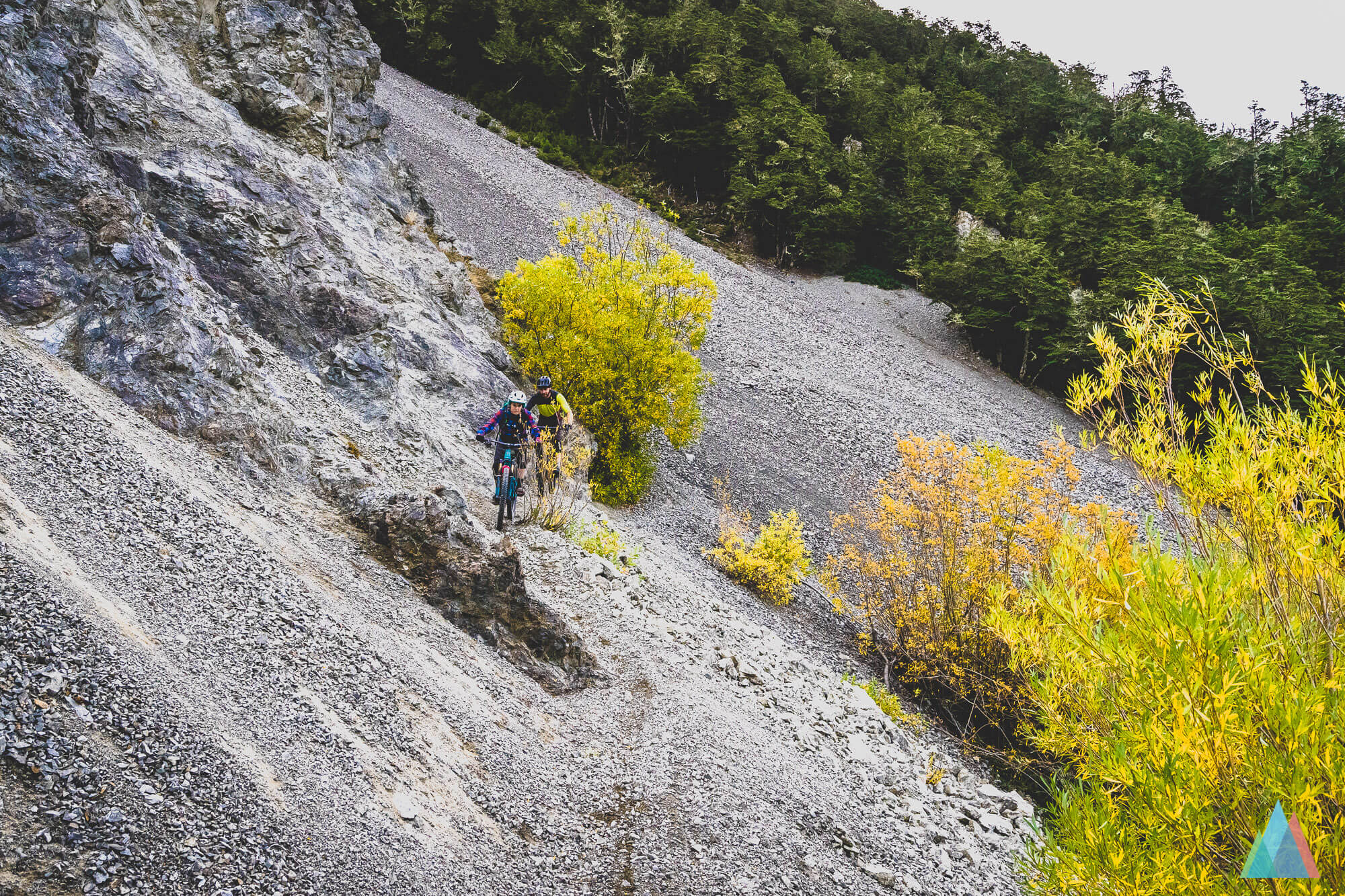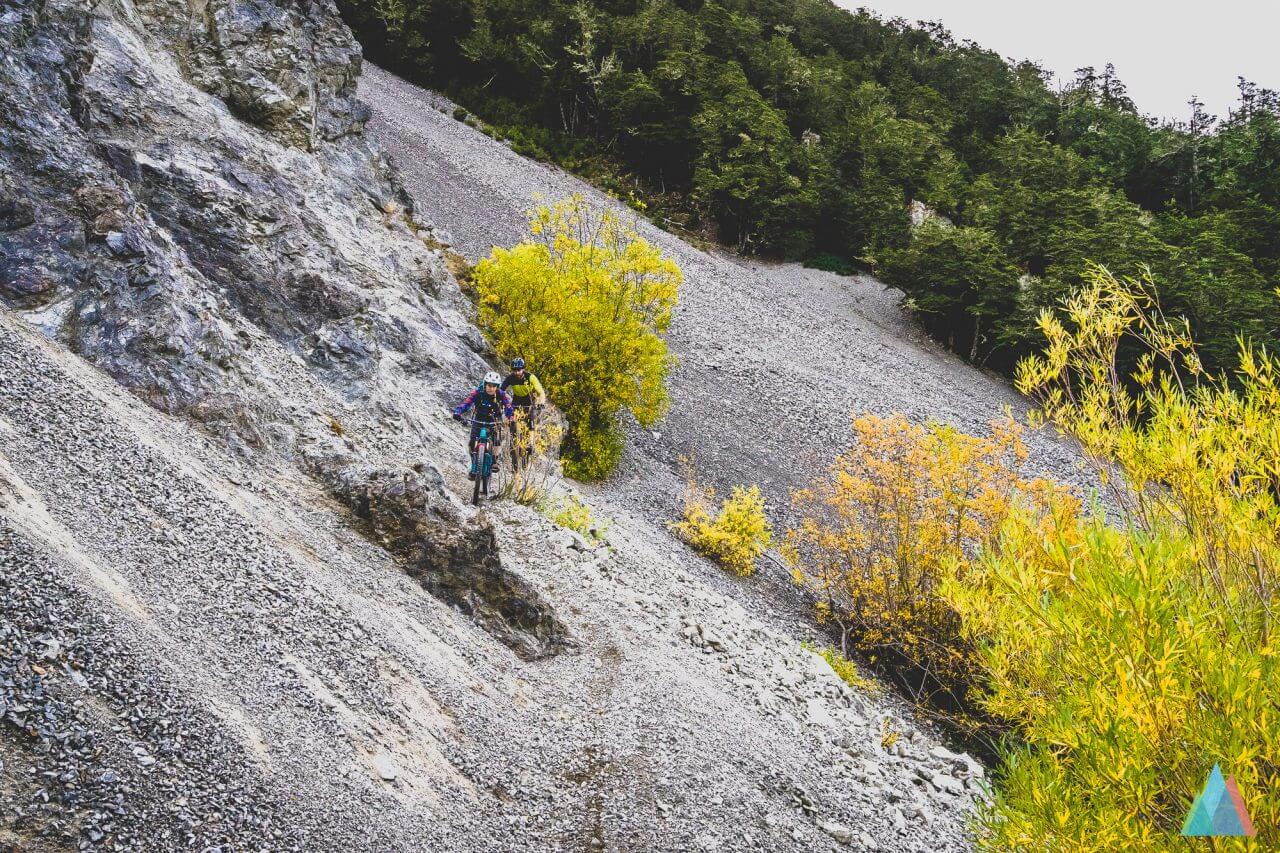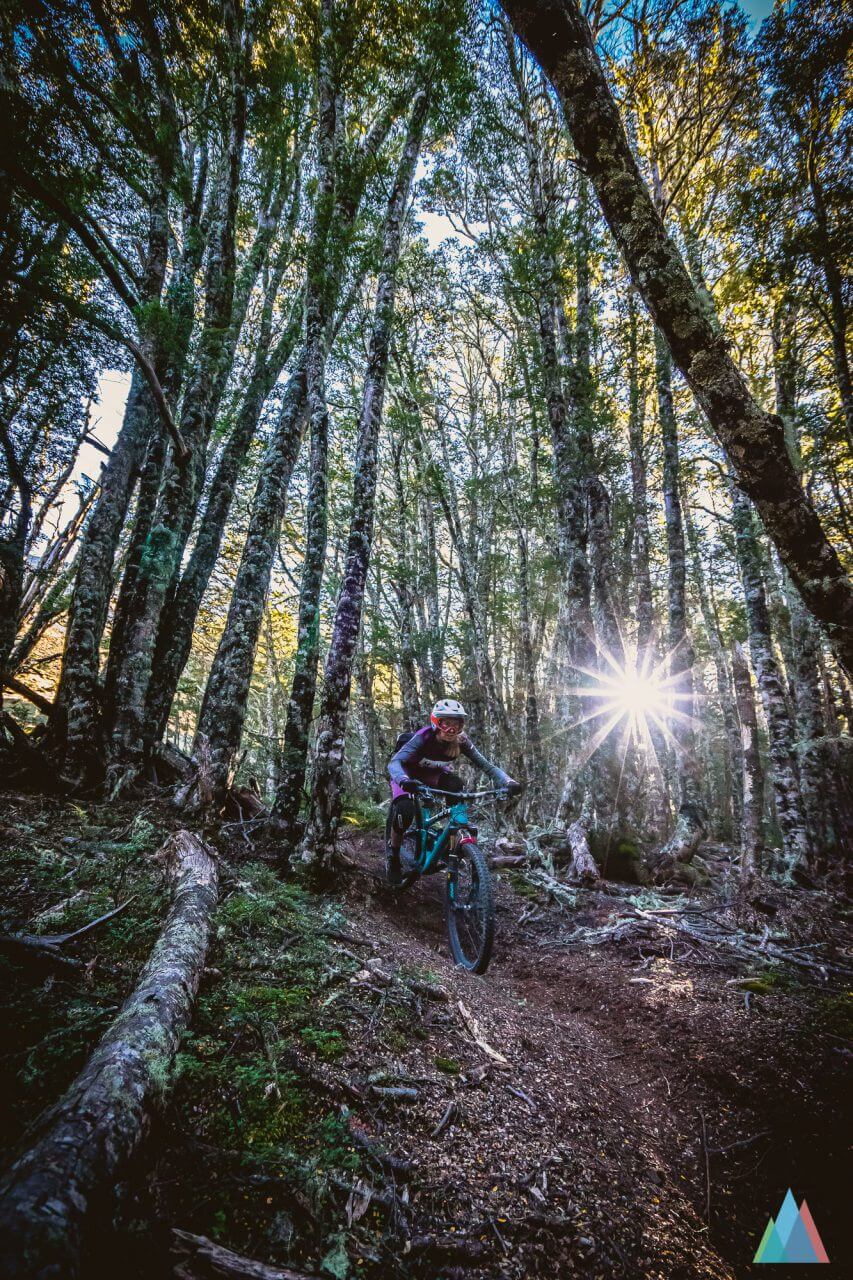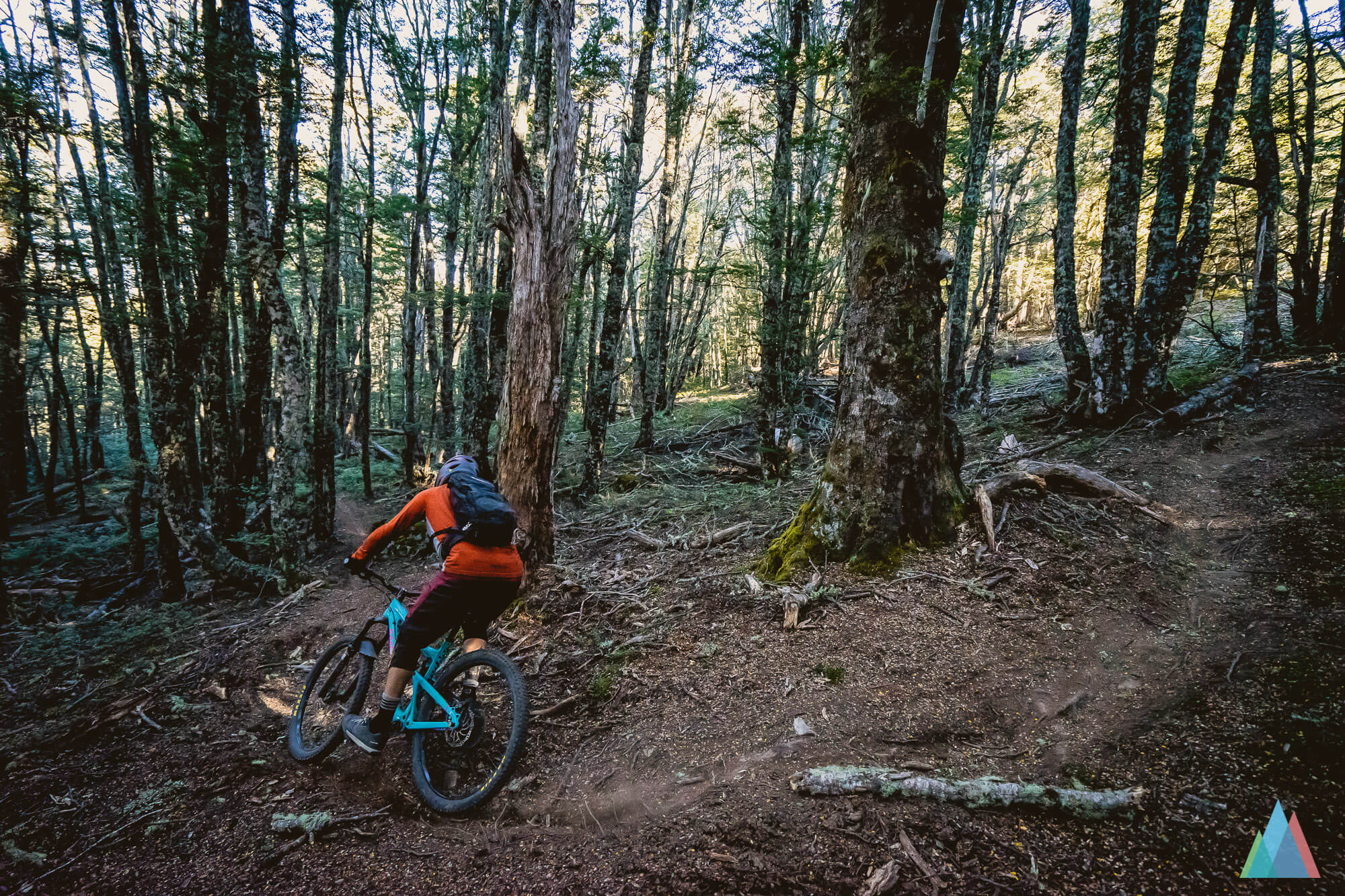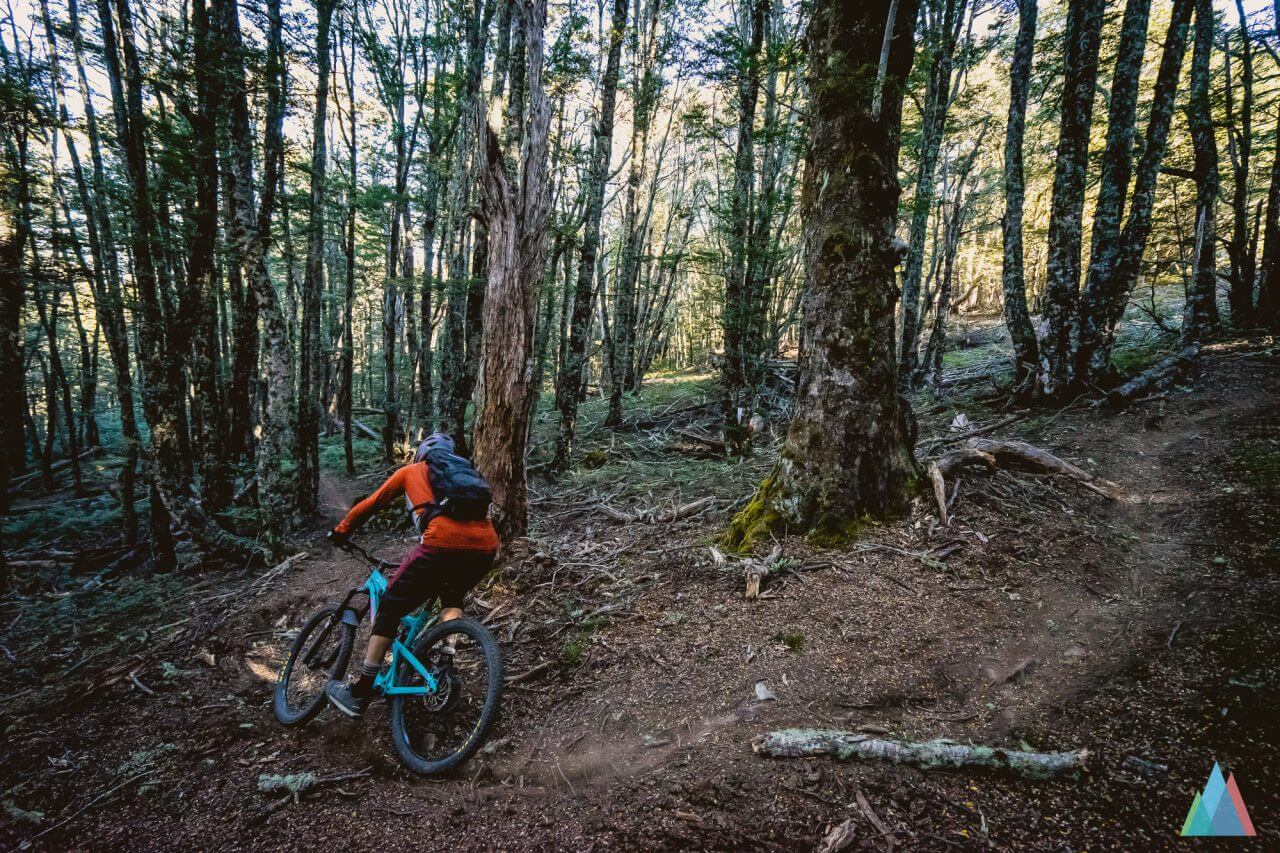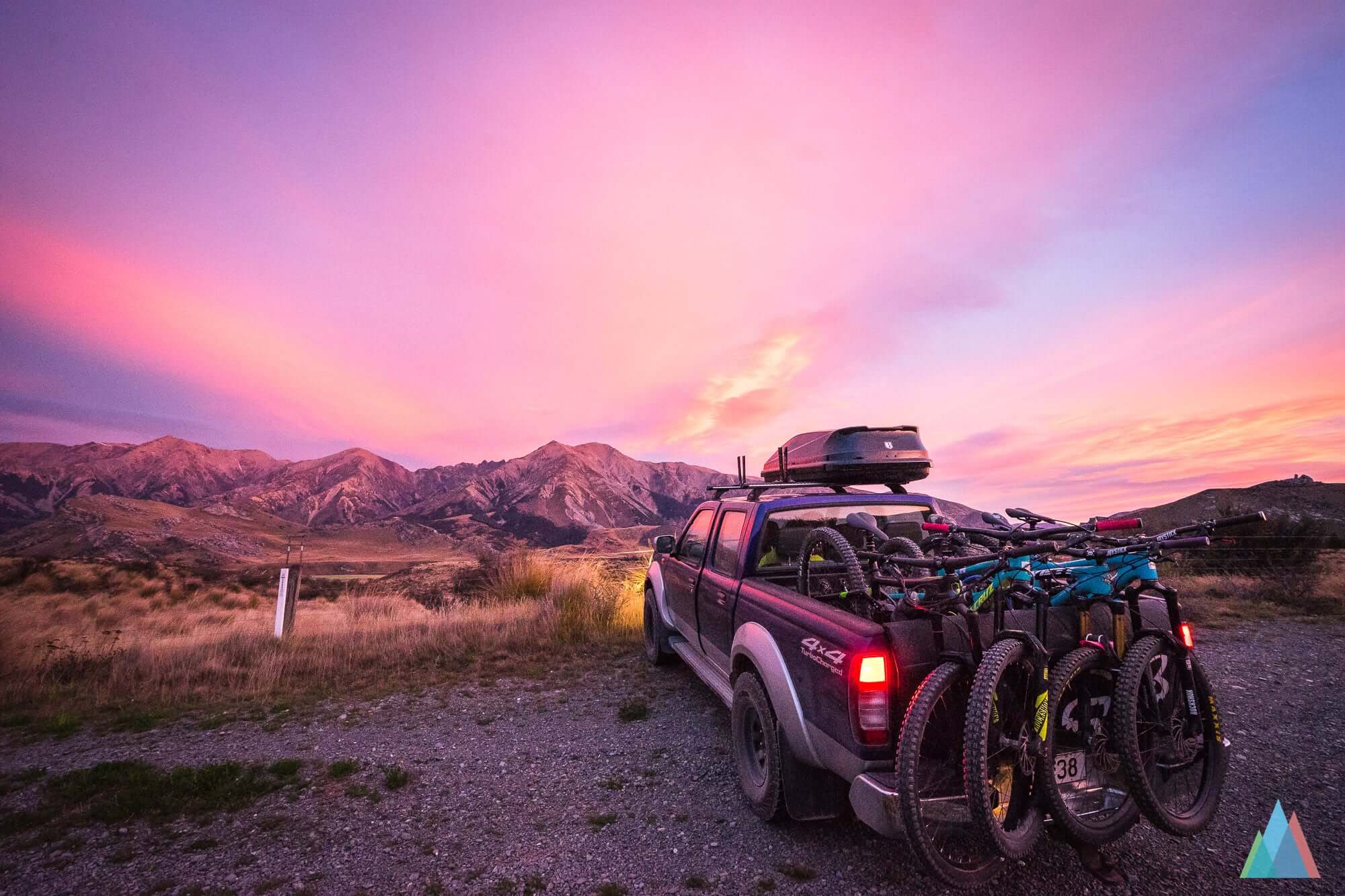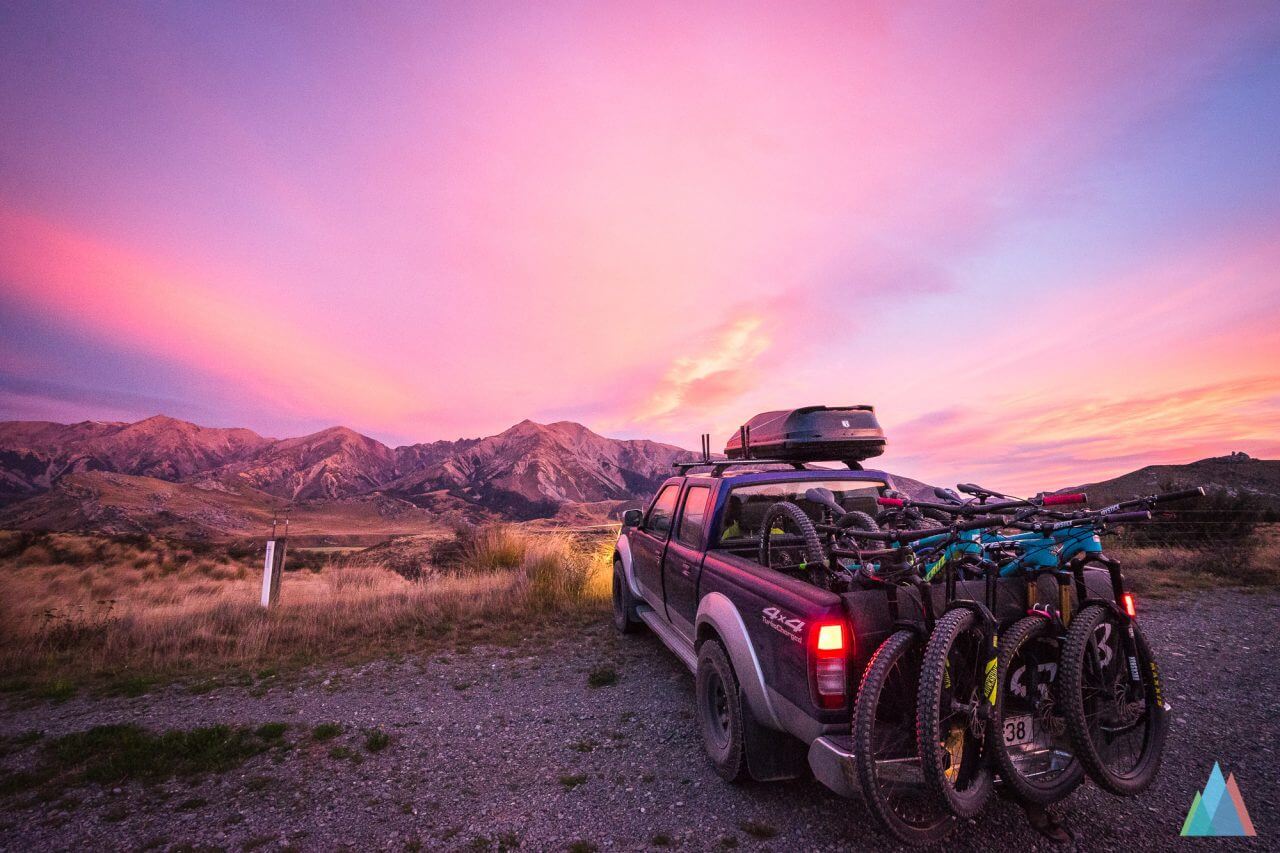 We spent the next few days riding in Craigieburn, a mountain range close to Christchurch, famous for its scree runs above the tree lines and beautiful, fun and long descents in the bush. A few bucket list trails to cross off – Edge track, Cheeseman DH and Cuckoo Creek track.
With enough days on the bike to need a rest and the weather forecast looking very cold and rainy it looked like a sign to leave Christchurch for some warmer spheres up north. On the way and after a very cold night with frost in the morning we stopped at Hanmer Springs for its famous hot baths. Which was a small but worthy detour.
Everything has an end
Unfortunately, our journey was slowly but surely coming to an end. Our way northwards leads us back to Nelson, where we took the night ferry in Picton and arrive in Wellington early in the morning at six o' clock. The weather is bad and so we continue our journey further north on the same day and arrive two days later in Auckland.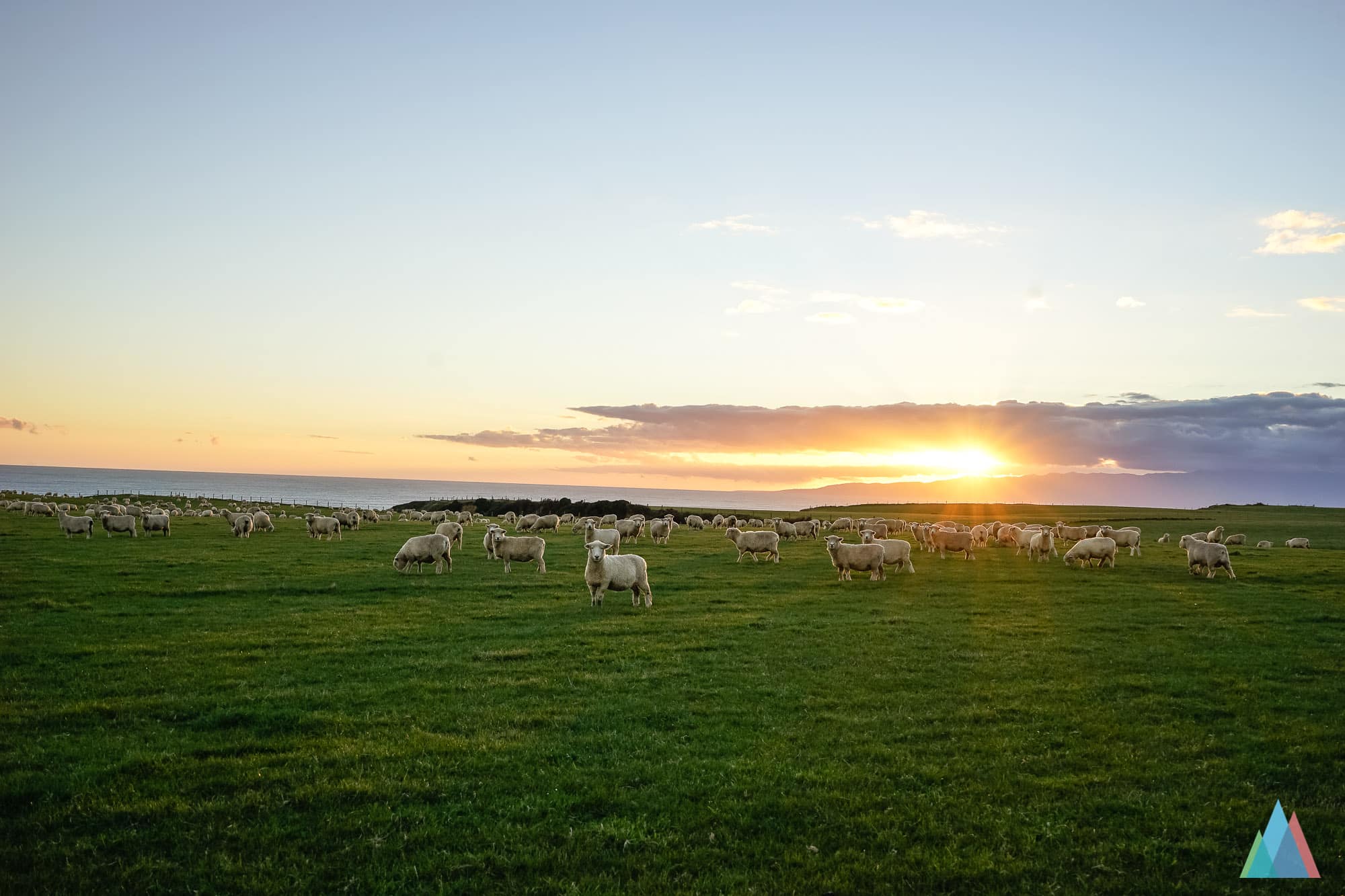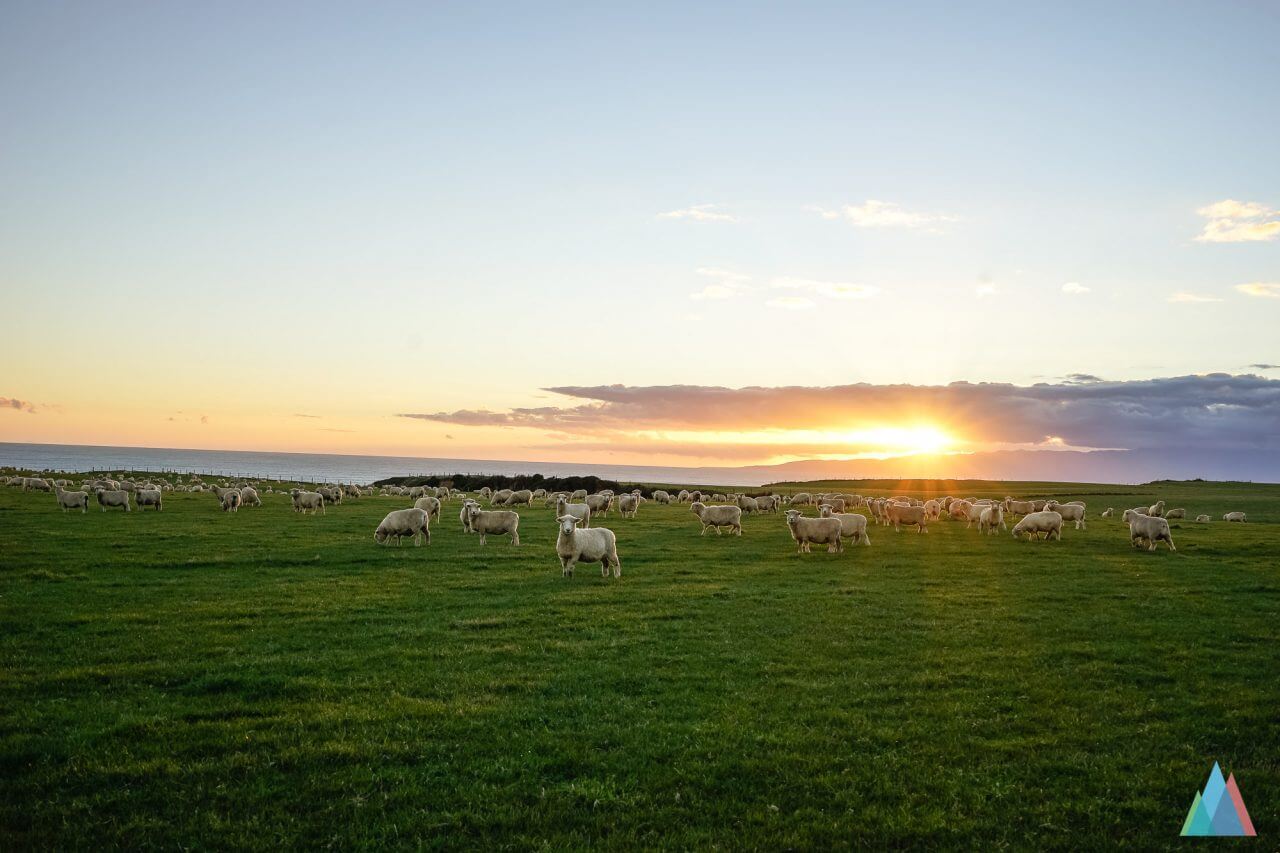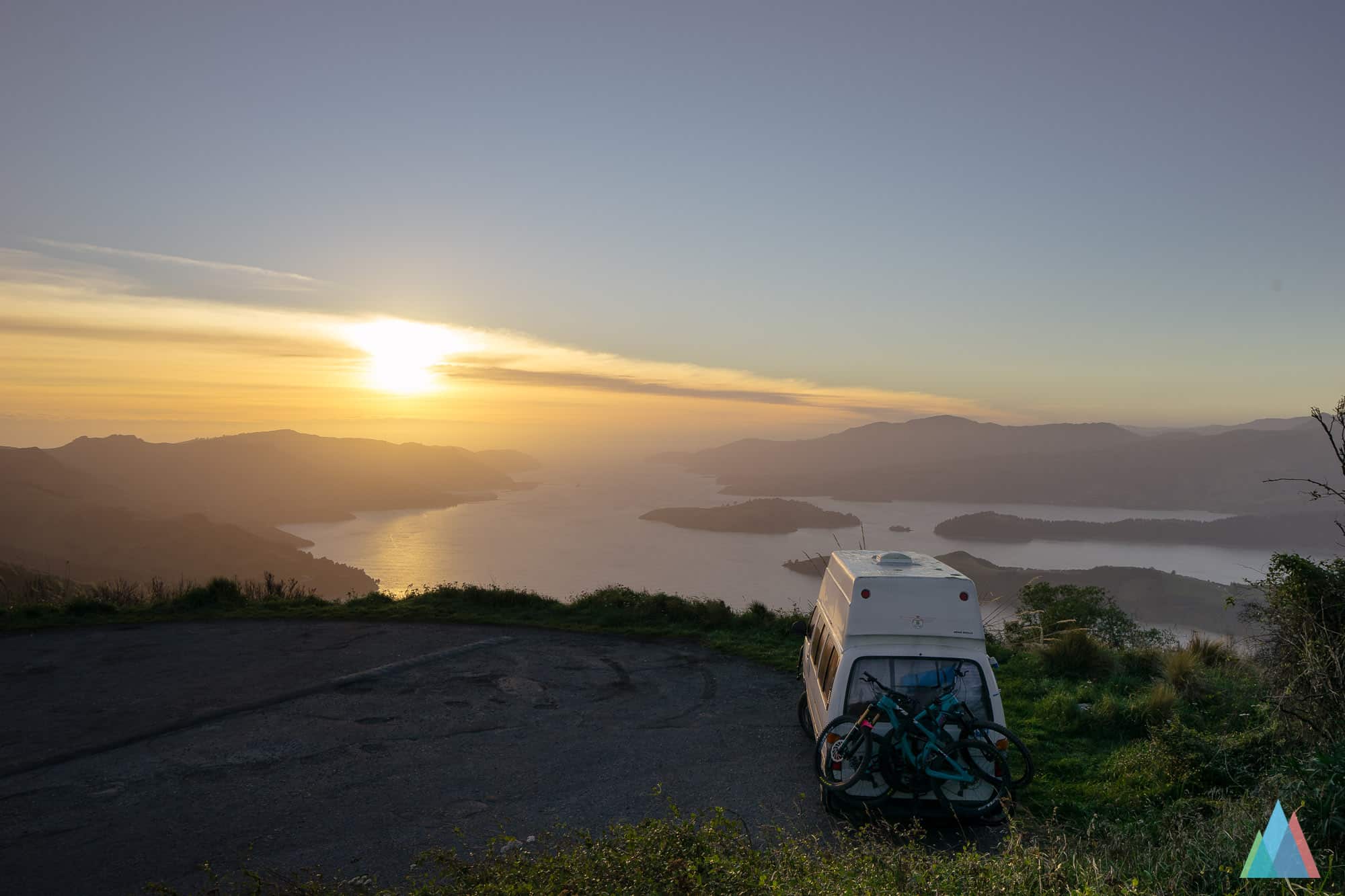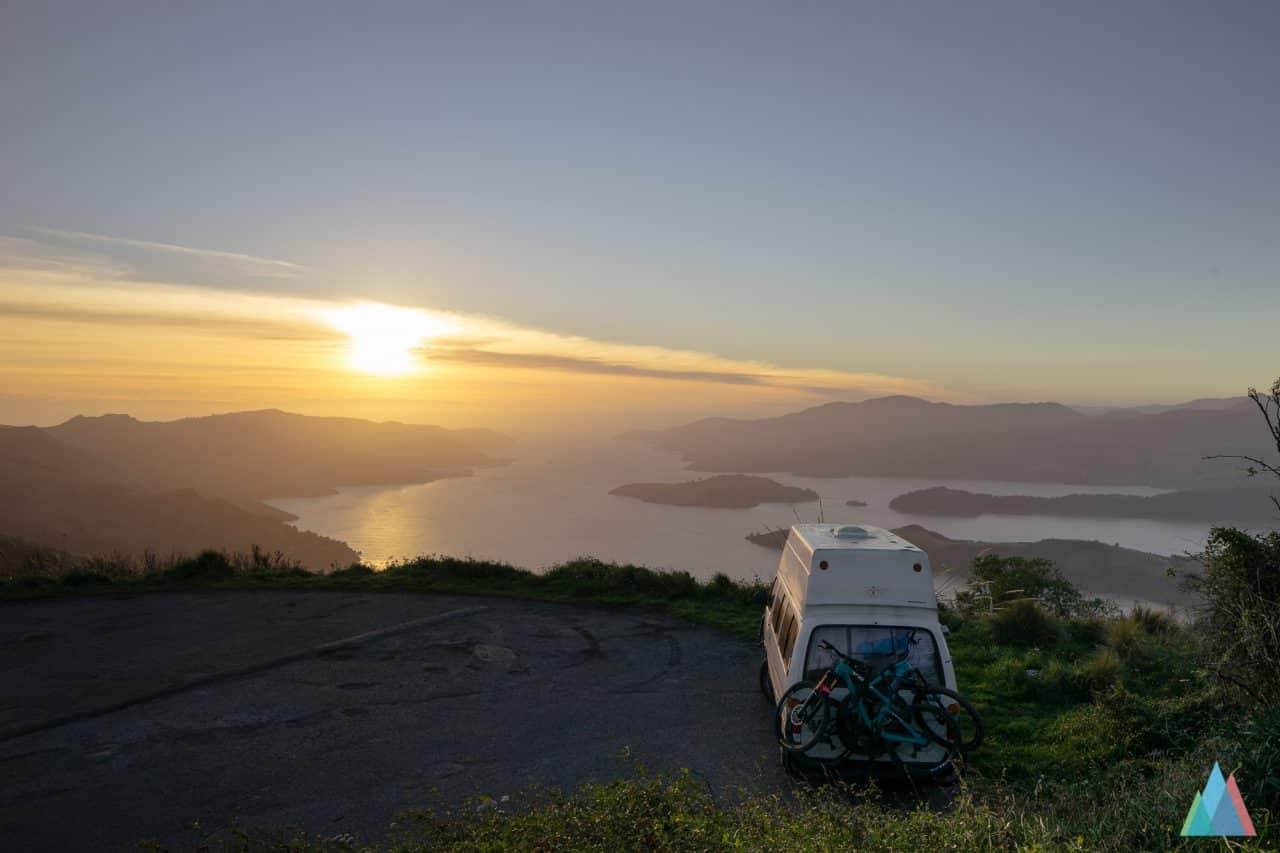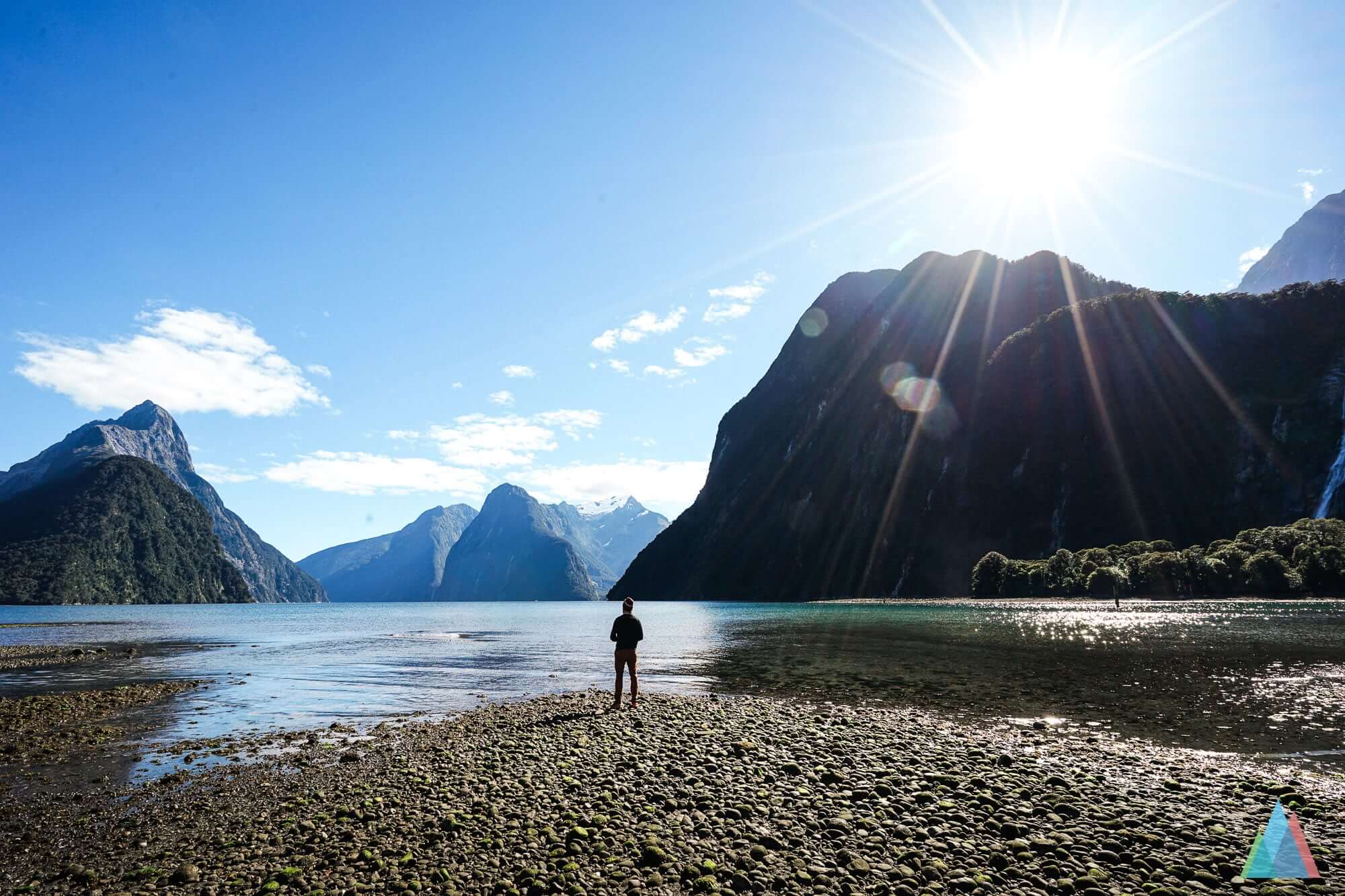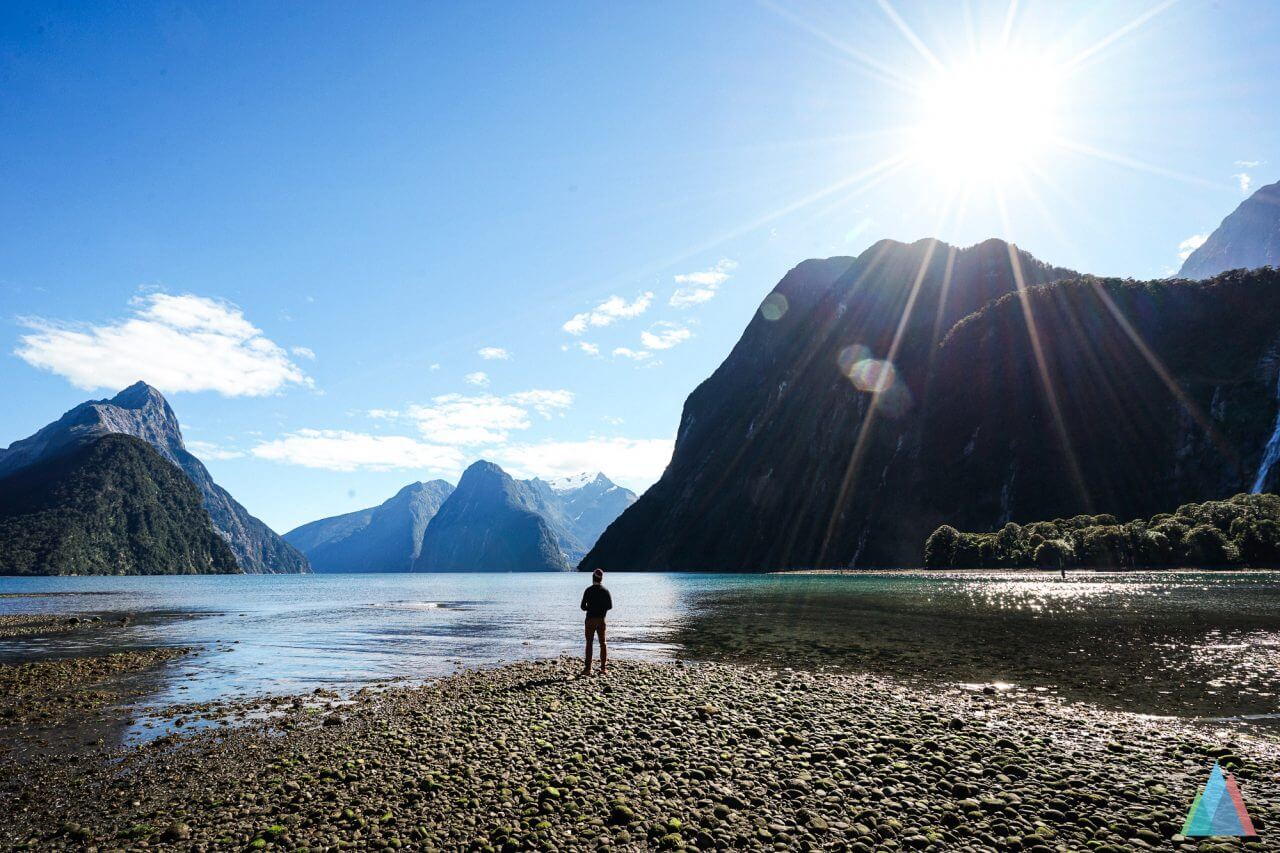 Meanwhile, our bikes are on their way back to Switzerland by airmail. If all goes well, six to ten days later, they will be back home again. We cleaned out our van and presented it the following Sunday at the big car fair in Auckland. It's the end of the main travel season and many backpacker cars are no longer on the pitch. We notice, that this is a very bad moment to sell the van – Interest in used cars is not very high.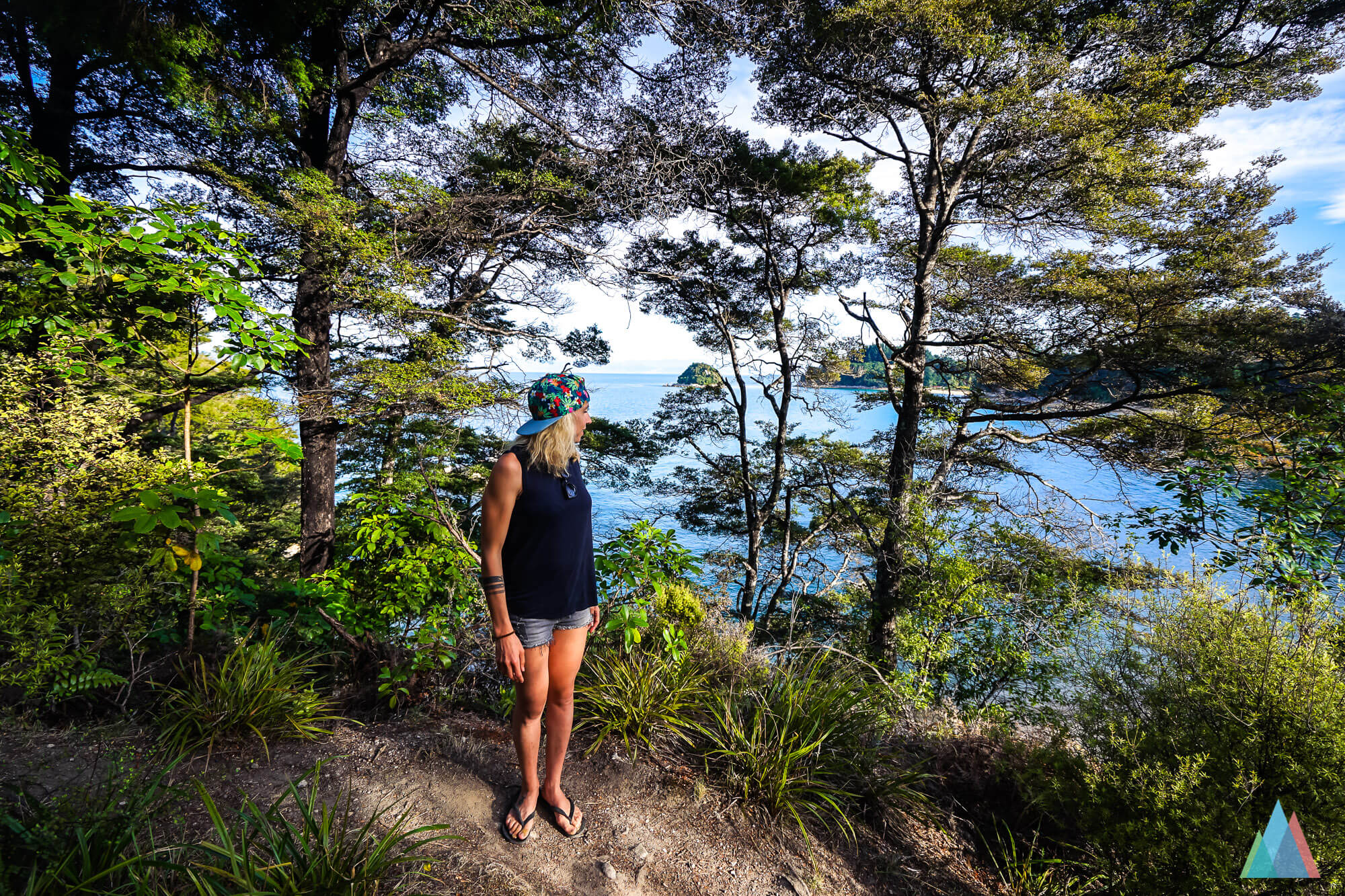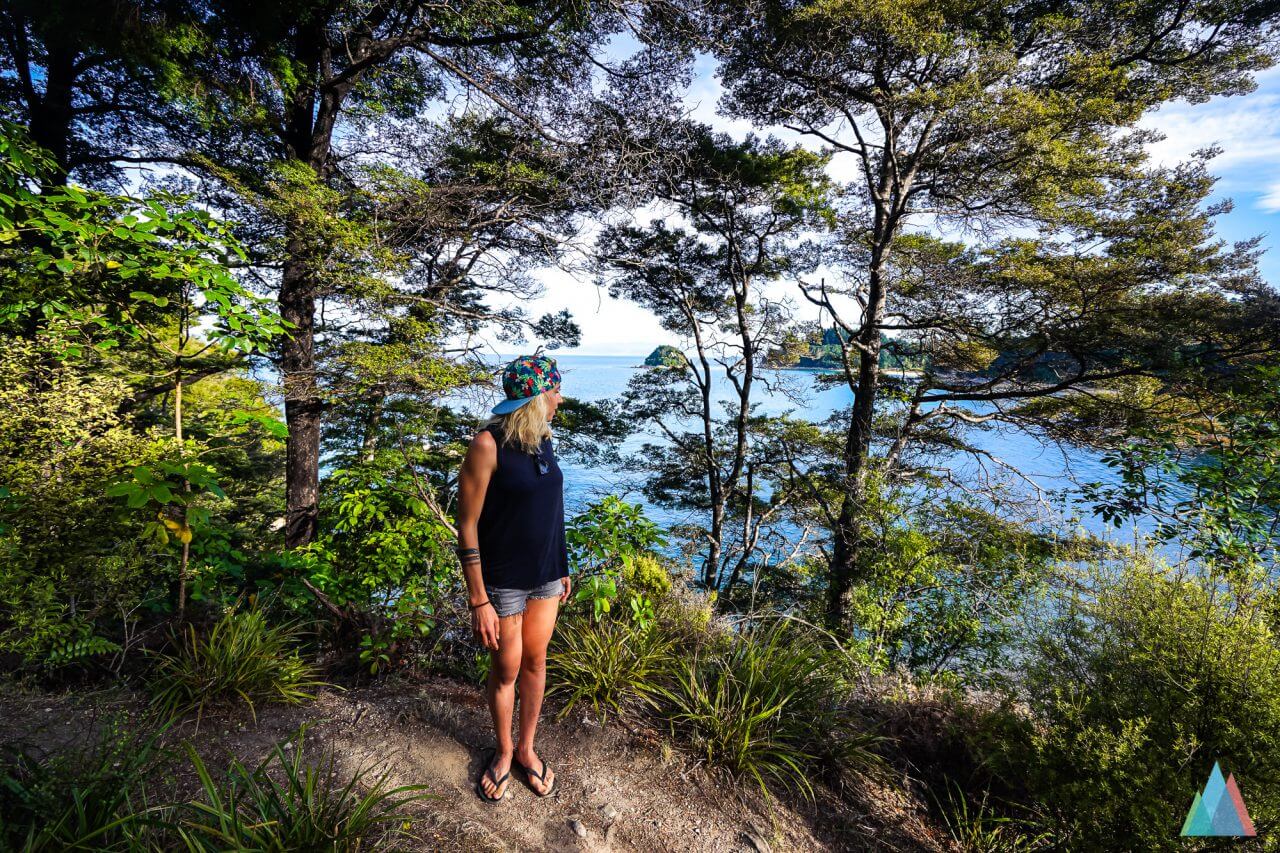 However, shortly before the end of the event, an interested buyer showed up. Everything fit and we stood, faster than we thought, without our campervan. No problem for us, New Zealand was beautiful, but without bikes and without van, a longer stay makes no sense for us. We were able change our flights and leave cold and rainy New Zealand 2 weeks earlier than actually planned towards Bali.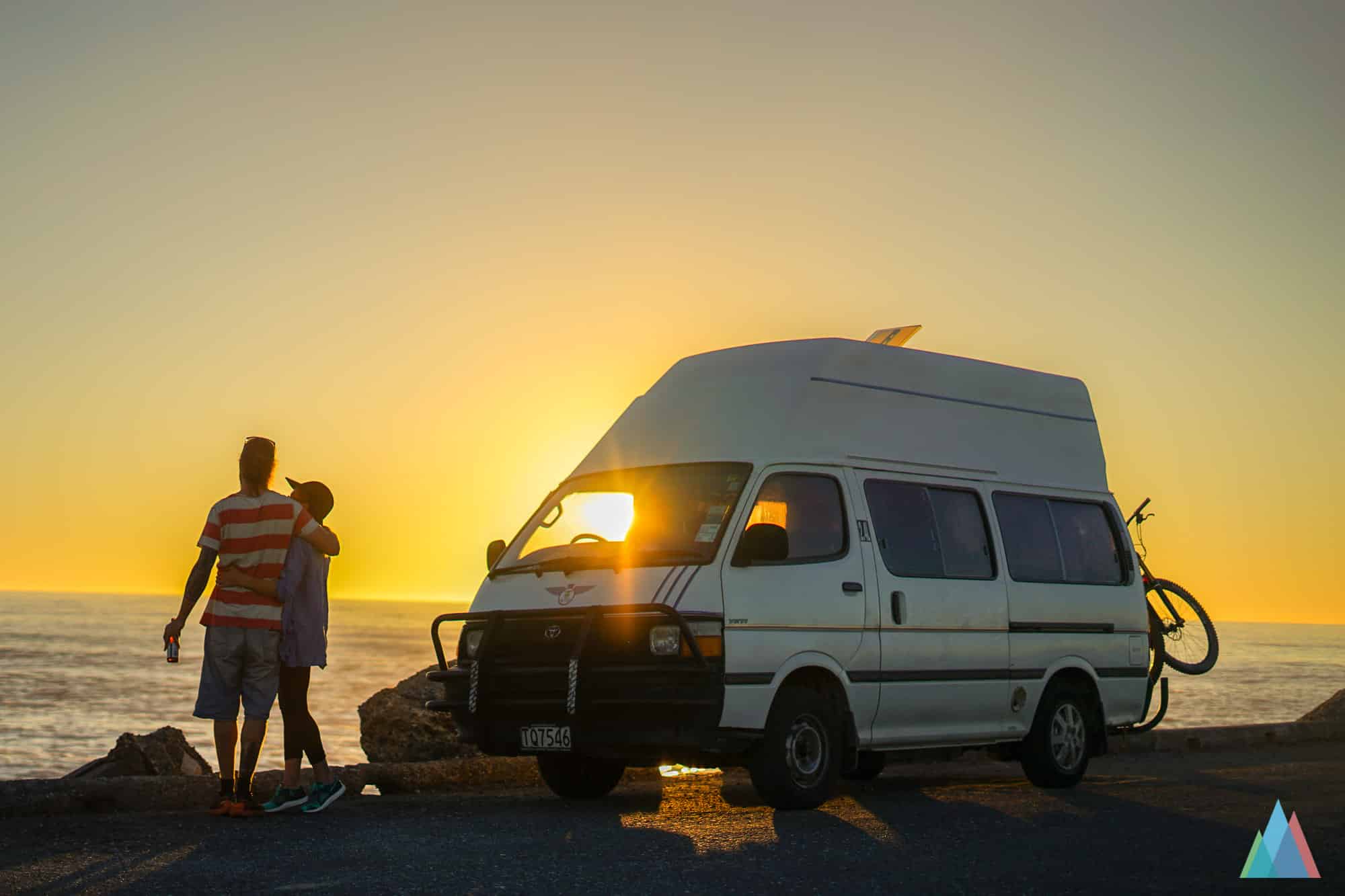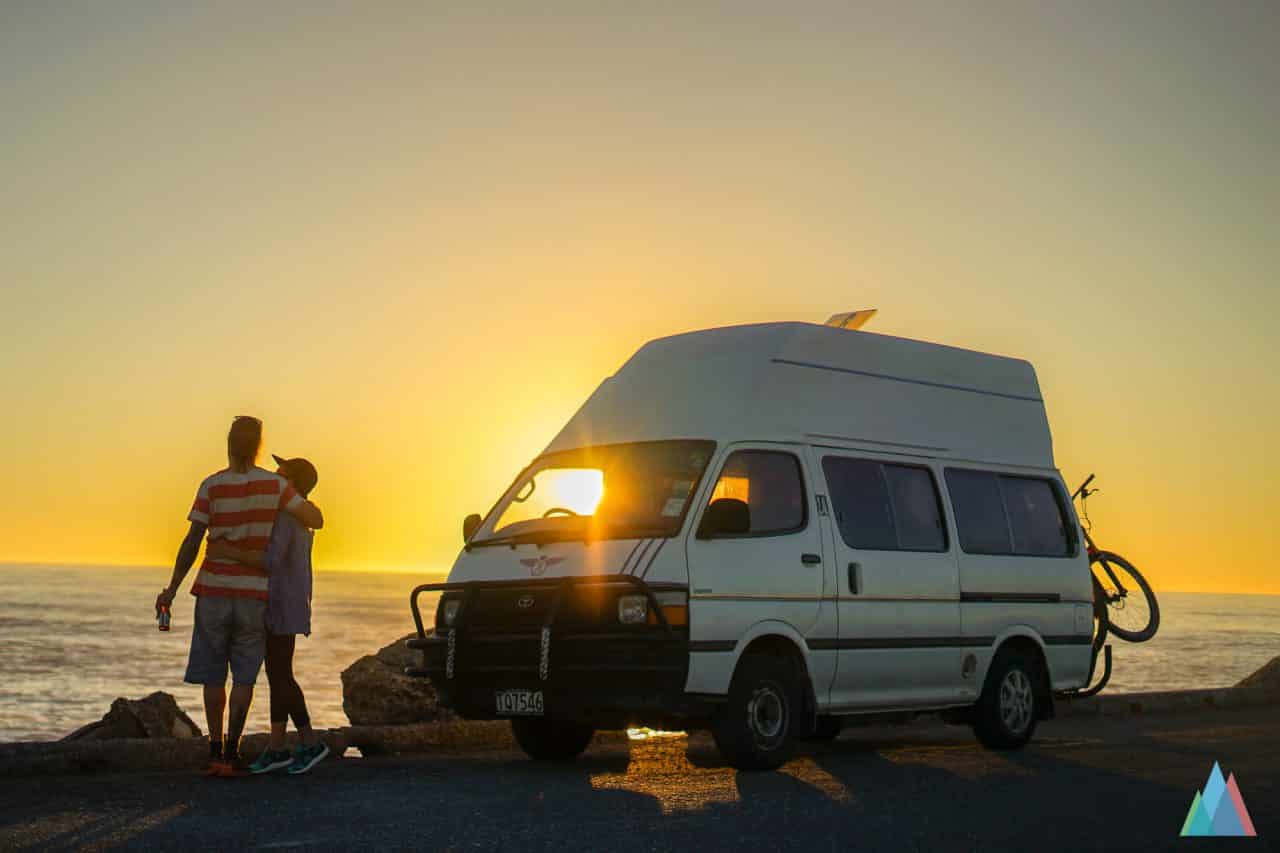 Four months New Zealand – perfect for us, perfect for you, too?
Four months of camping in a camper van traveling through New Zealand is a long time, but time flied by so quickly. When we sold our van it felt as if we just bought it. We planned on staying longer than many we met on the road because well, we didn't know when we will come back. As amazing as New Zealand has been, both of us have never been to Canada, neither of us has ever biked in the states nor in South America. There are so many countries on our bucket list that need to be crossed off before we go back to what we know already.
After all, for us it was not just about riding our bikes, it was also about getting to know a – to us – new country and its people AND ride our bikes. And exactly that opportunity to get to know people and their home through a shared passion was what made that trip so good. If you really just wan't to ride your bike at many of the prime spots in New Zealand, you could do that in 4 to 6 weeks, though. And leave out all the hiking, sight seeing and other non bike related stuff. If that was the case, we would focus on the regions of Nelson, Queenstown (including Alexandra) and Christchurch (including Craigieburn). If you can get a cheap flight to Rotorua, don't miss that trail center as well.
Thanks to everone we met along the way, if you ever are in Switzerland, hit us up, we will for sure take that chance to show you our hometrails!